Suella Braverman 'putting Border Force staff at risk' with inflammatory language on migrants, union warns
Exclusive: Border Force officers are concerned new bill on stopping small boats will force them to break the law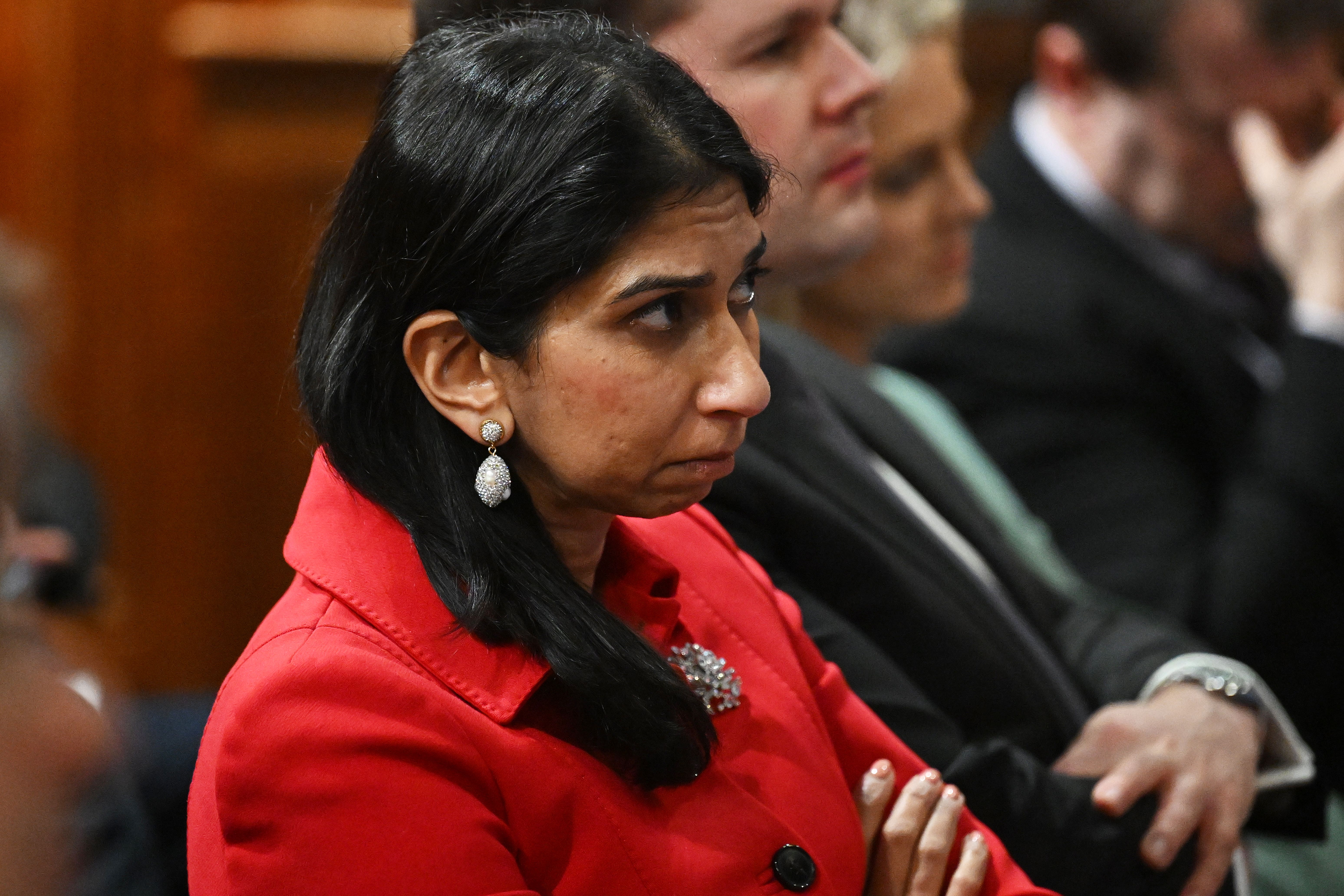 Border Force staff are being put at risk by the home secretary's "escalation of highly emotive language about asylum seekers", the government has been warned.
In a letter sent to Home Office chief Sir Matthew Rycroft on Thursday, the Public and Commercial Services Union (PCS) said members had "significant concerns" over the Illegal Migration Bill and whether it was "within the confines of the law and international treaties".
Officials James Cox and Peter Wright wrote that vows to "stop the boats" and describing Channel crossings as an "invasion" have consequences for people working in processing centres.
"These are consequences which potentially put our members at risk," the letter added.
"There have been demonstrations and some violence around hotels housing migrants. Furthermore, there was the shocking case of the firebombing of the migrant arrival site last year."
Proposals to turn back all arrivals have provoked a huge row, with the government saying something must be done to stop migrants as the number of people arriving on small boats rose by 60 per cent between 2021 and 2022, to 46,000. But the UN refugee agency (UNHCR) has condemned the idea as illegal.
Ms Braverman called Channel crossings an "invasion" in parliament the day after the firebombing, which was declared a terror attack by police and injured two members of staff at the Western Jet Foil processing centre.
The PCS said Border Force staff in Dover and Kent were on the frontline of a "state of tension over immigration policy", with local officers "in danger of both physical and verbal attacks".
The union said Ms Braverman was "in part, responsible for the escalation of language which demonises asylum seekers and seeks to dehumanise them".
It joined the condemnation of an email sent to Conservative Party members in the home secretary's name, which accused civil servants of being part of an "activist blob" thwarting the government's ambitions to stop small boat crossings.
Ms Braverman had not seen or approved the wording of the message in advance, but later suggested that Border Force officers supported the bill in an appearance on BBC Breakfast.
The PCS said its members must not be "politicised", and that it would be inaccurate to suggest a majority of staff support the government's policy.
Firebombing of immigration processing centre in Dover declared terrorist incident
It said that staff have concerns that the government's aim to detain and deport all small boat migrants without considering their asylum applications is unlawful, adding: "We would like confirmation that members will not be placed in a situation where they are in breach of the law and that should members have concerns that they are, clarification of the process of complaint."
It comes amid widespread unrest inside the Home Office over Ms Braverman's admission that the bill may violate human rights, and UNHCR's warning that the plans are a "clear breach" of international law.
Practical questions are mounting over how all small boat migrants could be detained and deported when there is insufficient immigration detention capacity and only two removal agreements in place with Rwanda and Albania.
The Independent has seen internal communications from Home Office leaders admitting that "details of how the bill will be operationalised" have not yet been "worked through", and will have to be drawn up as it is going through parliament.
One Home Office official told The Independent the asylum system had not been overwhelmed by small boat crossings, as claimed by Ms Braverman, but "because of how it is run" amid "widespread incompetence".
Speaking on condition of anonymity, they said that asylum seekers cannot be forced back to the country they fled under international law.
"Once you've saturated Rwanda, where do you send them?" they asked. "It all works for Albanians but what about the rest? It's empty threats."
On Wednesday, the FDA union, which represents senior civil servants, wrote to the prime minister demanding a formal apology for a Conservative Party email claiming that "an activist blob of left-wing lawyers, civil servants and the Labour Party blocked us" from previous attempts to stop small boat crossings.
"Civil servants are tasked with carrying out the settled will of government," general secretary Dave Penman wrote.
"This is a direct attack on the integrity and impartiality of the thousands of civil servants who loyally serve the home secretary, doing some of the most complex and difficult work in government."
Downing Street distanced Rishi Sunak from the Conservative Party email on Thursday, with his spokesperson telling reporters it "certainly does not represent the views" of either the prime minister or home secretary.
A Home Office spokesperson said: "The home secretary has repeatedly thanked Home Office teams for all their work on the Illegal Migration Bill. She has also made clear in the strongest possible terms that violence towards asylum seekers is unacceptable."
Join our commenting forum
Join thought-provoking conversations, follow other Independent readers and see their replies