Supermarkets urged to install water dispensers after a billion plastic bottles sold last year
'There's untapped potential for a refill revolution in the drinks market', campaigners say 
Jane Dalton
Sunday 24 November 2019 18:01 Comments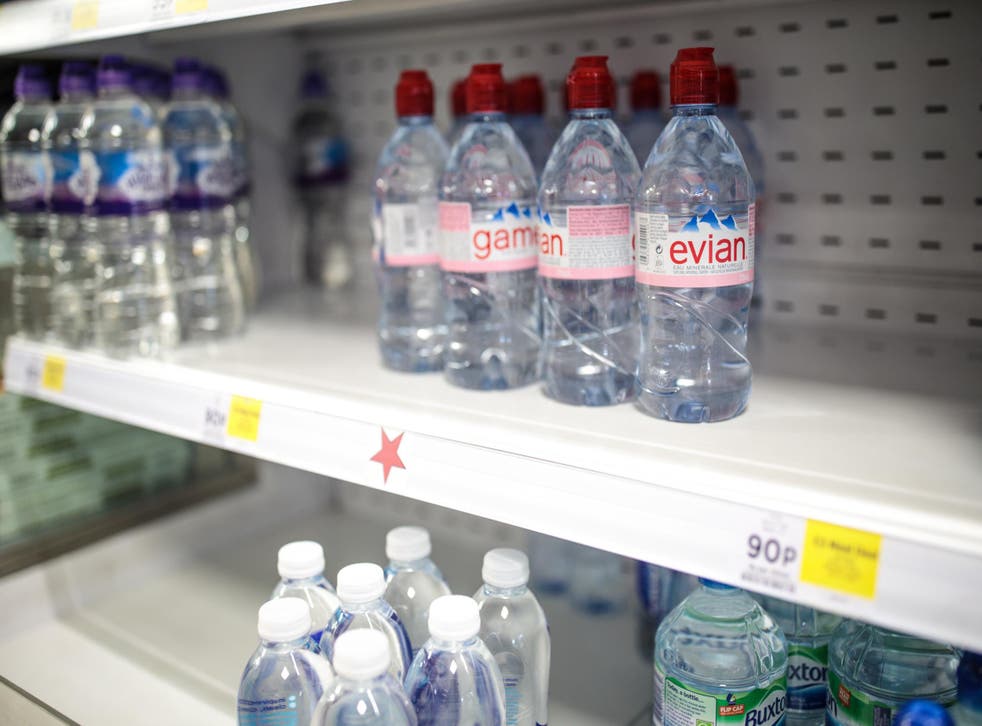 Eco groups are calling on Britain's supermarkets to install water dispensers after it was discovered sales of water in plastic bottles soared to more than a billion last year.
Aldi, Tesco and Waitrose all increased their sales of plastic water bottles between 2017 and 2018, but Iceland had the highest percentage rise – of 20.5 million bottles to 116.5 million, or 21.4 per cent.
Campaigners are calling for retailers to drastically cut plastic water bottle sales and to offer water dispensers in stores for customers to refill their own bottles. None of the top 10 supermarkets has water dispensers across all stores.
The Environmental Investigation Agency (EIA) and Greenpeace, which surveyed all UK supermarkets, found that sales of the plastic bottles went up by 8.2 per cent at six leading chains that provided year-on-year figures.
Two chains – Asda and Sainsbury's – did not reveal how much water they sold in either year. Lidl and Morrisons did not give 2017 figures, but sold 58 million and 129 million bottles respectively last year.
Sea creatures seen tangled in plastic

Show all 8
At Marks & Spencer and the Co-op plastic water bottle sales fell slightly, to 15 million and 19.7 million respectively.
The researchers called on retailers to also force soft-drinks brands to provide refill stations to help curb the plastic that is a menace to wildlife and marine life.
Fiona Nicholls, ocean plastics campaigner for Greenpeace UK, said: "Plastic bottles and caps are the top plastic items polluting our beaches, yet despite this UK supermarkets keep selling more and more of them. This has to stop.
"Supermarkets need to get throwaway plastic water bottles off their shelves and enable customers to fill up their own bottles in store, from water or soft drinks dispensers."
Juliet Phillips, oceans campaigner at EIA, said: "There's untapped potential for a refill revolution in the drinks market. We urge supermarkets to work with brands to make these options available and accessible to customers across the country."
In the summer, the government pledged to introduce a deposit return scheme on plastic bottles, to begin in four years' time, after a consultation next year.
A report by the groups out on Thursday shows:
Six supermarkets reported they sold 788.3 million bottles in 2017, and eight supermarkets sold 1.04 billion bottles last year 
Customers at Tesco, Aldi and Lidl do not have access to water dispensers 
In other supermarkets water taps are limited to cafes or in new stores
The environmental groups point out that in the US, one water brand is rolling out self-service machines.
Recycling collection rates for plastic bottles in the UK were stagnant last year, at around 59 per cent, which "demonstrates the need to drastically reduce how many plastic bottles we're making in the first place", the report's authors say.
The Independent has contacted all the supermarkets for their responses.
A Sainsbury's spokesperson said: "The Greenpeace report pre-dates our ambitious commitment to be the first major retailer to reduce plastic packaging by 50 per cent by 2025. We are removing plastic where we can, replacing it with alternatives, introducing refillable packaging and providing fresh water stands for customers to refill their own water bottles in 326 stores."
Peter Andrews, head of sustainability at the British Retail Consortium, said: "UK retailers are leading the way to tackle plastic pollution by eliminating unnecessary single-use plastics, through their commitment to the UK Plastic Pact, and making it easier for consumers to make sustainable choices. It is key that we continue to develop a comprehensive UK-wide recycling system that works for everyone to ensure consistent and effective recycling of plastic waste."
Register for free to continue reading
Registration is a free and easy way to support our truly independent journalism
By registering, you will also enjoy limited access to Premium articles, exclusive newsletters, commenting, and virtual events with our leading journalists
Already have an account? sign in
Join our new commenting forum
Join thought-provoking conversations, follow other Independent readers and see their replies