Supreme Court ruling that soldiers have the right to life even in war zones will have major ramifications for MoD
Relatives of three men killed by roadside bombs while in Snatch Land Rovers can pursue damages under the Human Rights Act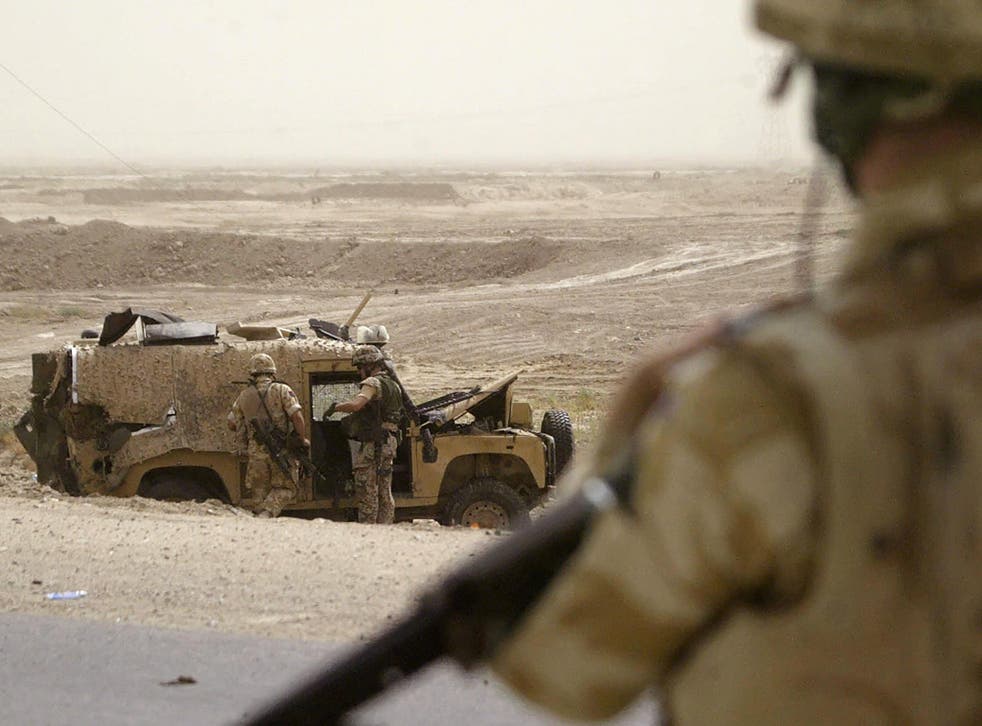 Soldiers have the right to life even in war zones, the highest court in the land ruled today.
The landmark judgement will have major ramifications for the Ministry of Defence, reinforcing its duty to ensure that troops are properly prepared and equipped when sent to war.
Tonight experts estimated that, along with a second judgement giving families the right to sue for negligence, it could open the way for hundreds of claims. Already up to 150 have been awaiting the outcome of yesterday's judgement.
The Supreme Court victory is the culmination of a bitterly fought six-year legal battle by Sue Smith, a Midlands care worker whose son Private Phillip Hewett, 21, was killed in Iraq alongside two fellow soldiers from the 1st Battalion, the Staffordshire Regiment, when a roadside bomb hit their Snatch Land Rover in July 2005.
"They can no longer treat soldiers as sub-human with no rights. It's been a long fight but it's absolutely brilliant. Now serving soldiers have got human rights," said Mrs Smith.
The 51-year-old, who said she had faced alienation and ridicule during her long fight against the MoD, added: "If I hadn't done it for Phillip, who would? It won't bring him back but it is for other boys. It might save lives in the future."
Until now, soldiers have not been covered by Article 2 of the European Convention on Human Rights - which protects the right to life - once they step off a British base in a war zone. But this morning the judges said that protection should be extended to the field of operations.
Defence Secretary Philip Hammond said: "I am very concerned at the wider implications of this judgment, which could ultimately make it more difficult for our troops to carry out operations and potentially throws open a wide range of military decisions to the uncertainty of litigation."
But Lord Hope, deputy president of the Supreme Court, said it was not imposing obligations that were unrealistic or disproportionate.
Legal experts said the ruling would not affect judgements made on the battlefield but simply place a responsibility on the state to ensure proper training and equipment.
"A very wide margin of appreciation has been given to decisions taken in the heat of battle. No-one would want to second guess a decision taken in very difficult conditions," said Jocelyn Cockburn, Mrs Smith's solicitor. "It is essential that we recognise the human rights and dignity of our soldiers. How else can we expect them to uphold the fundamental human rights of those they come across in conflict if they themselves are not protected?"
Mrs Smith brought the case alongside the family of Private Lee Ellis, 23, of 2nd Battalion, The Parachute Regiment, who was also killed in the Snatch, a vehicle so vulnerable to bombs that it would earn the nickname the mobile coffin and eventually be withdrawn from combat operations.
Pte Ellis's family, along with victims of a friendly fire attack in which a Challenger 2 tank was accidentally hit by another in 2003, had already won a landmark victory in the Court of Appeal to pursue damages claims against the Government on the grounds of negligence. But the appeal court judges rejected an argument put on behalf of Mrs Smith and the Ellis family that they also had a claim under Article 2 of the ECHR.
Today, however, the Supreme Court not only allowed the human rights claim but they also rejected a Government appeal against the other negligence cases, paving the way for all the families to sue the Ministry of Defence.
The court agreed that soldiers serving outside a base in country's such as Afghanistan should be protected by human rights, particularly bearing in mind a recent ruling by Strasbourg judges that Iraqis were covered by the convention during a time when Basra was effectively a British-occupied territory.
However, they said yesterday that command decisions and those made on the battlefield would fall outside the remit of Article 2, while other cases would have to be judged on their individual merit.
In terms of negligence claims, the judges said the Ministry of Defence should not be able to hide behind combat immunity. It should only be a defence limited to conflict and not be extended to matters of planning and preparation.
"Today's judgement confirms that the Ministry of Defence can no longer hide behind a claim to blanket combat immunity, or say that soldiers have a weaker claim to human rights than the rest of us. When mistakes are made, the MoD must, like other employers and public bodies, be held to account," Philippa Tuckman, military claims solicitor at Bolt Burdon Kemp. "Soldiers and their families who have suffered similar tragedies have been waiting for today's news and will be preparing to bring claims of their own."
Geraldine McCool, a military case specialist at MPH Solicitors, estimated that the negligence ruling would pave the way for between 100 to 150 cases already in the pipeline.
"On the positive side a lot of cases can proceed and evidence can be heard on an individual basis," she said.
It remains to be seen how many new human rights claims there will be as they must be brought within a year. Already, the family of Corporal Dewi Pritchard, 36, a soldier shot in Basra while travelling in a civilian vehicle, has a case pending before the European Court of Human Rights.
Register for free to continue reading
Registration is a free and easy way to support our truly independent journalism
By registering, you will also enjoy limited access to Premium articles, exclusive newsletters, commenting, and virtual events with our leading journalists
Already have an account? sign in
Register for free to continue reading
Registration is a free and easy way to support our truly independent journalism
By registering, you will also enjoy limited access to Premium articles, exclusive newsletters, commenting, and virtual events with our leading journalists
Already have an account? sign in
Join our new commenting forum
Join thought-provoking conversations, follow other Independent readers and see their replies