Leading surgeon punched doctor in row over whether Laura Kuenssberg is attractive enough to be on BBC
Boozy night turned violent when David Wilkinson MBE took umbrage over colleague saying journalist should present with 'bag over her head'
Friday 31 August 2018 16:24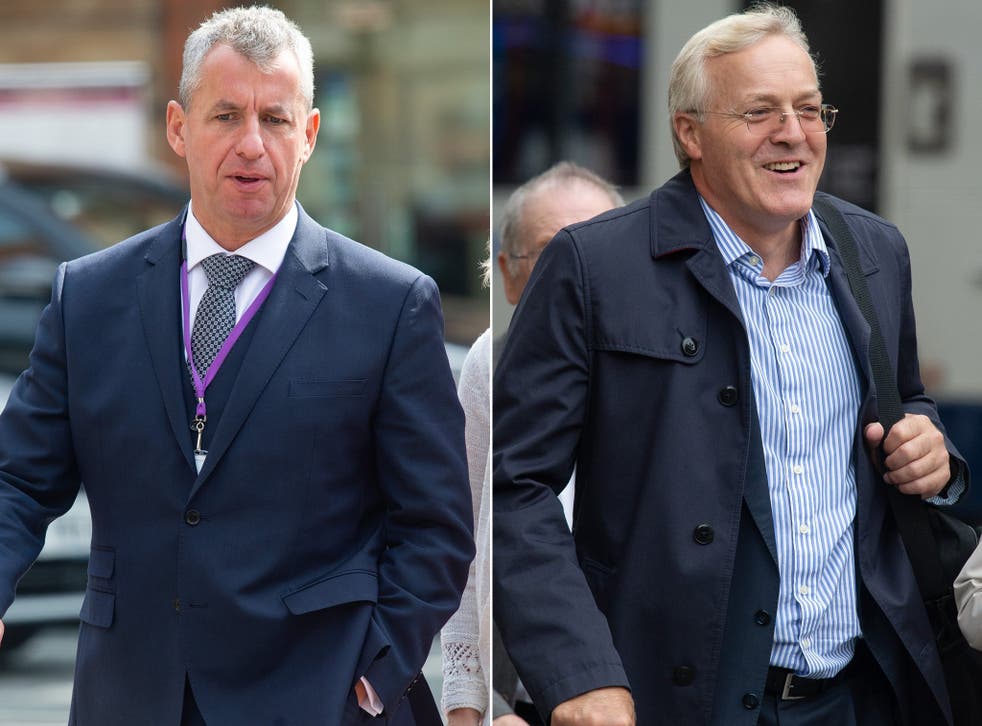 A leading surgeon punched a fellow doctor on a night out after he became furious during an alcohol-fuelled discussion about BBC reporter Laura Kuenssberg, a tribunal heard.
David Wilkinson MBE hit Lawrence King on the head and knocked off his spectacles as they and other medical colleagues were engaged in a ''vigorous debate'' over the political editor's ''lop-sided smile".
Members of the group – who were on holiday in Spain – had been drinking for up to eight hours and were said to have been bantering as to whether Ms Kuenssberg was ''attractive'' enough to work for the BBC.
Dr King allegedly suggesting she would look better ''with a bag over her head" – due to what he called her ''asymmetrical face''.
But as the debate intensified at the Peso Neto fusion restaurant in Bilbao, Dr Wilkinson, a 58-year old postgraduate dean for Health Education England in Yorkshire, walked up to Dr King and hit him up to three times.
Dr King, who is in his 50s, suffered a gash behind his left ear following the incident at 7.30pm on 24 June 2017. His glasses were also broken.
At a medical tribunal in Manchester on Friday, Dr King said: "I remember looking at him and he looked angry but I am not sure why that anger was directed at me.
"I didn't think we were giving him a lot of stick and that was not my perception of it. I thought he said his daughter wanted to be or was a journalist, like Laura Kuenssberg, but I do not accept that we were giving him a lot of stick, we were just a group at the bar having banter. I just thought we were engaging in good natured conversation.''
The Medical Practitioners Tribunal Service was told the two doctors had joined medical colleagues for the holiday and had been drinking on the day in question since 11am.
Dr King added: "We were in the company of people all day and had a bit of alcohol, it may have been one or two but not many more than that. I tried to intersperse alcoholic drinks with soft drinks.
"We went to Peso Neto but I would not categorise it as a bar crawl and I do not believe I was drunk when the incident occurred. We were in group conversation, maybe in high spirits, but he got up, walked around the table, went behind me and I suspected something was going to happen.
"I looked back and caught his fist in my open hand. He punched me a second time. I remember a heavy blow to the back on my head. I don't have much recollection as to what happened after that. I then remember seeing my glasses broken in pieces on the floor.
"Someone pointed out my head was bleeding from a gash behind my ear. There were two definite impacts, there was enough to cause injury."
When asked whether he thought Ms Kuenssberg ''wasn't attractive enough'' to present the news, Dr King replied: "I do not recall that. All I remember saying was she had a lopsided smile.
"I do not recall saying she would look better with a bag over her face. I did not say her opinions count less because of her looks."
When asked about a text suggesting he had tried to ''aggravate'' Mr Wilkinson, Dr King argued: "Aggravate him? To do what? Assault someone by punching him in the head? I did not do that. I was not trying to get a rise out of him – I wouldn't even say it was a heated debate.''
But eyewitness Dr Michael Scarland told the tribunal: ''We were all drinking beer and we had around seven pints each before the bar where the incident happened. People were quite drunk and Dr King was drinking the same as everyone else.
''Heated debates were happening around the group. We had a long debate about Brexit and this led to a conversation about Laura Kuenssberg. Someone said she was quite pretty and I mentioned that I didn't agree. Lawrence said she would look better with a bag over her head, which annoyed David."
Dr Scarland added: ''I thought David said something about his daughter maybe wanting to be a journalist. He walked around to confront Dr King but then it was dropped. Then 10 minutes later out of the blue, Lawrence brought up Laura Kuenssberg again even though we had all dismissed it.
''I felt that David was already unhappy with what had been said. He took it too far with the bag over the head and then brought it up a third time. He was saying she wasn't pretty enough to be on TV. He didn't hit him that hard but it did catch his temple.
''There was only one punch. There were not a flurry of punches. He apologised a lot to Lawrence and the whole group. It was totally out of character.''
UK news in pictures

Show all 50
Prof Wendy Reid, Health Education England's Director of Education who spoke to Dr Wilkinson on his return to the UK told the hearing: ''He told me that alcohol was involved in his actions and he told me how distressed and mortified he was about it all."
Dr Wilkinson admits punching Dr King and is facing a hearing to determine whether he is guilty of misconduct. The tribunal continues.