Survey: 18 per cent of young people have slept rough in the past year
Policy director as youth homelessness charity Centrepoint is 'astounded'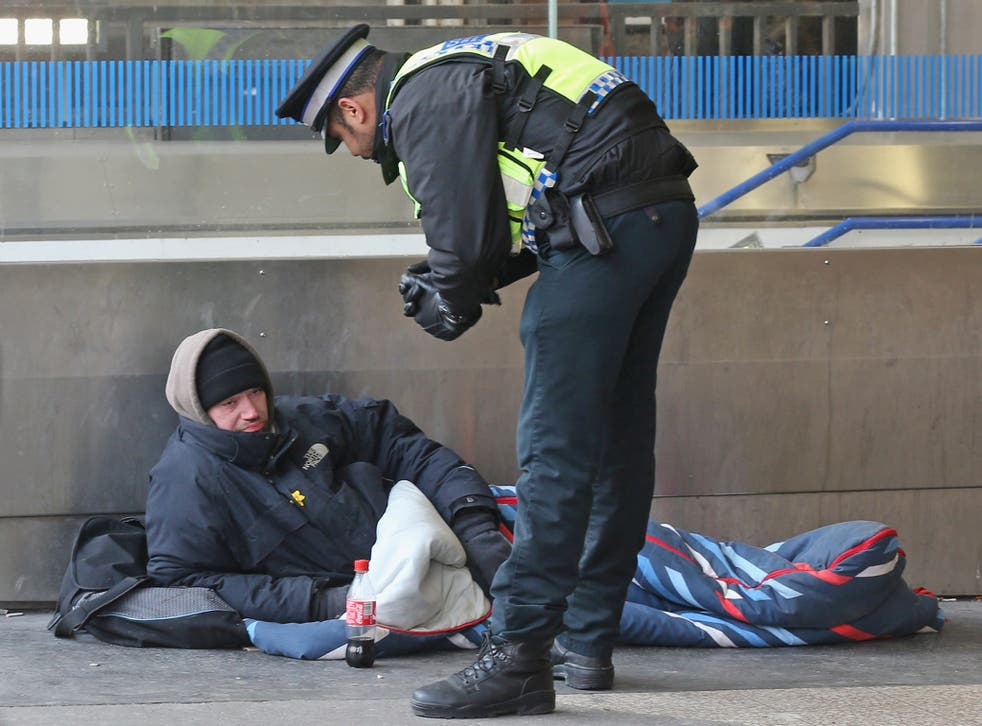 Nearly a fifth of young people in the UK have slept rough in the past year, according to an alarming poll illustrating the true scale of the problem for the first time.
The survey of 2,000 15 to 25-year-olds found that 18 per cent had slept on the streets, in cars or night buses because they had nowhere else to go. Of these, a third said they had been homeless for up to a week. Overall, a third said they had slept rough at some point in their lives.
Centrepoint, the youth homelessness charity which commissioned the survey carried out by ComRes, said there had previously been no way of accurately measuring rough sleeping among the nation's young people as the Government's statistics were not broken down by age group.
Balbir Chatrik, the charity's director of policy, said she and her colleagues had been "astounded" when they saw the 18 per cent figure, which they had expected to be much lower.
"One in five young people is a lot, sleeping on the streets, night buses, or cars – wherever they think they are safe. But it isn't safe. Even if it's just for one night, it can just be the beginning," she said.
She added that the issue of young homelessness was now so serious that schools should start educating children about the dangers of rough sleeping, giving them instructions on what to do and where to go if they no longer feel safe at home.
Seyi Obakin, Centrepoint's chief executive, criticised the Government's lack of research on the issue. "Our poll proves the issue of young people sleeping rough is huge and nobody else is giving an accurate picture of the problem," he said.
"The Government's only data on rough sleeping does not break down by age and is limited to estimates and a one-night snapshot survey. From this it's impossible to ensure that vital support services for homeless young people are available in the right place at the right time."
Services for homelessness people are generally the responsibility of local councils, which have faced severe budget cuts under the Coalition. Grants for homeless services were previously ring-fenced, but this is no longer the case. In April, a report by the charity Homeless Link found that 38 per cent of accommodation projects for homeless people had seen their funding cut in the past year.
This evening, thousands of people will take part in Centrepoint's annual Sleep Out, a fundraising initiative which sees thousands of volunteers sleep outside for the night to raise awareness about homelessness in the run up to Christmas. Prince William, who is a patron of the charity, took part in the event in 2009.
Kris Hopkins, the Conservative Minister for Homelessness, said: "The numbers of people sleeping rough are falling dramatically, in no small part thanks to the range of measures we've taken to maintain strong support for anyone facing the threat of homelessness.
"That includes £500 million funding to councils and charities, and extending the No Second Night Out with the clear aim that no-one should spend more than one night on our streets."
Case study
Cia Robinson, 19, from London, began rough sleeping last year. She sought help through Centrepoint and now has a job as a waitress.
"I used to live with my mum, but we had to move in with my nan and we don't get along – we never have. She lived in a two bedroom flat, and there were five kids and two adults, so it was really hectic and stressful on everybody.
My mum wasn't around that much because she travelled a lot, and while she was away it was very hard for me to go home. I would have to call my brothers and make sure my nan was asleep. It was a really bad point in my life.
One time they called me and said they hadn't eaten, so I brought them food and ended up falling asleep. My nan dragged me out, half naked, and I had to stay with my friend in a hostel. At first I stayed there, but eventually I had to leave and sleep out on the streets.
After getting accommodation through Centrepoint, I've started working to get money to support myself, and the family situation is going great. I talk with my mum all the time, I speak to my nan on occasions, the kids are all right – it's a lot better than how it was before, I'm a lot happier."
Register for free to continue reading
Registration is a free and easy way to support our truly independent journalism
By registering, you will also enjoy limited access to Premium articles, exclusive newsletters, commenting, and virtual events with our leading journalists
Already have an account? sign in
Register for free to continue reading
Registration is a free and easy way to support our truly independent journalism
By registering, you will also enjoy limited access to Premium articles, exclusive newsletters, commenting, and virtual events with our leading journalists
Already have an account? sign in
Join our new commenting forum
Join thought-provoking conversations, follow other Independent readers and see their replies