Sussex University failed duty of care to student assault victim, inquiry finds
Sussex University 'failed to follow its own safeguarding procedures' by allowing Dr Lee Salter to remain employed, despite gross physical and emotional abuse caused to Allison Smith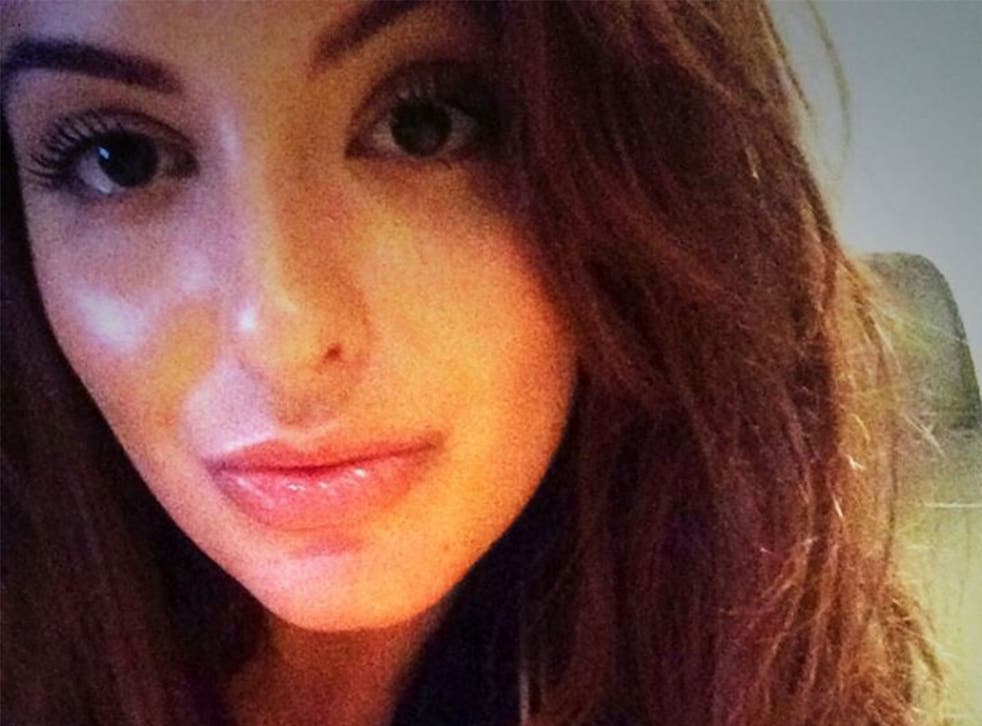 A top UK university failed in its duty of care towards a student who was violently assaulted by her staff lecturer, a formal inquiry has concluded, following an investigation by The Independent.
Allison Smith, 24, has spoken of her "relief" after receiving a formal apology from the University of Sussex for not taking her domestic abuse case seriously.
The former postgraduate student was knocked out, stamped on and had salt poured into her eyes and ears by Dr Lee Salter, a media and communications lecturer at Sussex University.
The institution came under fire for its decision to allow Salter to continue in his teaching position for another 10 months after his arrest, and later commissioned a review into its own actions following pressure from the media and public.
In a damning report, independent investigator Professor Nicole Westmarland said Sussex University only began to consider disciplinary action after The Independent had reported on the case, and criticised Sussex for failing to abide by its own safeguarding policies.
Prof Westmarland, who is director of the Durham Centre for Research into Violence and Abuse at Durham University, criticised the HR department in particular for prioritising the protection of the attacker and university reputation over student safety.
It was also highlighted that the only person interviewed during an internal assessment of what dangers Salter might pose was Salter himself.
Salter was convicted of assault by beating and causing criminal damage to property at Brighton Magistrates' Court on 13 July 2016.
He was given a 22-week suspended sentence, fined £2,765 and ordered to carry out 150 hours of unpaid work.
When The Independent raised questions following the trial, the university said Salter remained an employee. He resigned from his post in August on the same day the news was published.
New Vice Chancellor Adam Tickell has since apologised on behalf of the university, for what he called an "inadequate" response to the incident.
Following the publication of the review, Ms Smith told The Independent: "I'm incredibly relieved and grateful for the support I've received since the case became public and so pleased that we've contributed towards a very important change that will make students safer as a result.
"This just goes to show how important it is to continue the conversation about domestic violence – I'd encourage victims to speak out about their experiences."
She added: "That feeling of not being believed at the start, of being silenced and feeling very isolated and alone was the most difficult thing I've ever faced in my life.
"So for [the university] to come forward and to say we completely got this wrong ... that is healing for me."
Ms Smith described the "extreme physical and emotional trauma" she had experienced during a year-long relationship with the senior member of staff.
Following the attack, she sought guidance from student support officers, but said she received no response from the university itself.
The countries with anti-women laws

Show all 5
Counsellors who supported Ms Smith through the trial said the university had displayed a "concerning lack of care for the safety and welfare of its students".
In her review, Prof Westmarland noted that Salter should have been suspended under the university's own policy on the "Prevention and Management of Violence", and that failing to do so "had the (likely unintended) consequence of implying domestic violence is not as serious as other forms of violence".
"Managers failed to recognise that the way the senior lecturer acted towards them as male managers was not necessarily the way that he interacted with those with less power, including students, early career academics, and some administrators," she added, noting that other students had voiced concerns about Salter's continued presence on campus.
Speaking to The Independent following the publication of the report, Prof Westmarland said it was "mostly ignorance" at university managerial level that had led to a failure of care.
She added that several other students had come forward during her inquiry to speak about sexual harassment on campus that they felt had not been taken seriously – an issue the professor said was by no means unique to Sussex.
Assessment of feedback from other students about Salter's teaching was deemed "at best irrelevant and at worst inappropriate", allowing the university to cast aside Salter's violent behaviour as "out of character".
The university also failed to communicate with Ms Smith and external organisations involved in supporting her after the attack, the report stated, creating additional and unnecessary stress.
"There existed a complete wall of silence regarding the basic actions the University was taking or the policies it was following… [Causing Ms Smith to] doubt whether her complaint was being taken seriously and whether she was being believed."
Professor Westmarland made 11 recommendations, including making a public apology to Ms Smith and improving its safeguarding policies and procedures – changes that the university says are already underway.
She said: "The case should act as a warning to other universities to get their houses in order not just in relation to staff as well as students but also in relation to partner violence generally – many are treating sexual violence as a standalone problem unconnected to other forms of violence, abuse and harassment."
The new Vice Chancellor added: "I am very sorry for the failings identified in Prof Westmarland's report. I am grateful to Allison for taking part in the review. We will continue to offer her whatever support she needs."
Gail Gray, chief executive of RISE, the specialist domestic abuse service that supported Ms Smith throughout the trial, said the charity welcomed the comprehensive and significant report, but most importantly Sussex University's apology to Lee Salter's victim.
She added: "RISE is looking forward to working with staff and students at Sussex university and other partners to implement the report findings.
"We hope that other universities will also use the Sussex experience and the recommendations in this report to improve safety and support for students experiencing domestic and sexual violence."
Register for free to continue reading
Registration is a free and easy way to support our truly independent journalism
By registering, you will also enjoy limited access to Premium articles, exclusive newsletters, commenting, and virtual events with our leading journalists
Already have an account? sign in
Register for free to continue reading
Registration is a free and easy way to support our truly independent journalism
By registering, you will also enjoy limited access to Premium articles, exclusive newsletters, commenting, and virtual events with our leading journalists
Already have an account? sign in
Join our new commenting forum
Join thought-provoking conversations, follow other Independent readers and see their replies