Sweet deal for Yorkshire as Haribo announces new factory in Castleford
Yorkshire has a long history of manufacturing treats to feed the British sweet tooth. Jonathan Brown finds out more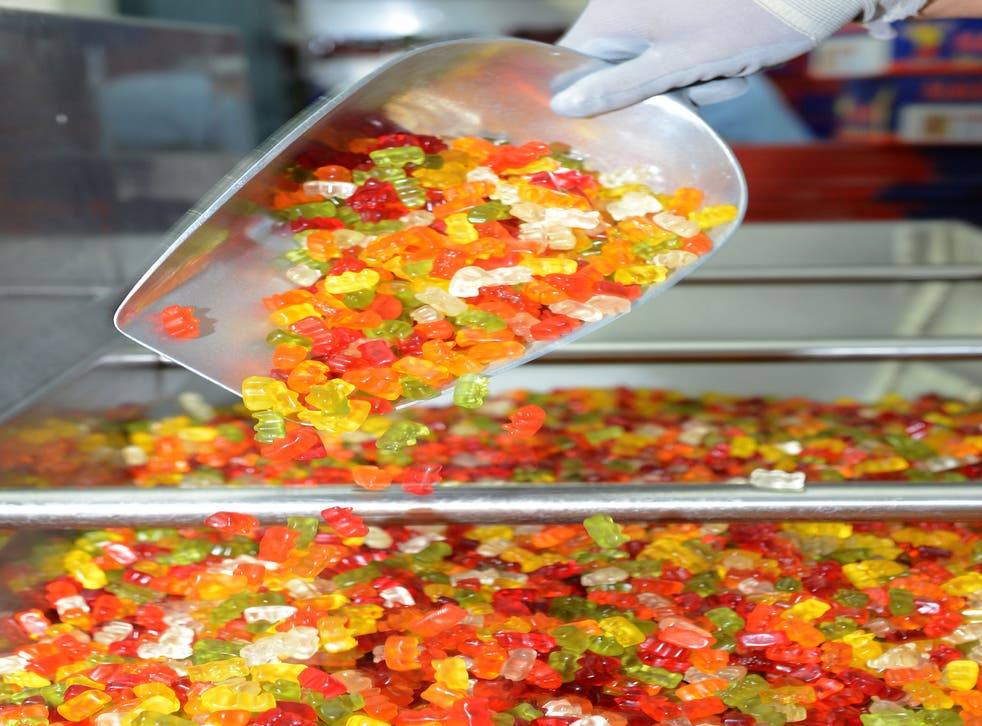 German sweet manufacturer Haribo's motto is suitably to the point: Haribo makes children happy – and adults as well. The opening of a new £92m plant was generating suitable levels of contentment all round in Castleford, West Yorkshire yesterday bringing as it does the promise of 300 much-needed new jobs.
But the decision to site the factory in the town was part testament to the gummy bears' extraordinary ability to satisfy the globe's yearning for chewy sweeties but also a reflection of Yorkshire's historic role as the global centre of the confectionery industry.
In its 20th century heyday, factories in the White Rose County were working overtime to meet the inexorable demand for sugar products. In York, Quaker companies such as Terry's and Rowntree's employed thousands of workers turning out Kit Kats and Chocolate Oranges.
At Pontefract, there were 13 factories involved in the ancient liquorice industry. Nearby Castelford manufactured Trebor mints whilst John Mackintosh turned Halifax into real-life Toffee Town.
Chocolate and confectionery historian Sophie Jewett, founder of the York Cocoa House, said there were many reasons why sweet making was to become such big business.
"Yorkshire is the confectionery capital of the world and it is very much still a hub of industry, technology as well as new artistic and cultural enterprise," she said.
The county was an area rich in agriculture and later industry. Local Quaker families eschewed alcohol but embraced the drinking of chocolate when it arrived in Britain and later set up their own factories. Meanwhile, monastic traditions of distillation and apothecaries employed mint and liquorice, and the elixirs were later mixed with sugar to make popular consumer products for the new factory classes.
"There was a lot of demand for skills in York which was very cosmopolitan and then as new towns and cities became industrialised people took these skills away to meet the demand from factory workers who now had much higher levels of disposable income," Ms Jewett added.
More recent years has seen consolidation in the British confectionary industry. Huge international brands such as Nestle bought out Rowntree's in York, now its international research and development HQ, but also a centre for Kit Kat production.
US food giant Kraft acquired Terry's, controversially shutting down chocolate production in York in 2005. In 2008, Blackpool-based confectionery firm Tangerine bought Monkhill Confectionery from Cadbury Schweppes for £58m. It had three factories in Yorkshire employing nearly 800 people.
Haribo, meanwhile, was founded by Hans Reigel in 1920, armed with little more than a sack of sugar, a copper kettle and a rolling pin. It produced its first golden bear in 1960 since when it has made enough of the sweets to stretch around the world four times.
The company bought into Dunhills in 1972, owner of Pontefract Cakes, acquiring full control of the company in 1992. Today it employs 540 staff at the site. The new plant, for which the company received £6.4m from the Government's Regional Growth Fund (RGF), will make 48,000 tonnes of sweets per year. It is due to open in 2015. The announcement of the new site was welcomed by Business Secretary Vince Cable.
Herwig Vennekens, managing director of Haribo UK, said: "Our existing factory is near capacity and so this new site will allow for progressive expansion, enabling us to continue to extend our offering and to develop new and innovative products."
We look at some of Haribo's most popular UK TV ads:
Haribo Starmix
Haribo - Just too good
Haribo Tangfastic
Join our new commenting forum
Join thought-provoking conversations, follow other Independent readers and see their replies