Syria conflict: MPs not guaranteed vote on further military action by UK, minister says
'We will respond appropriately to any further use of chemical weapons'
Peter Stubley
Monday 10 September 2018 23:31 Comments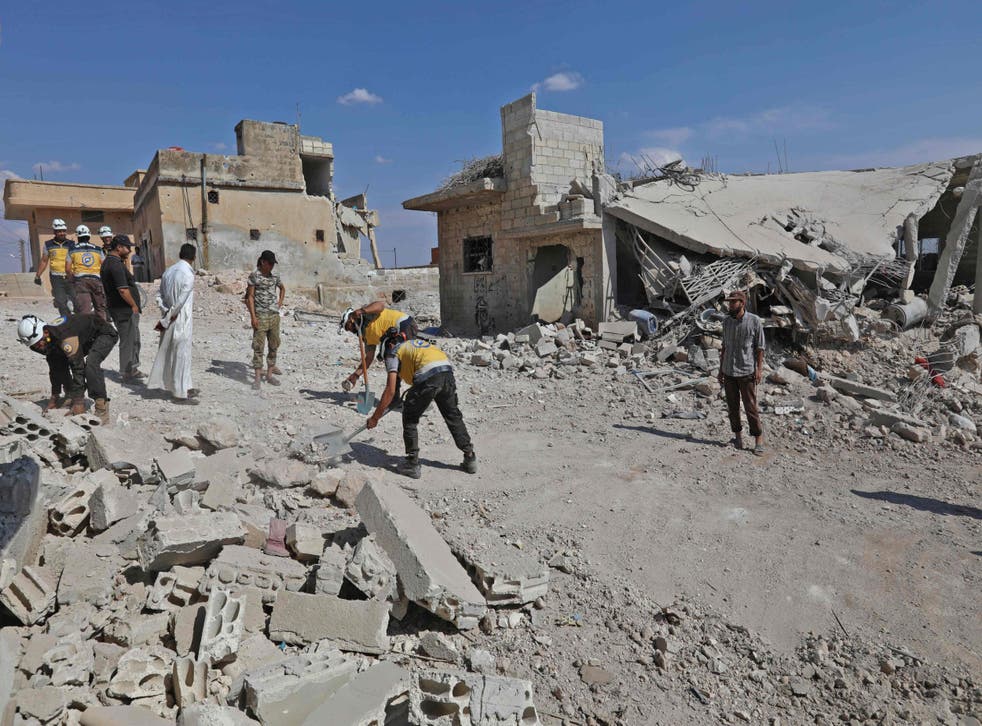 Middle East minister Alistair Burt has refused to guarantee giving MPs a vote on further military action in Syria if the Assad regime uses chemical weapons.
Mr Burt said the government's position had not changed since the UK took part in airstrikes with the US and France in retaliation for the attack on Douma in April.
He was responding to questions in the Commons following reports Russian and Syrian jets had resumed intensive strikes in densely populated Idlib and Hama despite Turkey's pleas for a ceasefire.
Shadow foreign secretary Emily Thornberry said further military intervention by the UK would be "escalating Britain's involvement in Syria and risking clashes with Russian and Iranian forces".
Ms Thornberry asked: "Will the minister of state guarantee this house we will be given a vote to approve such action before it takes place even if that means recalling parliament?"
Mr Burt replied: "We will respond appropriately to any further use of chemical weapons by the Syrian regime.
"I'm not prepared to say at this stage what the United Kingdom's detailed reaction might be or give any timescale.
"The importance of responding appropriately, quickly and with the safety of personnel in mind will be uppermost in the minds of the United Kingdom."
On Sunday Syrian army helicopters dropped barrel bombs – typically filled with high explosives and shrapnel – on al-Habeet and Abdin villages in southern Idlib and a string of other villages in the area, according to witnesses.
The Syrian government and Russian strikes in Idlib and Hama were condemned by former international development secretary Andrew Mitchell.
He told the Commons: "The bombing of these hospitals in Idlib, each one of them clearly marked with a red cross on its roof, is a war crime and the individuals engaging in those attacks will be held to account however long it takes."
Mr Burt agreed, adding: "We have more documented evidence of recent attacks on health centres, this is unacceptable.
"Deliberate targeting of health centres is against international humanitarian law, as he said, and should be spelt out every single time."
Foreign Affairs Committee chairman Tom Tugendhat demanded action to tackle Russian money behind the attacks.
He said: "Is it not outrageous these people are allowed to exploit our assets, our property and our laws to finance a war in Syria that's leaving hundreds of thousands injured and many more millions displaced?"
Mr Burt said there was an "opportunity" to prevent further attacks on civilians, saying the UK was calling on Moscow "to do all in its power to prevent that", and said sanctions would be used in the event of further aggression.
Syrian families waiting in the shadows of Lebanon's refugee camps

Show all 20
Labour MP Mike Gapes backed the call by the committee for an independent inquiry into "the consequences of non-intervention".
"There has been a manifest failure to protect civilians and prevent mass atrocities in Syria," he said.
"We could have intervened in 2011 with humanitarian corridors and no-fly zones.
"There can be even worse consequences from non-intervention by the international community than there are from intervention."
Mr Burt supported the idea and said the damage from non-intervention was "an established fact".
He added: "In a way, Syria has demonstrated, in a way that had not been fully clear before, the consequences of non-intervention."
Additional reporting by Press Association
Register for free to continue reading
Registration is a free and easy way to support our truly independent journalism
By registering, you will also enjoy limited access to Premium articles, exclusive newsletters, commenting, and virtual events with our leading journalists
Already have an account? sign in
Join our new commenting forum
Join thought-provoking conversations, follow other Independent readers and see their replies