'We can't eat or sleep until we have our daughter with us': Syrian parents speak of the pain caused by refugee family reunification laws
Exclusive: 'Wherever you live, without your children you will not be happy'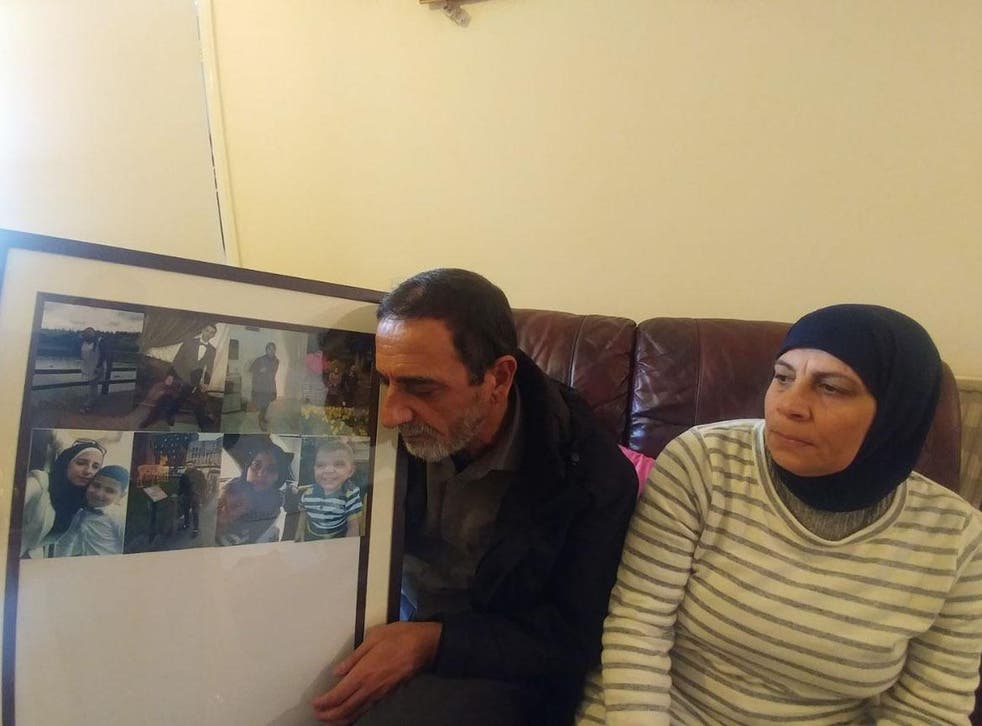 A Syrian couple who have resettled in the UK said they "can't eat or sleep" until they are reunited with their vulnerable daughter and grandson.
Abo Mohammad and Ghazwa Aljassem fear for the safety of 23-year-old Duaa, who suffers from mental health problems.
Along with her seven-year-old son Hamsa, she is currently homeless and living in Lebanon where she is helped by her two older brothers.
The couple had hoped that the pair would be able to join them in Wales, where they were resettled in 2016, but they were unable to do so.
They spoke out as MPs prepared to debate a bill that would make it easier for refugee parents to be reunited with children over the age of 18.
Supporters of the legislation argue allowing young adults who were still dependent on their parents to come to the UK will help integrate refugee families into British society.
The bill, from the Scottish National Party's Angus MacNeil, also aims to broaden refugees' access to legal aid, which can be an obstacle to family reunification.
The legislation was supported by the Families Together campaign, which is run by a coalition of organisations including Amnesty International, British Red Cross, UNHCR, Refugee Council and Oxfam.
Mr Mohammad, who asked for his name to be changed, fled his home in Homs and travelled to Lebanon along with his wife and family at the start of the civil war in 2011.
Five years later, they were resettled in Abergavenny, in Monmouthshire, Wales, with their sons, aged 15 and 21.
They said they have felt welcome in the community and have received enough support, although they added: "Wherever you live, without your family, without your children, you will not be happy."
Every night, Duaa and Hamsa have to find a new place to stay in Lebanon, said the couple, who speak to them regularly via WhatsApp.
They said Duaa was distressed after recently learning that her husband, who went missing in 2011, was dead. She was depressed, they said, adding they were worried she might try to kill herself.
Ms Aljassem said she struggled to function because she was concerned about her daughter's condition.
"At one point I couldn't get out of bed for two weeks," she said. "I could not get up. I shut down. Then the doctor put me on antidepressants. We can't sleep, because we think of her with nowhere to sleep. We can't eat, because we think of her with nothing to eat."
Chair of the all party parliamentary group on refugees, Thangam Debbonaire, said: "Sadly, I hear too many stories like this.
"Even if refugees are safe, they cannot be happy or get on with their lives if their families are still torn apart, with close relatives still in danger. Changing this is the main aim of the Refugee Family Reunion Bill.
"When people can live with their loved ones they are much better able to integrate. Refugees coming to the UK are grateful to the country giving them sanctuary and really want to contribute. This is so much easier to do if they aren't worrying about relatives still stuck in the war zone."
World news in pictures

Show all 50
The Bristol MP said the bill "would affect relatively few people", since the UK has only taken around 10,500 since 2014.
"But for these victims of war, torture and persecution who are granted legal status, the benefits would be enormous, especially in the case of children and teenagers," she added.
To find out more visitwww.refugeestogether.uk
Register for free to continue reading
Registration is a free and easy way to support our truly independent journalism
By registering, you will also enjoy limited access to Premium articles, exclusive newsletters, commenting, and virtual events with our leading journalists
Already have an account? sign in