The UK has taken just 18% of its 'fair share' of Syrian refugees, report shows
Canada tops the table of wealthy nations taking in Syrian refugees
Rachel Roberts
Friday 16 December 2016 11:32 Comments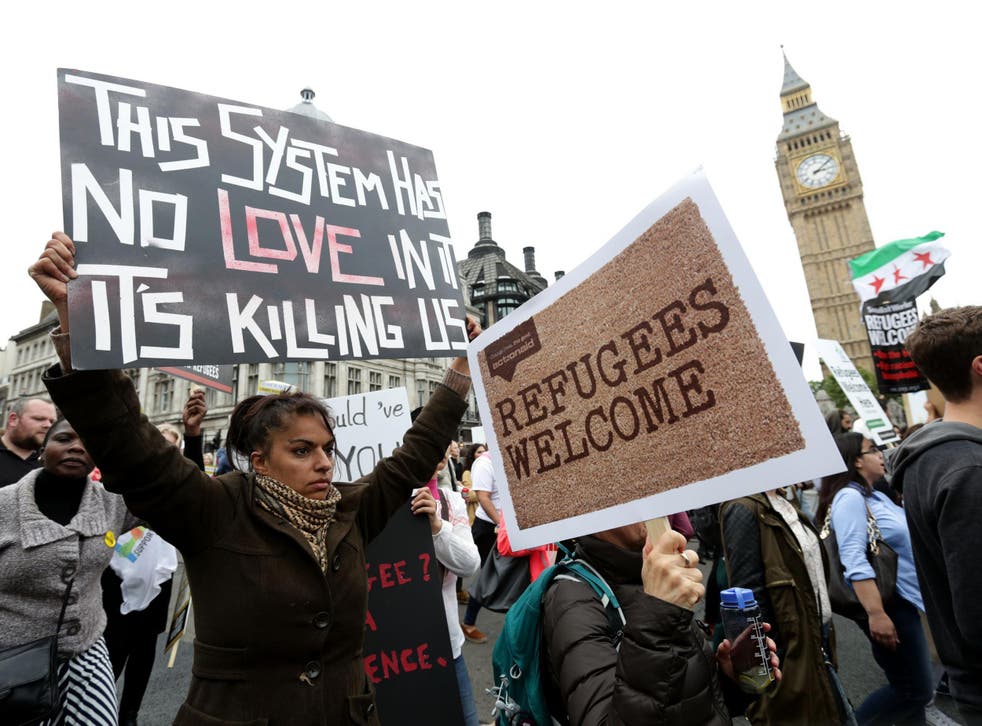 As the destruction of Aleppo continues, a new report by Oxfam reveals the UK has taken just 18 per cent of its "fair share" of Syrian refugees – while Canada tops the table of "wealthy" nations after welcoming 248 per cent of its share.
When the amount of refugees it has resettled is compared to the size of its economy, the UK languishes far behind Canada, with Norway second on 144 per cent, Germany third with 117 per cent, followed by Australia (95 per cent), Iceland (59 per cent) and Finland (56 per cent).
The UK ranks twelfth in the league of the world's 28 wealthiest nations after resettling just 4414 refugees. To achieve what Oxfam considers to be its fair share, it should have offered sanctuary to 25,056 people since the crisis began.
Former Prime Minister David Cameron controversially said in 2015 that UK citizens might fear a "swarm of people" if the country relaxed its policy on resettlement, but pledged last September that the UK would take in 20,000 Syrian refugees by 2020.
The UK ranks ahead of the USA – which Oxfam finds has taken in just ten per cent of its fair share. The report expresses concern that resettlement in the US could fall still lower, after President Elect Donald Trump pledged not to allow Syrian refugees into the country during his election campaign.
Less than three per cent of the ten million displaced people of Syria have arrived in rich countries through resettlement programmes, according to the report, which calls on these nations to "redouble their efforts, and to ensure that ten per cent of the Syrian refugee population is rehoused by 2017."
The vast majority of the five million people who have fled Syria are stuck in camps in neighbouring countries including Greece, Turkey, Iran, Lebanon and Jordan. There are believed to be more than seven million Syrians displaced but still in their homeland.
Of the 28 countries which the report considers as wealthy, seven have resettled no Syrian refugees at all – including Russia, Japan, South Korea, Portugal, Slovakia, Poland and Greece – although hundreds of thousands of refugees are currently in Greek holding camps.
Many UK politicians have called on the Government to do more to resettle Syrian refugees, with particular pleas for unaccompanied children from the camps to be allowed in, as agreed under the Dubs amendment.
The report expresses fears that the groundswell of public sympathy towards refugees which followed the publication of the photograph of drowned toddler Alan Kurdi, has fallen away with concerns about immigration gathering momentum across Europe.
Oxfam makes a series of recommendations to achieve the target of resettling ten per cent of the displaced population by 2017 – but the report stresses it is vital that there is political will in order to overcome xenophobia and a growing hostility to refugees in some countries.
Refugees welcome here: Protesters demand UK resettle more migrants in response to refugee crisis

Show all 7
It said: "Government officials should be transparent and open to the complexities of resettling refugees, while also countering the discourse of fear and xenophobia at all times.
"Political leaders should make statements in support of refugees, and actively challenge the myths that surround people who are in need of protection."
Register for free to continue reading
Registration is a free and easy way to support our truly independent journalism
By registering, you will also enjoy limited access to Premium articles, exclusive newsletters, commenting, and virtual events with our leading journalists
Already have an account? sign in
Join our new commenting forum
Join thought-provoking conversations, follow other Independent readers and see their replies