One in 10 teenage girls referred to mental health and learning disability services in past year, finds NHS report
'People presenting with issues are getting younger and younger. It's like a slow epidemic,' says psychotherapist Lindsay Percival
May Bulman
Social Affairs Correspondent
Thursday 30 November 2017 18:51 Comments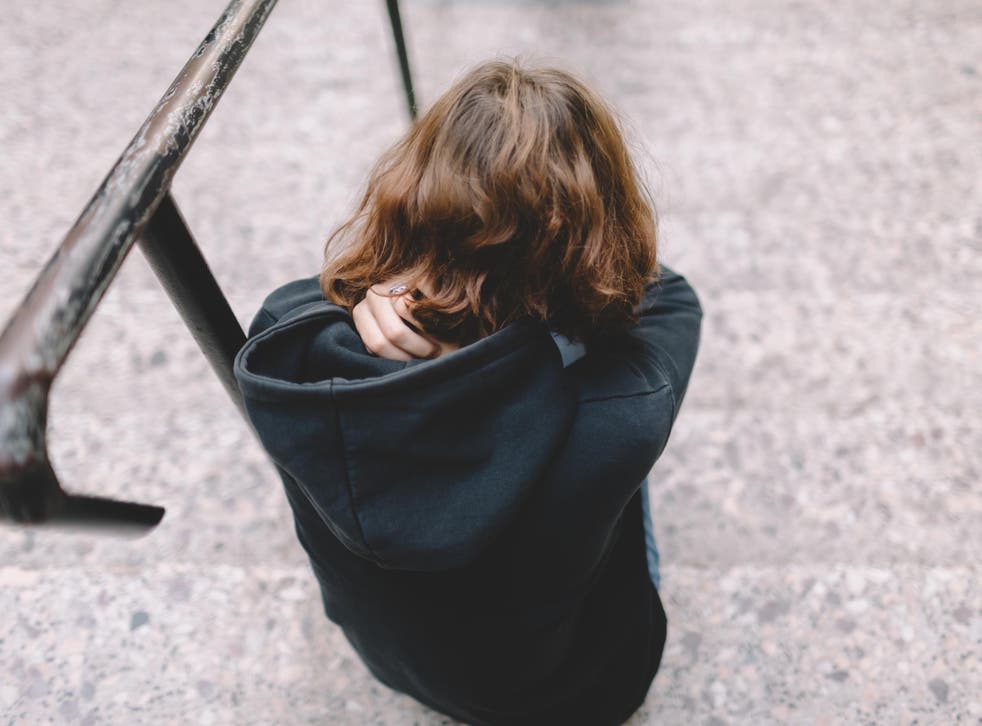 More than one in 10 teenage girls in England have been referred to mental health or learning disability services in the past year, new figures show.
Around 69,000 16- and 17-year-old girls received an open referral to NHS-funded secondary mental health, learning disabilities or autism services during 2016-17 – amounting to 11.4 per cent of this group as a whole.
Data from NHS Digital shows that a similar proportion of girls aged 14 and 15 (10 per cent) were also referred, compared with around 8 per cent of boys in either age category. Around one in five (556,790) referrals to the services last year were under the age of 18.
In total, one in 20 (4.8 per cent) people in England were known to have accessed secondary mental health, learning disabilities and autism services last year.
The figures, which are the first statistics to be published on children referred to mental health services, have raised concerns about daily pressures on female teenagers, particularly those that they face online, as well as questions over whether the child mental health funding goes far enough.
Lindsay Percival, a registered psychotherapist with the UK Council of Psychotherapy (UKCP) in London, told The Independent the disproportionately high number of girls presenting with mental health problems was largely due to the internet.
"We're living in the age of anxiety and it's largely because of the internet," she said. "Girls are constantly comparing themselves to other girls, to these ideas or beauty and perfection that we see online. They're afraid of missing out – there's a lot of pressure on social lives that didn't used to exist.
"There are also other factors, such as the rising divorce rates and the rise in single parent families. Often parents are working longer hours and are under increasing pressures to meet financial budgets.
UK news in pictures

Show all 50
"Schools are a much more stressful environment than previously. If you look at the schedules and homework, it's not something you'd think school age children would have so much pressure to deal with."
Ms Percival, who sees far more girls than boys in her practice, with around nine female clients to every one male, described the growing number of young people with mental health problems as a "slow epidemic".
She said: "There's a problem in society in the way that we are not supporting young people in the way they need to be supported. With girls in particular, it's more likely to be anxiety, depression and self-harm, whereas boys wait until it's absolutely a crisis point, and fortunately we know the number of young men taking their own lives is rising."
"It is a depressing and dismal picture. People presenting with issues are getting younger and younger. It's like a slow epidemic."
In light of the new figures, campaigners urged the Government to commit to better funding for child mental health and more focus on wellbeing in schools in the upcoming green paper on Child and Adolescent Mental Health Services (CAMHS).
Sinead O'Connor posts candid video describing her mental health
Tom Madders, director of campaigns at YoungMinds, said the country was facing a mental health crisis, with teenage girls in particular facing pressures around school stress and body image, as well as the pressure that comes with the "24-hour online world".
He said: "We are facing a mental health crisis for children and young people. We know that teenage girls face a huge range of pressures, including school stress, body image and early sexualisation."
"For girls growing up today, there is also the pressure that comes with the 24-hour online world, like creating a personal 'brand' from a young age and comparing yourself to a constant feed of 'perfect' bodies and lives. It takes a lot of courage for a young person to reach out for help, but too often that help is not available.
"That's why there needs to be sufficient funding for mental health services, as well a focus on wellbeing in schools to prevent problems developing, and we hope to see government commitment to this in the upcoming children and young people's mental health green paper."
It emerged earlier this year that Childline delivered 5,103 counselling sessions about cyber-bullying in 2016/17 – a 12 per cent increase from the previous year. The number of sessions have more than doubled in the past five years.
Name-calling, spreading rumours, death threats and blackmail posted publicly on social media profiles, blogs and online pictures were some of the ways young people told counsellors they were being tormented.
Responding to the NHS Digital figures, an NSPCC spokesman said: "These findings sadly reflect what children have told our Childline service, with one in three counselling sessions last year relating to mental and emotional health and wellbeing issues.
"Many children have told us they are struggling to access support, even at crisis point. Without improvements in how services are funded, planned and delivered, thousands of children will continue to struggle.
"The Government's forthcoming green paper must set out how early mental health support systems will be improved so that no child is left to suffer in silence."
Register for free to continue reading
Registration is a free and easy way to support our truly independent journalism
By registering, you will also enjoy limited access to Premium articles, exclusive newsletters, commenting, and virtual events with our leading journalists
Already have an account? sign in
Join our new commenting forum
Join thought-provoking conversations, follow other Independent readers and see their replies