Tens of thousands expected to protest Brexit result at London Stays rally in Trafalgar Square
'London comes together to stay connected, and the European love affair continues,' says rally organisers
Matt Payton
Monday 27 June 2016 10:46 Comments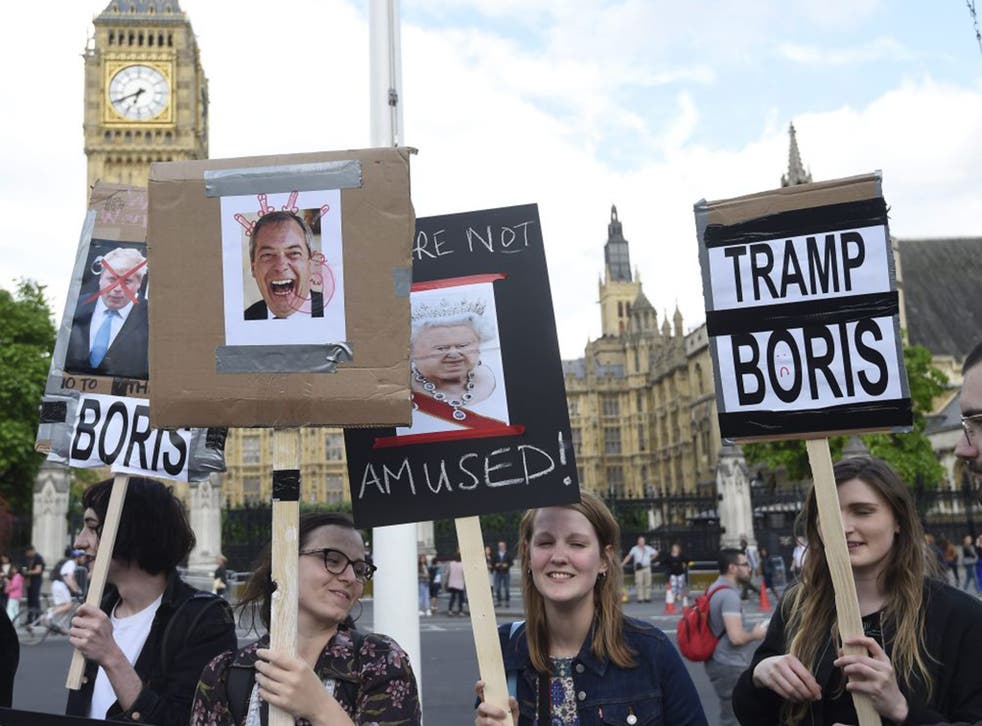 Tens of thousands of people are expected to attend a London Stays rally in Trafalgar Square to protest the EU referendum result.
More than 35,000 have signed up to attend the event on Tuesday 28 June.
The UK voted 51.9 per cent in favour of leaving the European Union.
The capital, however, voted strongly for staying in the EU, with 28 boroughs backing Remain and only five boroughs supporting Brexit.
London Mayor Sadiq Khan said he believes Britain "can survive and prosper outside the European Union", as he called for calm after the vote.
"I want to send a clear message to the British people and to businesses and investors around the world this morning: there is no need to panic," he said in a statement.
6 ways Britain leaving the EU will affect you
Organisers have called on attendees to bring native flags, national dress, music and "anything else that promotes connectness".
The group wrote on their Facebook page:"London comes together to stay connected, and the European love affair continues.
"London Stays is our mark of showing that, regardless of the EU referendum result, we stand alongside the people of Europe to show we are inclusive, open and patient to understanding how we can make the Leave decision into a positive one for all. We stay with Europe!
"If you're outside of London we'd love for you to join us in your own towns and cities – here's to 'Manchester Stays', 'Fort William Stays', 'Berlin Stays, and further afield."
Brexit reactions – in pictures

Show all 10
Following 43 years in the EU, the British electorate chose Brexit after a turnout of 71.8 per cent.
With more than 30 million voting, this is the highest turnout at nationwide vote since 1992.
England and Wales voted strongly for Brexit while Scotland and Northern Ireland supported Remain.
In Scotland, 62 per cent voted to remain with 55.8 per cent voting that way in Northern Ireland.
England voted 53.4 per cent to leave the EU with 52.5 per cent in Wales also voting for Brexit.
Register for free to continue reading
Registration is a free and easy way to support our truly independent journalism
By registering, you will also enjoy limited access to Premium articles, exclusive newsletters, commenting, and virtual events with our leading journalists
Already have an account? sign in
Join our new commenting forum
Join thought-provoking conversations, follow other Independent readers and see their replies