Thousands of new mothers 'forced out of jobs every year because of employer discrimination'
As many as 54,000 women are thought to be losing their jobs annually
Sarah Cassidy
Friday 24 July 2015 07:38 Comments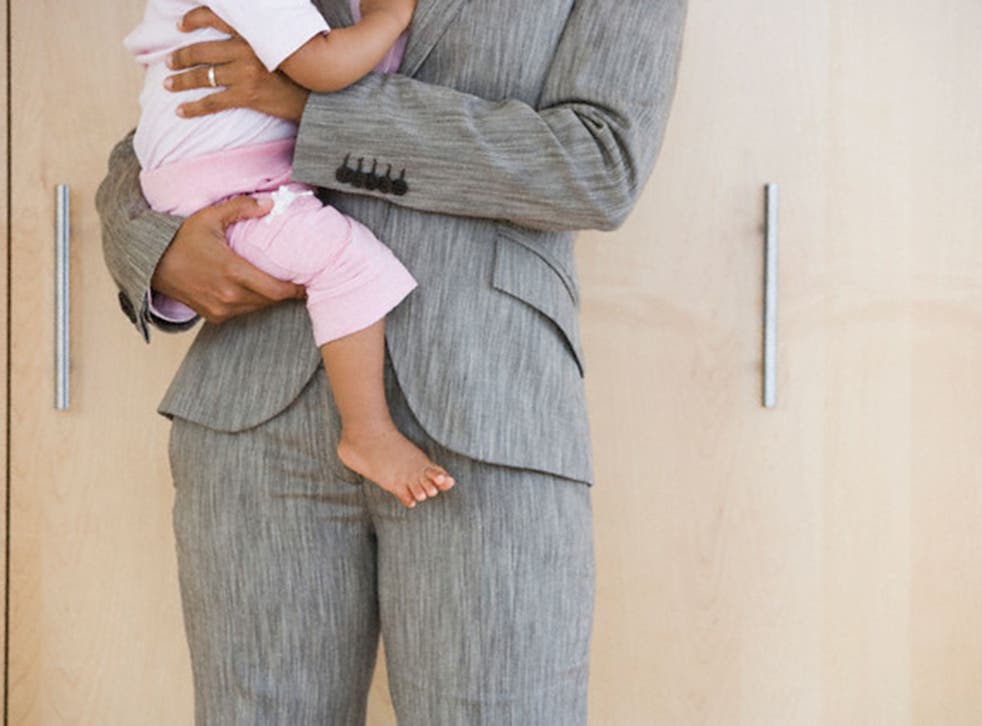 Tens of thousands of women are forced out of their jobs in Britain every year because of discrimination by employers against pregnant women and new mothers, the biggest research study of its kind has found.
As many as 54,000 women are thought to be losing their jobs annually, according to the Equality and Human Rights Commission.
More than one in 10 (11 per cent) of women interviewed by the organisation reported having been dismissed, made compulsorily redundant while others in their workplace were not, or treated so poorly that they felt compelled to leave their jobs.
The research, carried out with the Department for Business, Innovation and Skills, also found around one in five new mothers had experienced harassment or negative comments from their colleagues, employer or manager when pregnant or returning from maternity leave.
Joeli Brearley, the founder of the Pregnant Then Screwed online project, which has posted the stories of more than 400 victims of pregnancy and maternity discrimination since it was launched in March, said: "Having been a victim of pregnancy discrimination myself, my heart goes out to every one of the 54,000 women a year that suffer this injustice.
"When I was sacked for being pregnant, I thought I was the only woman in the world this had happened to. I felt alone, vulnerable and unable to find the help I so desperately needed.
"The problem is that women can't talk publicly about what happened to them. Many sign confidentiality agreements, some still work for the same company and others feel they would be branded a trouble-maker, thereby restricting their chance of finding new employment.
"This report demonstrates and exposes this systemic problem – hopefully now we can start discussing why this is happening, why it is on the increase and what the effect is on women, on society and on our economy as a whole."
One in 10 women said they had been discouraged by their employer from attending antenatal appointments. Nearly one in 10 said they were treated worse by their employer when they returned to work after having a baby, and 7 per cent said they had been put under pressure to hand in their notice.
When mothers were allowed to work flexibly, around half said they received fewer opportunities at work or felt their opinion was less valued. One in 20 mothers said they received a cut in pay or bonus after returning to their job.
Caroline Waters, the deputy chair of the Equality and Human Rights Commission, said: "Not only is discrimination unlawful, but it is also bad for business. That's why today we're launching a major initiative to bring this issue into the public eye, improve awareness of the law and work with business and other groups to find workable solutions."
Frances O'Grady, the general secretary of the TUC, described the report's findings as "shocking" and called for the Government to scrap charges of up to £1,200 for women who want to bring pregnancy discrimination claims.
Case study: Hannah Martin
Hannah Martin, a mother-of-two from Worthing, West Sussex, was an advertising copywriter when she was forced out.
While on maternity leave I won my company a prestigious award, and was paid a surprise bonus as a thank you. Five months after that I had a faultless appraisal. And yet, just two months later, I was given 24 hours to agree to resign, or my manager would 'have me out on a disciplinary'.
To save money, my company had decided to hire a younger and much cheaper male intern who worked past 6pm every day. Companies favour presenteeism over pretty much everything, at the continued expense of mums."
Register for free to continue reading
Registration is a free and easy way to support our truly independent journalism
By registering, you will also enjoy limited access to Premium articles, exclusive newsletters, commenting, and virtual events with our leading journalists
Already have an account? sign in
Join our new commenting forum
Join thought-provoking conversations, follow other Independent readers and see their replies