Simon Binner: Terminally ill man announces death on LinkedIn
Simon Binner, diagnosed with Motor Neurone Disease in January, has criticised 'nonsense' law on assisted suicide
Rose Troup Buchanan
Saturday 17 October 2015 10:24 Comments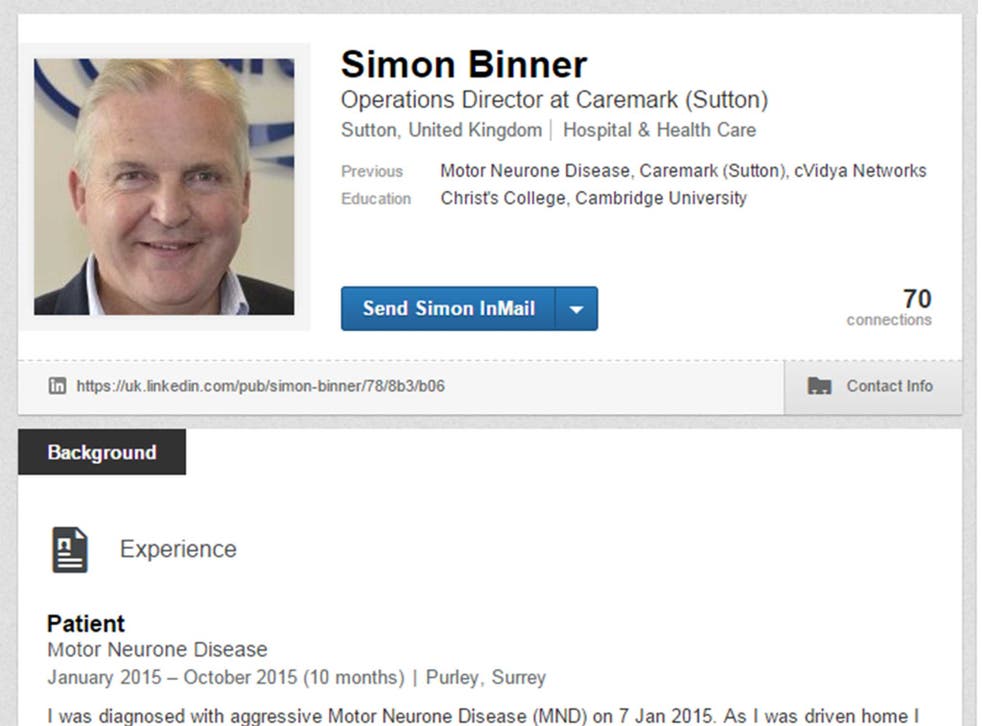 A terminally ill man has announced the date of his death on LinkedIn, just days before he plans to travel to Switzerland in order to end his life surrounded by his family.
Simon Binner, 57, from Surrey, said he plans to die in the Eternal Spirit clinic in Basel on Monday following his diagnosis of Motor Neurone Disease on 7 January.
"My MND accelerated very rapidly. The sawbones initially thought I would last until 2017/2018, but they were mistaken - no worries, it's an inexact science."
In the same post, Mr Binner writes there is "nothing positive" to say about his disease.
Motor Neurone disease is a neurodegenerative condition where specialist nerve cells in the brain stop working, causing a rapid loss of muscle control. There is no known cure.
The businessman, educated at Cambridge, also said his funeral will be held next month.
In a collection of videos posted on a Facebook page detailing his disease and condition, Mr Binner criticised the UK law preventing assisted suicide, calling it "nonsense."
"I don't want to go Switzerland to die there," he said in the video, his speech slurred as a result of his disease. "I don't want to go to hospital...I want to be here for Christmas but I can't be here."
Debbie Binner, 51, said her husband's condition was like "waking up to a nightmare every day."
Mr Binner's wife of 14 years said her husband had changed from a "high energy workaholic" with a "huge group of friends" to being unable to care for himself in just "seven months."
In a video filmed with the law firm Bindmans LLP and the British Humanist Association (BHA) Mrs Binner said her husband believed "very strongly" he should have a "legal right" to end his own life.
"Simon feels that if that was available in the UK he may well want to stay alive longer. Christmas would be lovely for us to have," she said.
Andrew Copson, BHA chief executive, said Mr Binner's case highlighted the need for a change in the current law, which would allow him "and others like him" to "have more time to spend time their loved ones before their condition becomes intolerable for them."
"The current law heaps unnecessary suffering and trauma on to families like the Binners."
Register for free to continue reading
Registration is a free and easy way to support our truly independent journalism
By registering, you will also enjoy limited access to Premium articles, exclusive newsletters, commenting, and virtual events with our leading journalists
Already have an account? sign in
Join our new commenting forum
Join thought-provoking conversations, follow other Independent readers and see their replies