No proof deradicalisation scheme is working as terrorists 'wear earphones and pretend to sleep' in sessions
Watchdog calls for 'systematic evaluation' of programme used in prisons and for released terror convicts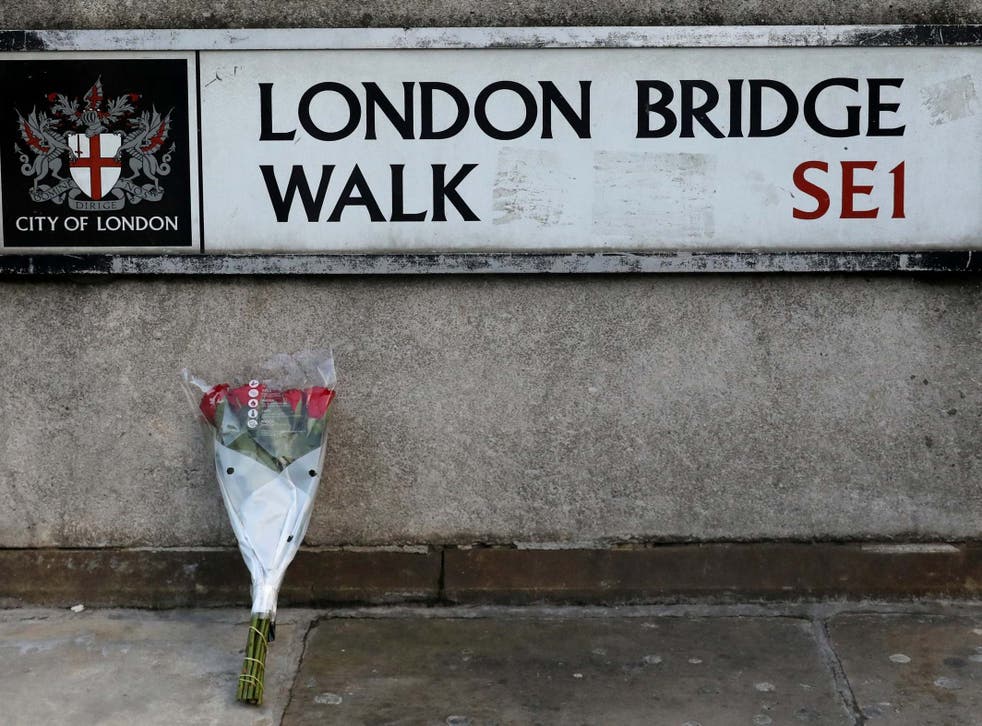 There is no proof that a key deradicalisation programme for released terrorists is working, a watchdog has found amid concern over attacks committed by former prisoners.
Usman Khan, who murdered two victims at Fishmongers' Hall in 2019, is among the offenders to have gone through the Desistance and Disengagement Programme (DDP).
The Home Office says it aims to rehabilitate people involved in terrorism and reduce the risk they pose, by leading them away from terrorist activity and their ideology.
But a report published on Tuesday said that "no one knows whether DDP is effective" at rehabilitating terrorists because there has been no systematic evaluation since it was launched over four years ago.
The Independent Reviewer of Terrorism Legislation, Jonathan Hall QC, also revealed a "significant problem" where terrorists are disrupting mentoring sessions or refusing to engage with them.
Read more:
"The more extreme examples include pretending to sleep, wearing headphones or taking long toilet breaks," said in his annual report for 2019.
"In the absence of systematic evaluation, no one knows whether DDP is effective at achieving its first goal of rehabilitation, reintegration with mainstream society, or long-term deterrence."
DDP was launched in 2016 and was initially for convicted terror offenders who had been released on licence, but was later expanded for people showing extremist behaviour while still inside prison.
It is also used for people who have returned from Syria after having initially been excluded from the UK over security concerns, under Temporary Exclusion Orders, and extremists put under Terrorism Prevention Investigation Measures (TPIMs).
The Home Office says the programme "works by providing tailored interventions", such as ideological mentoring and mental health services, and practical support such as with employment and housing.
Mr Hall told The Independent he would like to see a "systematic evaluation" of DDP and what happens to people after they go through it.
London Bridge attack: Terror police shoot man after stabbing

Show all 29
He said that although recorded reoffending by terror convicts is low, it is "not enough to look at statistical offending because only a percentage of terrorist activity goes through the courts".
"A possible evaluation would include a whole-government approach, where police and MI5 would say what they know," Mr Hall added.
"I think you would have to include as a metric whether they are still of counter-terrorism interest.
"There is also the matter of causation – knowing whether the reason someone re-engages [with terrorism] was because DDP was hopeless or because something else happens.
"So much weight is put on it by authorities for TPIMs and Temporary Exclusion Orders, but also for prisons, that an evaluation seems to be very important."
Mr Hall said that deliberate disruption or non-compliance at DDP sessions could be tackled using "reasonable directions" by officers, such as ordering people to remove earphones. Failing to comply would amount to a criminal offence.
The report was published amid heightened concerns about terrorist networking and radicalisation inside Britain's prisons.
Last year saw the first Isis-inspired attack inside a UK jail, where a terrorist inmate and radicalised violent criminal attempted to kill a prison officer at HMP Whitemoor.
Footage of 'terror attack' by prisoners at HMP Whitemoor
It was one of four terror attacks launched by serving or released prisoners in a seven-month period between November 2019 and June.
The other three were at Fishmongers' Hall, where Khan targeted a rehabilitation event; a street stabbing attack in Streatham and the Reading park attack, in which three people were killed.
The number of terrorist prisoners hit a record high last year, and a package of new laws currently going through parliament aims to make them serve longer inside jail by increasing sentences and changing release rules.
Responding to a debate on the laws earlier this month, Lord Stewart, the Scottish lord advocate, said: "It is very difficult to measure the effectiveness of intervention programmes in changing behaviour for any offenders but especially within such a small cohort.
"Efforts in our prison system to deradicalise and rehabilitate offenders in custody are ongoing, and techniques are developing constantly."
MPs and peers have raised concerns that jails could become "terrorist training grounds", and Mr Hall is currently undertaking a separate review of terrorist offending inside prisons.
Announcing the probe in January, Mr Hall said he mounted the review because of his own concerns, and had not been commissioned by the Ministry of Justice, adding: "Everything is clearly not fine."
The Home Office said it would respond formally to his report in due course.
A spokesperson added: "The UK has some of the toughest counter-terror laws in the world, and we continue to strengthen these to reflect the evolving nature of the threat.
"Independent oversight is essential to ensuring our terrorism legislation continues to be fit for purpose and we thank Jonathan Hall QC for his thorough report. We will consider his recommendations carefully."
Register for free to continue reading
Registration is a free and easy way to support our truly independent journalism
By registering, you will also enjoy limited access to Premium articles, exclusive newsletters, commenting, and virtual events with our leading journalists
Already have an account? sign in
Register for free to continue reading
Registration is a free and easy way to support our truly independent journalism
By registering, you will also enjoy limited access to Premium articles, exclusive newsletters, commenting, and virtual events with our leading journalists
Already have an account? sign in
Join our new commenting forum
Join thought-provoking conversations, follow other Independent readers and see their replies