Tesco cash machine offers 'free erection' because of mistake translating sign into Welsh
Aberystwyth councillor Ceredig Davies says supermarket deserves '10 out of 10 for effort' but that "'codiad am ddim' translates colloquially as 'free erection'"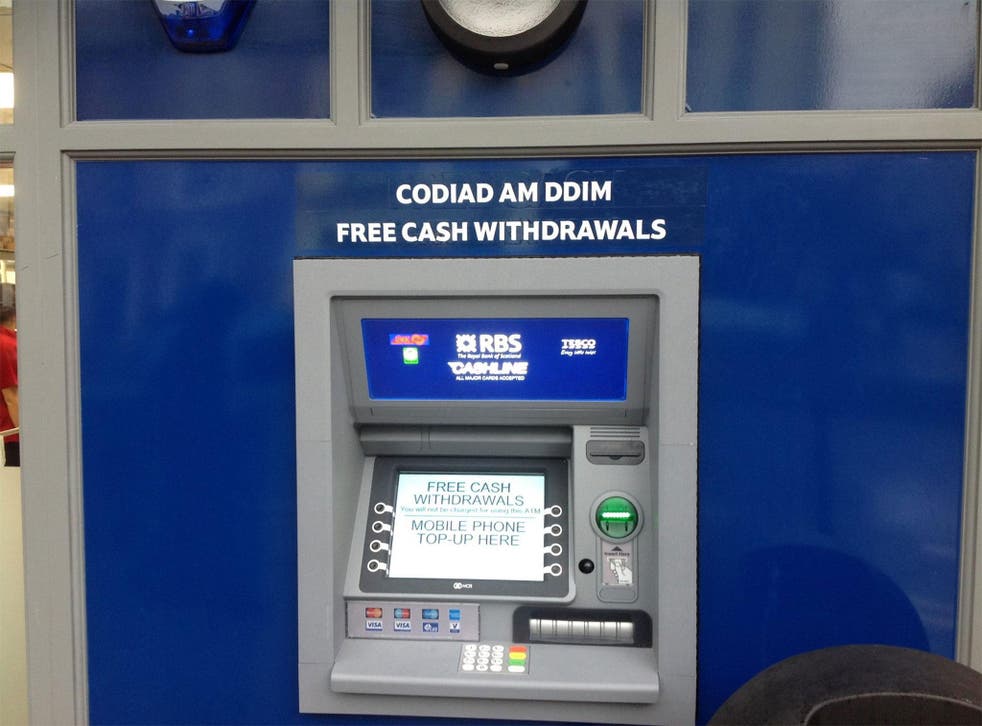 A branch of Tesco in Wales has been accused of "promising more than it can deliver" after a mistake in the Welsh translation of "free cash withdrawals" meant it ended up offering a "free erection".
Aberystwyth councillor Ceredig Davies said the new cash machine put up this morning at a Tesco Express was the topic of all the "gossip around town this lunchtime", with the error immediately noticeable to Welsh speakers.
He later went down to see for himself, and posted a picture on Facebook with the caption: "'Codiad am Ddim' translates colloquially as 'Free Erection'."
Mr Davies said: "We're accustomed to people making an effort to consider the Welsh language but not checking it properly. We come across plenty of examples – but few are as entertaining as this.
"10 out of 10 to Tesco for making the effort to have signs up in the Welsh language, but it perhaps would have served them better to check it with a Welsh speaker beforehand."
A Welsh-speaking source told The Independent a more appropriate wording would have been "Codi arian am ddim", literally translating as "raise money for free" – and while the unfortunate error has received a great deal of attention from locals, Mr Davies insisted they were only "having a laugh" at Tesco's expense.
"People weren't angry at the mistake - just amused," he said. "I think the Welsh have a strong enough sense of humour for that."
Sadly for those who might want to see the sign for themselves, a spokesperson for Tesco said the sign had now been removed.
"We've taken the sign down and will replace it with the correct translation as soon as possible," the spokesperson said. "Thanks to everyone who pointed out the mistake."
Register for free to continue reading
Registration is a free and easy way to support our truly independent journalism
By registering, you will also enjoy limited access to Premium articles, exclusive newsletters, commenting, and virtual events with our leading journalists
Already have an account? sign in
Register for free to continue reading
Registration is a free and easy way to support our truly independent journalism
By registering, you will also enjoy limited access to Premium articles, exclusive newsletters, commenting, and virtual events with our leading journalists
Already have an account? sign in
Join our new commenting forum
Join thought-provoking conversations, follow other Independent readers and see their replies