Tesco puts security tags on plastic bags due to '5p thefts'
The tags were spotted at Tesco's Surrey Quays store in south-east London
Alexandra Sims
Saturday 10 October 2015 11:47 Comments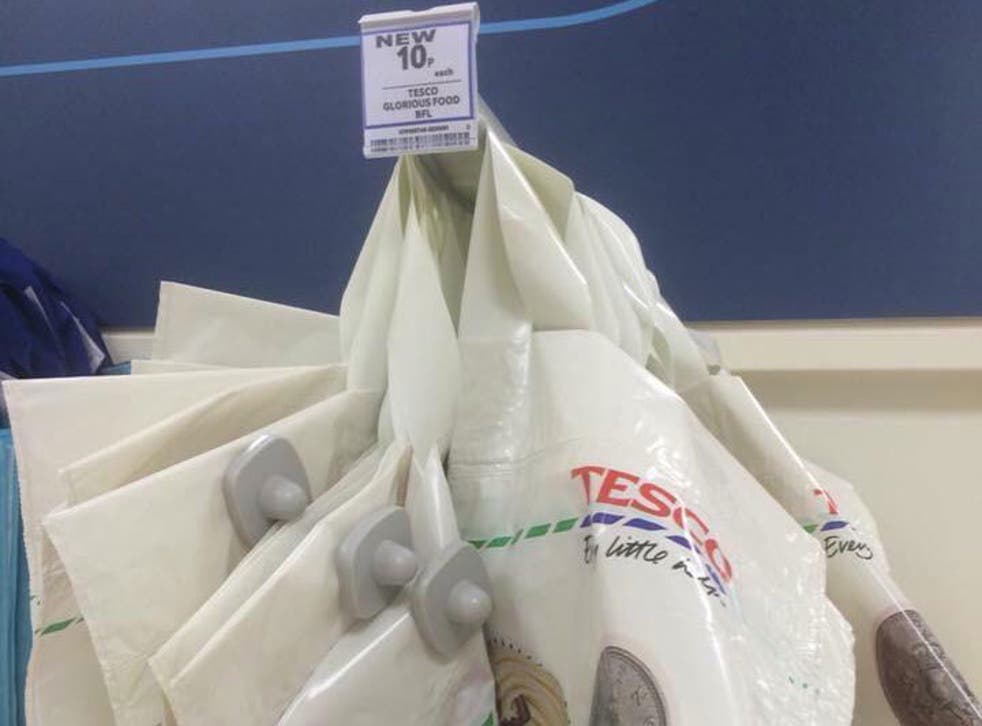 A Tesco store has been pictured installing security tags on plastic bags due to "thefts", days after the 5p charge was brought in.
The tags were spotted fitted on to 10p plastic bags for life near the self-service machines at the supermarket chain's Surrey Quays store in south-east London.
A customer, Peter Young, said he was "gobsmacked" by the tags, taking a picture of them and asking Tesco over Twitter why it had fitted the anti-theft devices.
All you need to know about the 5p plastic bag charge
Tesco replied saying the security devices had been implemented to protect the bags from "thefts" following the 5p levy.
The messages from Tesco's Twitter account to Mr Young originally said: "I've spoken to the store and I've been informed that due to theft in the store the bags will be tagged. They're only tagged in the corner to avoid damage."
29-year-old Mr Young said: "I couldn't believe it when I got to the self-service counter and saw the bags with tags on. I thought at first it might be a joke but then when Tesco confirmed it was due to thefts I was gobsmacked.
"Surely there is a better use of the staff's time and resources than trying to stop 10p bags being stolen. Presumably the time it takes to repeatedly tag and then untag these bags is more than the 10p anyway.
"The store does not have the best customer service in the world so I think their time would have been better spend on them. It's yet another hurdle you have to jump over at the self-service machines, which are already difficult enough to use as it is.
"'I'm shocked someone was stealing bags. If you're at the counter trying to pay for something I don't see how 10p can be much of a stretch - and there are always the 5p ones too. I certainly don't have a problem with the bag charge. I am happy to pay it."
Jordan McInnes also joked about the incident on Twitter:
The supermarket chain has since admitted the tags were a "mistake".
A Tesco spokesperson said: "We've been doing everything we can to help customers minimise the impact of the bag levy charge and we're really pleased with how our customers have responded.
"This incident was a mistake, security tags should not be placed on this product."
The 5p charge for plastic carrier bags was introduced in England on Monday. Leading up to the introduction Supermarket managers were said to be bracing themselves for chaos and shop assistants were allegedly undergoing training to deal with argumentative customers.
The aim of the scheme is to prevent plastic bags ending up as litter or marine pollution. A similar scheme in Wales has seen bags handed out by retailers fall by 79 per cent over three years.
Register for free to continue reading
Registration is a free and easy way to support our truly independent journalism
By registering, you will also enjoy limited access to Premium articles, exclusive newsletters, commenting, and virtual events with our leading journalists
Already have an account? sign in
Register for free to continue reading
Registration is a free and easy way to support our truly independent journalism
By registering, you will also enjoy limited access to Premium articles, exclusive newsletters, commenting, and virtual events with our leading journalists
Already have an account? sign in
Join our new commenting forum
Join thought-provoking conversations, follow other Independent readers and see their replies