Tests reveal Findus frozen beef lasagnes contain 'up to 100 per cent horsemeat'
Findus, Tesco and Aldi all withdrew a variety of frozen beef products from sale yesterday following new information from a French supplier, Comigel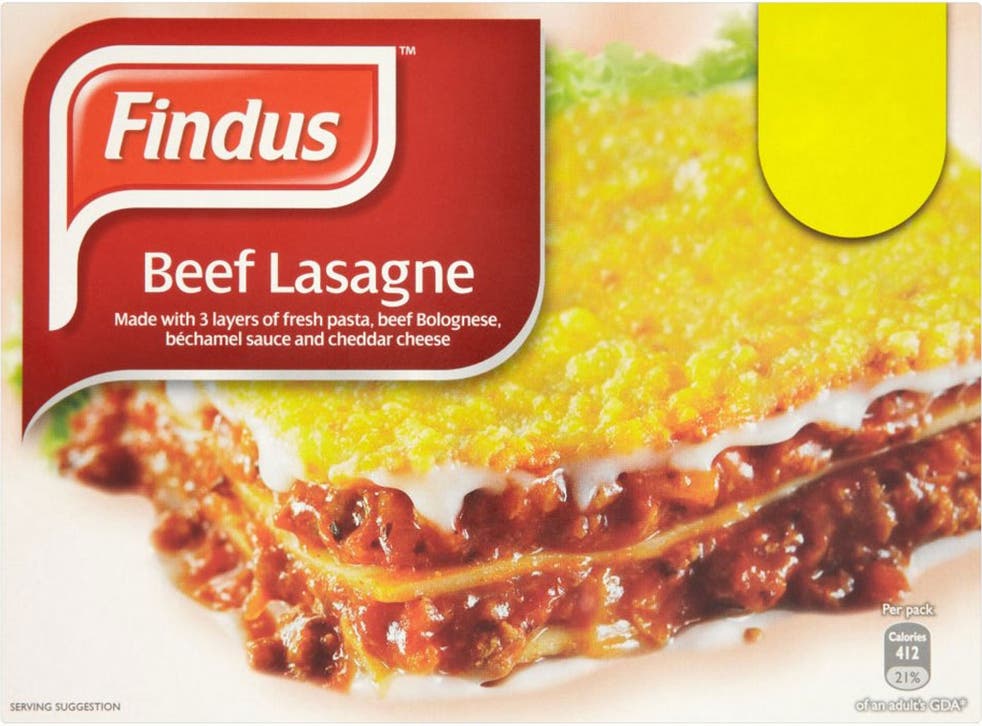 Findus beef lasagne ready meals were up to 100 per cent made from horse meat, Government food officials have revealed.
Some of the popular frozen meals contained entirely horse and not beef, the Food Standards Agency (FSA) confirmed as it disclosed the latest flagrant breech of food rules.
Shoppers who bought the products, made by the French food supplier Comigel on behalf of Findus, have been warned not to eat them.
While saying there was no evidence the unlabelled meat was unsafe, the FSA has ordered it be tested for traces of an equine drug which is harmful to humans, phenylbutazone, or 'bute'.
Food companies will now be ordered to test their beef products, the FSA said.
It was "highly likely" that criminal activity was to blame for the contamination, the agency added.
After a leak from the meat trade last month, the FSA admitted that meat from eight horses slaughtered in UK abattoirs last year had been found to contain 'bute'.
The FSA said Findus had tested 18 of its beef lasagne products and found 11 meals containing 60 to 100 per cent horse meat.
Findus withdrew packs of its frozen beef lasagne on Wednesday after apparently receiving an alert from Comigel. Tonight it apologised to customers.
"We do not believe this to be a food safety issue," said a Findus spokesman. He added: "We are confident that we have fully resolved this supply chain issue. Fully compliant beef lasagne will be in stores again soon.
"We would like to take this opportunity to apologise to our customers for any inconvenience caused."
Tesco and Aldi also withdrew a variety of frozen beef products today, saying they did not conform to specification. Aldi said of its frozen spaghetti Bolognese and lasagne (made by Comigel): "Comigel has flagged concerns that the products do not conform to specification."
Tesco said it was withdrawing its Findus-made frozen spaghetti Bolognese as a "precaution."
Findus had been advertising on its packs of beef lasagne: "Made with 3 layers of fresh pasta and beef bolognaise topped with béchamel sauce and a sprinkling of cheddar cheese".
The beef lasagne was distributed to the main UK supermarkets and smaller convenience stores. The FSA advised anyone who purchased packs not to eat them and return them to the shop where they bought them.
Mary Creagh MP, Labour's Shadow Environment Secretary, criticised the UK authorities for responding slowly to the concerns that the British meat supply chain is similarly contaminated.
She said: "The Irish Government has called in the police and fraud experts to investigate the horse meat fraud, yet complacent British ministers have not and are asleep on the job.
"The public must have confidence that the food they buy is properly labelled, legal and safe to eat whether it is purchased from a supermarket or in a school canteen."
But the Environment Secretary Owen Paterson said the situation was "completely unacceptable" and promised to take action.
He said: "Consumers can be confident that we will take whatever action we consider necessary if we discover evidence of criminality or negligence."
Ten million beefburgers were last month withdrawn from sale in Ireland the UK last month after tests by the Food Safety Authority of Ireland found horse meat.
Further tests have shown meat in Ireland and Northern Ireland to be up to 80 per cent horse meat.
The developments came after the supermarket chain Asda withdrew products supplied by a Northern Ireland company which was storing meat found to contain a high proportion of horse DNA.
Newry-based Freeza Meats had been storing the consignment of meat, which was labelled as beef, on behalf of a supplier in the Irish Republic. Two samples were found to contain 80 per cent horse meat.
Asda confirmed that no trace of horse DNA had been found in products made by Freeza Meats, but said it was still temporarily removing its burger range from its stores as a precaution.
The Irish meat-processing industry has been rocked by the horse meat crisis, with a number of suppliers being caught up in the scare. Authorities have pledged to restore the sector's battered image, while police in the Irish Republic have launched an investigation.
Horse meat timeline
January 15
Ireland's Food Safety Authority reveals beef burgers on sale in Ireland and UK supermarkets, including Tesco and Iceland tested positive for horse DNA. Horsemeat said to account of one third of the burger content. The meat was supplied by two plants in Ireland, Liffey Meats and Silvercrest Foods, and one in the UK, Dalepak Hambleton.
January 16
Tesco takes full page adverts in newspapers apologising to customers and withdraws its Everyday Value range from shelves. Iceland and Aldi also remove burgers from stores.
January 28
After 10million burgers removed from sale in the UK and Ireland, the Irish Government said the meat originated in Poland.
January 31
Burger King finally admits "very small" traces of horse DNA had been found in four samples taken at its Irish supplier, Silvercrest, after giving customers "absolute assurance" its burgers were untainted.
February 5
As a precaution Asda withdraws four frozen burger products supplied by Northern Ireland-based Freeza Meats after a batch of meat is found to contain 80 per cent horse DNA at the firm's cold store.
February 6
Tesco and Aldi remove frozen beef meals from sale that were made by the French supplier Comigel. Aldi said its supplier had "flagged concern" about its frozen spaghetti Bolognese and lasagne products. Tesco withdraws frozen spaghetti Bolognese as a "precaution".
The move was prompted by frozen food manufacturer Findus UK withdrawing lasagnes made by Comigel.
Register for free to continue reading
Registration is a free and easy way to support our truly independent journalism
By registering, you will also enjoy limited access to Premium articles, exclusive newsletters, commenting, and virtual events with our leading journalists
Already have an account? sign in
Register for free to continue reading
Registration is a free and easy way to support our truly independent journalism
By registering, you will also enjoy limited access to Premium articles, exclusive newsletters, commenting, and virtual events with our leading journalists
Already have an account? sign in
Join our new commenting forum
Join thought-provoking conversations, follow other Independent readers and see their replies