The day death swept in through Herald's open doors
The Zeebrugge disaster 25 years ago claimed 193 lives. Jonathan Owen talks to six people who were profoundly affected by it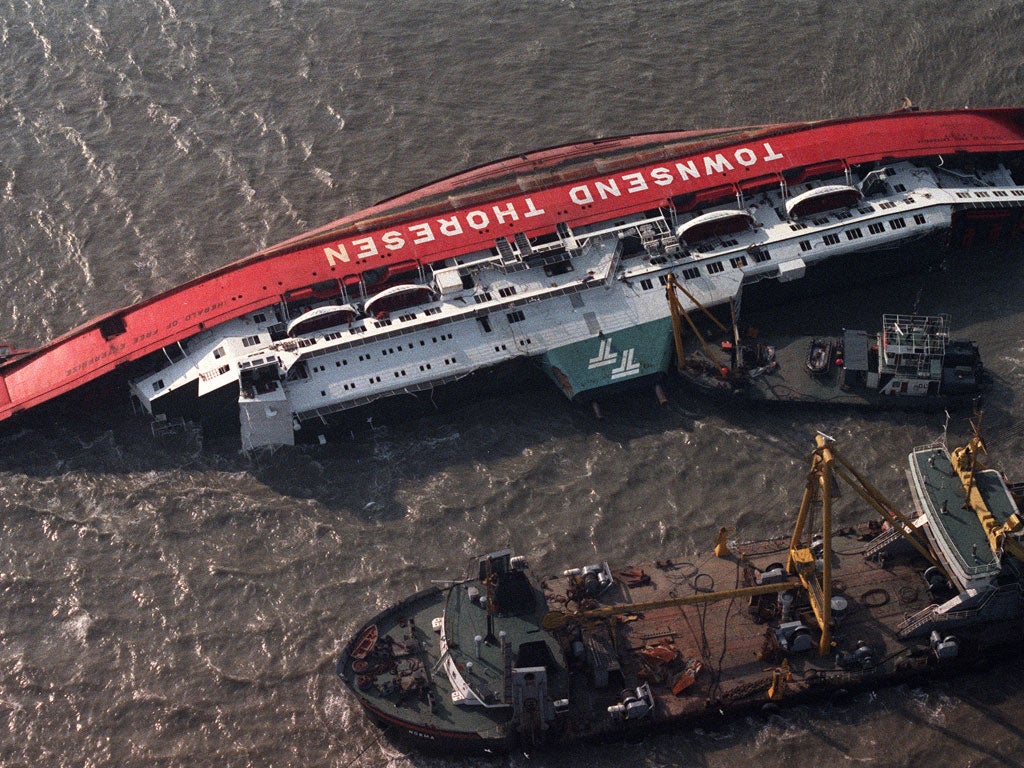 When the Herald of Free Enterprise ferry capsized 25 years ago, less than half an hour after leaving Zeebrugge for Dover, it was one of Britain's worst maritime disasters. The ferry had set off with its bow doors left open, and 193 people died, with entire families and groups of friends drowning in freezing waters. Hundreds of survivors and relatives are expected to attend a memorial service in Dover on Tuesday, to mark the 25th anniversary. Here The Independent on Sunday speaks to six people whose lives were changed for ever.
Andrew Parker lay across a damaged walkway and formed a human bridge allowing 20 people to walk to safety. He was awarded the George Medal for his bravery. Now 58, he works as a property manager overseas and shuns publicity. "Before the disaster, I was a normal bloke, nothing special at all. Afterwards, everything was different. Since then, I have been made redundant, obtained two degrees, changed career several times, divorced, remarried and emigrated. The disaster taught me there are two types of person – victims and survivors. I discovered that I am a survivor, not just of the sinking but in life generally."
Wallace Ayers, former technical director of Townsend Thoresen, took early retirement three weeks after the tragedy. Accused of failing to get bridge indicator lights installed, he was one of seven people from the company charged with manslaughter. The case collapsed. The 88-year-old lives in Reigate, Surrey. "It was, as far as I'm concerned, a monstrous injustice and a monstrous waste of money, the fact that I was on trial. It's in the past, but it's still in the present. The Herald of Free Enterprise was well built and it was misused. It was just one of those tragic accidents."
Peter Still led a Royal Navy diving team that pulled out more than 50 bodies. He received the Queen's Commendation for Brave Conduct. He is now 67 and lives in Waterlooville, Hampshire. "It was around five in the morning. We were taking out people who had died and there were very, very small children, two or three years old. And I came across the bodies of a couple of old ladies who had ruined their fingers and fingernails trying to get out of the windows. Things like that stick in your mind. The hardest thing to take is the fact that it needn't have happened – the waste of life because of stupidity."
Paul Johns, then a 19-year-old passenger, is now 44 and working as a shift manager in Newcastle. "There was absolute mayhem. The sky turned purple as a distress flare went up and the ship's horn, which was sounding, became muffled as it submerged beneath the water. When I found out later about the number who had died, the biggest thing I felt was relief that it wasn't me or anybody else I was with. One in three died. There were six of us, so two of us shouldn't be here if you want to look at it that way."
Peter Ford, former chairman, Townsend Thoresen. The 73-year-old is now retired and lives in London. "Sailing with the doors open was like landing a 747 and forgetting to put the undercarriage down – it was a horrendous mistake. There was huge grief among the relatives. It was a very difficult situation. Probably the biggest mistake that we made is that we somewhat underestimated the number of people who had been killed, saying it was about 136 when actually it was 193... I think we did the right thing to accept responsibility and do our best in what were extremely difficult circumstances, but we didn't get everything right."
Brian Gibbons was the last man to be rescued. Now 64 and retired, the former truck driver lives in Melton Mowbray, Leicestershire. "We thought they didn't know we were there because it was five, six, seven hours until we got rescued. It's a long time when you can't see what is happening, because it was pitch black. I didn't think I would make it. Afterwards, I found it very difficult to talk to people who had lost loved ones because of the enormous guilt of surviving when others hadn't. In the early years there wouldn't be a day go past when I wouldn't think about it; now it's every two or three months I go quiet."
Join our commenting forum
Join thought-provoking conversations, follow other Independent readers and see their replies