The flight where check-in turned into cock-up ...
Dentist wanted to go on holiday to Granada, not Grenada, and now he's suing BA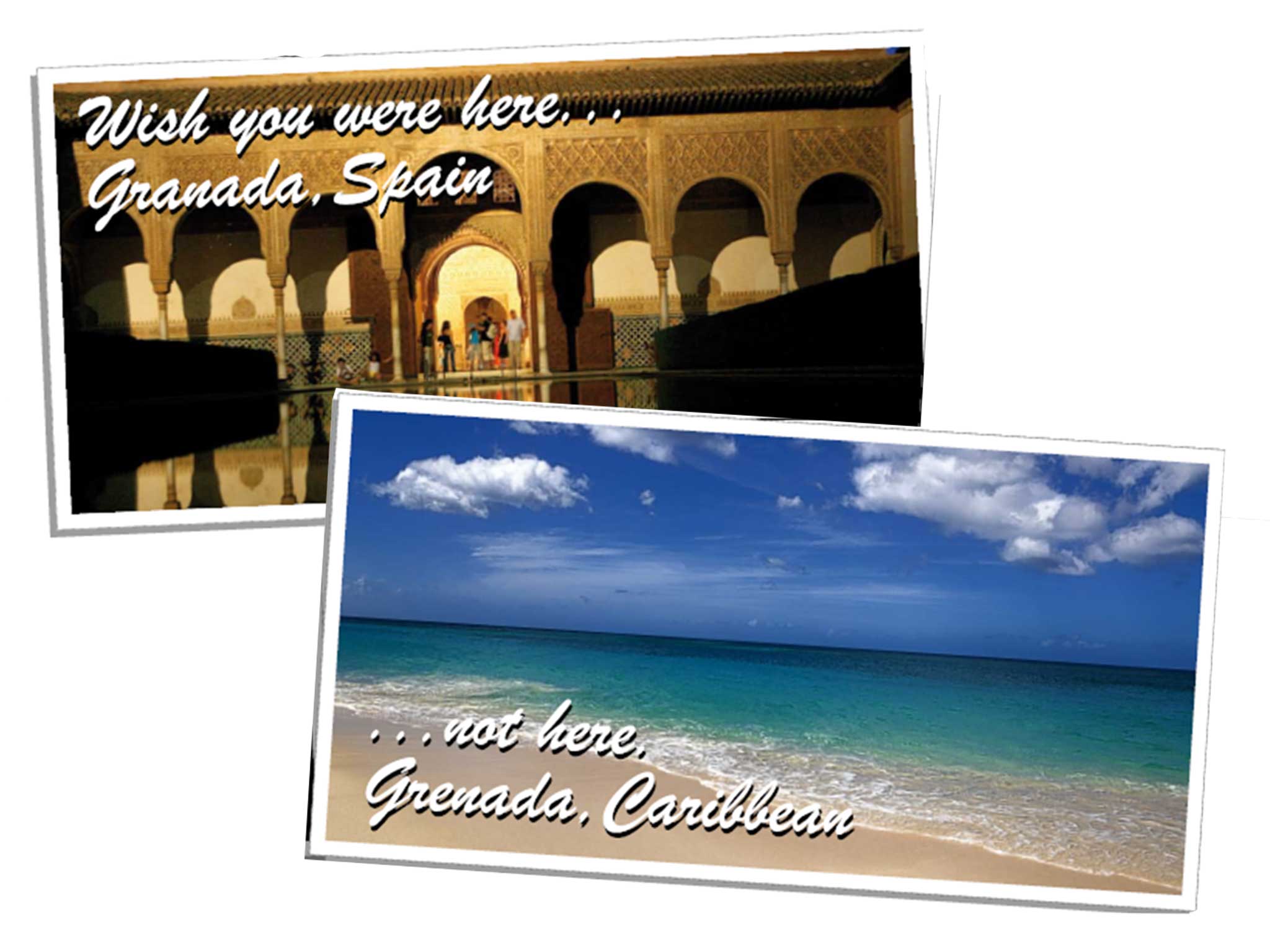 After two years without a holiday and a lifetime of longing to see the architectural treasures of Granada, Edward Gamson felt he could at last relax as he sat back on a British Airways flight en route to the capital of Moorish Spain. It was only when the American dentist and his partner glanced at the electronic map on the in-flight entertainment system and noticed their plane was heading due west out of London that they became concerned something was not right.
Some nine hours later, the pair found themselves not among the arabesques of the Alhambra Palace but a full 4,000 miles from their intended destination, on the Caribbean holiday island of Grenada.
The mix-up initially resulted in apologies from BA staff on board the flight, and a promise that the couple would be put on the plane's return trip to Gatwick en route to Granada. Instead, they were subjected to a further three-day ordeal which resulted in them never reaching Spain, and a refusal by BA to reimburse their £2,650 first-class tickets, and which is now the subject of a damages claim before the US courts.
Mr Gamson told The Independent on Sunday: "I have a lifelong interest in Islamic art. I'm also of Spanish Jewish heritage so it was something I had always wanted to do to visit Granada and the Alhambra. I made it absolutely clear to the booking agent I wanted to go to Granada in Spain. Why on earth would I want to go to Grenada in the Caribbean if I was flying back to America from Lisbon?
"It's just so sad. A trip we had been really looking forward to was ruined and ... BA won't do the decent thing."
It is alleged that BA's American booking agents in Florida made the error. According to the legal complaint filed by Mr Gamson, the electronic tickets referred only to "Grenada", without showing the airport code, destination country or flight duration.
He is not the first Granada-bound BA passenger to find him or herself in the Caribbean. A week before Mr Gamson's flight, Lamenda Kingdon, 62, from Plymouth, Devon, who had booked a flight to Spain as part of a "bucket list" of things to do, after she was diagnosed with cancer, also found herself in Grenada. Her tickets were booked with Avios, the "Air Miles" company owned by BA's parent, International Airlines Group, which promptly reimbursed her.
But in the case of Mr Gamson, BA is resisting his damages claim for $34,000 (£20,000). Earlier this month, a US judge rejected the airline's attempt to have part of his lawsuit struck out, and the claim will now head for a full hearing.
In his ruling, Judge James Boasberg wrote: "This case proves the truth of Mark Twain's aphorism that 'the difference between the right word and the almost right word is the difference between lightning and a lightning bug'. Except here only a single letter's difference is involved."
British Airways declined to comment.
Crossed lines
Holy mess
Pilgrims en route to the Catholic shrine in Lourdes were left disappointed after their satnav directed them to the less celebrated village of Lourde in the Pyrenees.
Cup of woe
Australian newlyweds Orin and Melissa van Lingen embarked on a flight headed for what they believed was Salvador, Brazil, for the Netherlands vs Spain World Cup match. Instead, they stepped off the plane in … El Salvador after a travel agent "made an error".
Join our commenting forum
Join thought-provoking conversations, follow other Independent readers and see their replies