The forgotten mineworkers of the Garden of England
They once toiled underground in Kent but found themselves jobless after mining ended. Now the transformation of an old pit is bringing them hope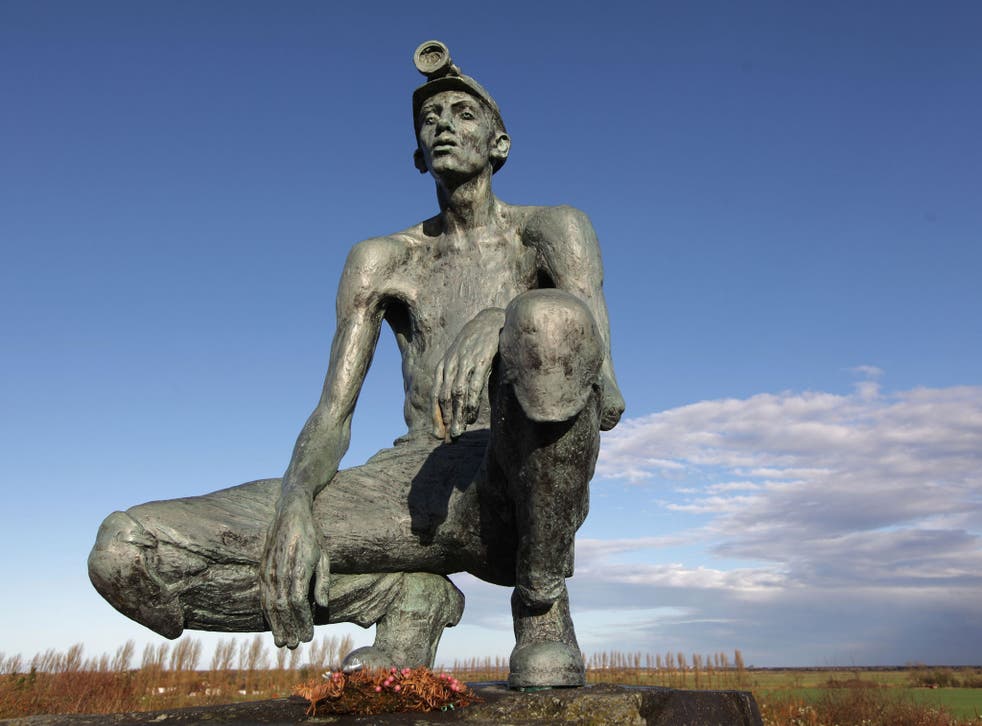 They are the forgotten workers of the Home Counties. For they spent their time not commuting in and out of London, but deep underground in the heart of rural Kent – once home to some of Britain's deepest and most dangerous coal mines.
Now, nearly 30 years on, the veteran coalminers are making an unlikely comeback. A makeshift hut in Deal, once home to the Betteshanger colliery, is the unofficial headquarters of a new environmental park that promises to bring jobs to the miners and a future for their families.
At its peak, the site employed more than 1,500 men from Scotland, Wales and the North-east of England. Many had walked or cycled to Deal from all over the country, transforming the once genteel seaside resort into a mining powerhouse that, together with Snowdown and Tilmanstone pits, saw Kent produce a million tons of coal a year.
But the onslaught of technology and changing governments meant that, by 1989, Betteshanger was closed – the last Kent colliery to do so. It left a generation of miners cut adrift and the lives of thousands of families changed forever.
While some managed to re-invent themselves as electricians or find work because of the Channel Tunnel, many simply languished, their employability stained by the reputation of militant activism and a unionised culture that jarred against the Tory leader Margaret Thatcher's drive for private enterprise.
The deprivation and mass unemployment decimated Deal and those scars remain. Many miners were left marooned in Kent, trapped in a cycle of poverty, malnutrition and blacklisted by communities.
"We were promised so many things but many have simply been a series of false dawns," laments Jim Davies, a 71-year-old former miner. "Projects have been announced in the past decade with enthusiasm, only to tail off or for us to never hear anything again."
That is until now. Next year the former Betteshanger pit will be transformed by a multimillion-pound scheme that intends to turn the area into a "green business park" with a research and education centre, as well as a visitor centre.
The project is masterminded by Hadlow College, a further education and higher education college, which says it can create up to 1,000 jobs, put miners back to work and equip them and their families with skills for the 21st century.
Where previous attempts to regenerate the area have fallen short, or simply been forgotten entirely, this time, those involved say, it will be different.
Much of the reason for that is the vision of Mark Lumsdon-Taylor, the director of finance and resources at Hadlow College, who cuts a figure of corporate defiance in stark contrast to the former men of the mines.
He has convinced the Government that a £40m investment is enough to put East Kent back on the map with a "global laboratory" that will bring together business, education, mining heritage, technology and rural tourism. Just over a quarter of the funds will come from the public sector, while £29m will come from businesses.
Gary Cox, 61, sees this as a new opportunity but admits it has been a challenge to ignite the enthusiasm of his former comrades – some of whom remain so disillusioned that they see this as striking a pact with the old enemy.
"You have to understand that, after we lost our collieries, we were hurt. We didn't just lose our jobs. We lost our communities and our bus routes. Our welfare clubs started struggling. The medical centres shut down." Because there was no pool of labour in rural Kent to staff its mines during the Twenties, its mine-owners hired men from all over the country. But their arrival horrified the locals. In Deal, where many of the miners lived, communities were shocked to find gangs of pitmen in hobnailed boots marching to and from work in the early hours.
Signs soon appeared in shops and bars saying "no miners", while former mineworker Jim Crews remembers a sign that advertised "miners' bacon", comprised of old scraps of meat and fish that had not been sold.
"It is almost exactly like European immigration into the UK now. I sometimes tell my friends, before you start hating foreigners for taking jobs, don't forget how we were treated. We didn't know what apartheid was, but we certainly learnt how it felt."
During the 1984-85 coal strike, many backed Arthur Scargill, and the "militancy" for which Kent became known then still rankles. But the miners feel that this, too, is an unfair representation. "We were not militant," says Cox.
"The idea that Scargill took us out to strike is totally wrong. We knew Thatcher wanted to shut our pits and we either came out or fought, or we simply let them take our livelihoods. All we were doing was looking after our colliery and looking out for our future."
The past is gone. But, should Hadlow College's vision amount to more than another empty promise, the future may finally see those who were consigned to history at the end of the last century recognised by the next.
Register for free to continue reading
Registration is a free and easy way to support our truly independent journalism
By registering, you will also enjoy limited access to Premium articles, exclusive newsletters, commenting, and virtual events with our leading journalists
Already have an account? sign in
Register for free to continue reading
Registration is a free and easy way to support our truly independent journalism
By registering, you will also enjoy limited access to Premium articles, exclusive newsletters, commenting, and virtual events with our leading journalists
Already have an account? sign in
Join our new commenting forum
Join thought-provoking conversations, follow other Independent readers and see their replies