The Isis flag may be gone, but tensions over Gaza remain high in Tower Hamlets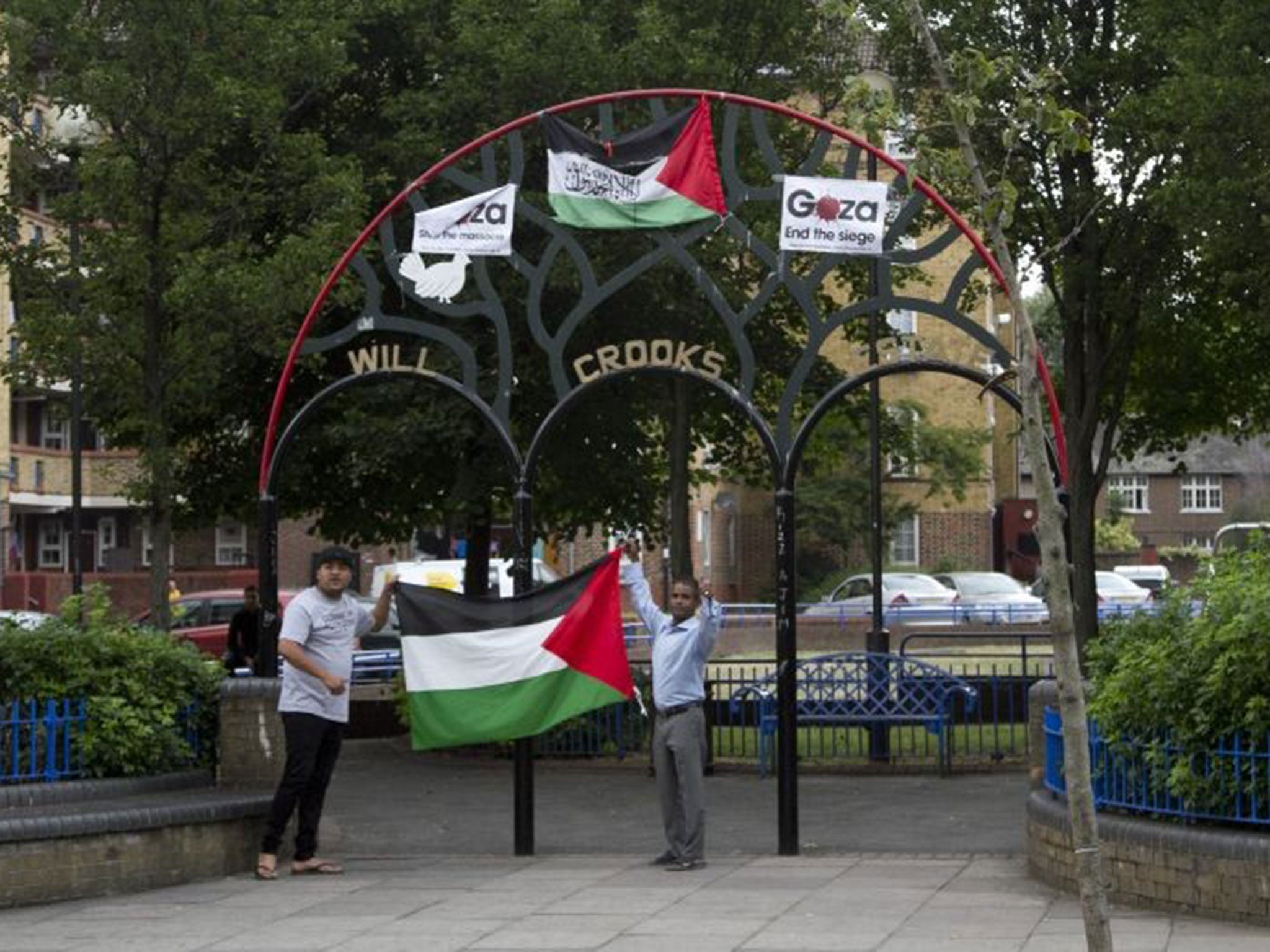 The black flag may have gone but the sentiments which led to what some insist was a symbol of Islamic extremism being raised over an east London estate within view of the skyscrapers of Canary Wharf were still much in evidence today.
The Will Crooks Estate in Poplar found itself on a faultline this weekend between protest at the Israeli bombardment of Gaza and accusations of a more sinister political flirtation after a black flag in Arabic script similar to those sported by jihadist groups in the Middle East such as the Islamic State was raised over its entrance.
The banner, which appeared alongside a Palestinian flag and slogans condemning the conflict in the Occupied Territory, was taken down on Sunday afternoon after appearing last week amid claims that youths gathered around it had made antisemitic remarks when challenged about its presence.
Today, after several rounds of talks had seemingly secured a deal for its removal only for it to reemerge, with police concerned it would attract far-right counter-demonstrators, the flag - and its accompanying symbols - appeared to have gone for good. But a vexed debate about its significance was still raging.
As one 21-year-old resident, who would only give his name as Haroon, put it: "It's gone. Everyone was getting heavy about it, saying it meant ISIS was in Poplar. That's rubbish. It was put up because of all the shit around in Gaza. So, the flag is gone but what made these guys put it up there - the anger about the way Muslims are treated, the poverty, the bloodshed - that's still there and it's making people act like this."
The Tower Hamlets estate, named after a campaigning trade unionist and overlooked by the glass and steel finance houses of Docklands, is at the heart of one of the most diverse boroughs in London, with a large Bangladeshi Muslim population. But opinion was divided about whether the flag's appearance was a calculated attempt to spread alarm and intolerance, a misjudged political protest or an innocent Islamic symbol whose appearance had been wilfully misinterpreted.
Sister Christine Frost, a 77-year-old nun who lives in the community and made headlines last week by ensuring the flag was taken down, said it was likely it had been raised by youths who did not understand the effects of its symbolism.
The Arabic script on the banner in fact contained nothing more alarming than a shahada or one of the tenets of Islam: "there is no God but Allah and Mohammed is his messenger." But its close resemblance to the banners that have featured in countless Islamist propaganda films, including beheadings of captives, was undeniable.
Sister Frost told the East London Advertiser: "I told them 'no politics please' after seeing the black flag. So they took it down. They had no idea of the implications of the black flag being taken over by ISIS fighting in Iraq, in the same way the BNP appropriated the Union Jack and gave a bad feel to it."
Some residents, both Muslim and Christian, criticised a decision by the controversial Tower Hamlets mayor, Lutfur Rahman, to fly a Palestinian flag from the town hall, saying it had raised the political temperature in the borough.
Mr Rahman call for the black flag to be removed, adding he would not tolerate antisemitism or any form of hate.
Councillor Andrew Wood, who represents the area, said: "Wiser heads have eventually prevailed to ensure the flag was taken down. My understanding is that it was not even people living on the estate who put it up but others interested in stirring up some controversy. But there is now a risk of a precedent here and other flags could now appear elsewhere."