The Korean Republic of New Malden: How Surrey became home to the 70 year-old conflict
Almost all the UK's 10,000 Korean residents live in one Home Counties suburb – where they've also imported their north-south divide
Paul Fischer
Sunday 22 February 2015 21:48 Comments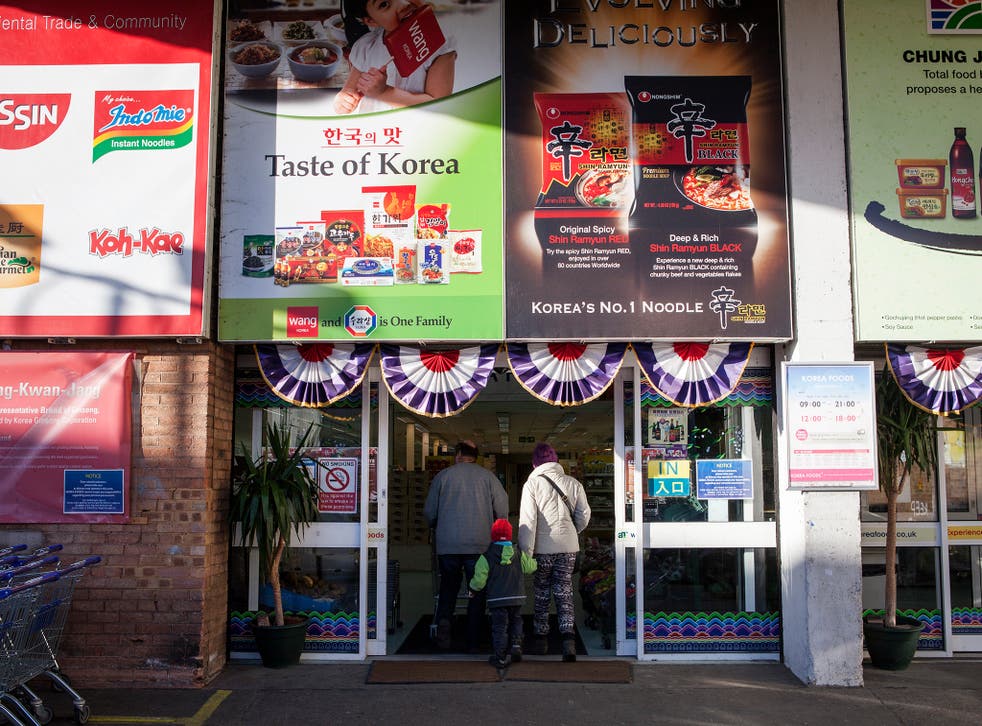 "I came here because Britain is the greatest democracy in the world." Choi Joong-hwa's voice briefly crackles on the phone. Choi, 49, is from North Korea and escaped in 2007, risking his life. He now lives in New Malden, a south-west London suburb, alongside 700 other North Koreans (the largest population anywhere outside Korea) and several thousand Southerners. I am interviewing him as part of a quest to understand why, of all the possible spots on the planet, this quiet suburb would attract so many of his compatriots. His answer, which startles me at first, will be echoed in almost every other interview I have. "In North Korea, we learn about international countries in history. Even schoolchildren there know that Britain is the best democracy in the world."
Twenty-two minutes away from Waterloo by train, and I step off at New Malden station. The railway, and what it stands for, are key to why almost every North Korean I meet has ended up here. The station gives straight on to the high street, where Nando's, Iceland and fish'n'chip shops share space with bulgogi restaurants, karaoke bars, and Asian grocers. Many shop signs are in the Korean alphabet alongside English.
Just under 29,000 people live in New Malden; upwards of 10,000 of them are Korean. The original South Korean embassy was located here, and this is where Samsung first established its European headquarters, explaining early migration to the area. Fresh Korean immigrants naturally looked to settle alongside other Koreans, word spread, and slowly the community grew.
There used to be grudging resentment between local Britons and the Koreans. New Malden was in an economic slump until the Koreans arrived and revived the town. Today, however, any remaining tensions are not between Britons and newcomers, but between the South and North Korean populations themselves. South Koreans come to England for work or for the education system (but also, as one person pointed out to me, "because the English are like the Koreans, temperament-wise… We are private and reserved").
The North Koreans, on the other hand, are all refugees, and many Southerners see them as little more than benefits cheats. To them, North Koreans are brainwashed Communists, uneducated and difficult, who do not learn English and even speak their own, ancient form of Korean. The North Koreans, abused their whole lives, are constantly wary of being taken advantage of. The two nationalities work alongside one another, but do not mix socially. As one South Korean woman named Bona Shin tells me: "There are a few South Koreans – would they want their children playing with North Korean kids at school? No. They wouldn't be happy."
Bona Shin's story is typical of many South Koreans in the UK. She arrived in 1994 on a student visa to attend Goldsmiths, and stayed. She opened a hair salon and, in her free time, put together an arts charity called Theatre for All, through which she wanted "to promote all local arts and culture", she says. The salon is a place of gathering and discussion. Through the theatre company, Bona came across several North Koreans interested in the arts, and she immediately "wanted to put them on my stage, to show people through music and dance that we are all the same, so let's celebrate our culture".
Back home, South Koreans are legally banned from interacting with North Koreans – even those who are related to them by blood and who, just 70 years ago, would have sat at the same dinner table and shared the same past and values. Much has been written of North Korean propaganda: how it has portrayed Americans as sadistic, hook-nosed imperialists, and South Koreans as their "spineless puppets". But we forget that, until the 1980s, South Korean schoolchildren were taught that "the Reds" up north were literally red, that they had hooves, horns and spiky tails; that Communism was a contagious disease that could be caught in only a few minutes of time spent with a Red.
Bona can still remember the first North Korean she met. There used to be an independent video-rental shop on New Malden's high street, back when such places still existed, and Bona was a regular – as was a young North Korean, Kim Joo-il. Bona was fascinated by him. However, "my mother warned me to be careful. She was very worried. 'North Koreans are spies, you hear stories, you can't trust them,' she always told me." But Bona was curious, and she and Kim became friends. "Seeing that he was a normal person changed even my mother's mind," Bona says.
Choi Joong-hwa's flight was motivated by the famine that swept through North Korea in the first years of the 1990s, killing as many as three million people. All the while, the state media insisted that there was no famine, blaming the disturbances on CIA destabilisation plots. No matter what the news said, the dead bodies were there for everyone to see: in the streets, in the fields, on train station steps. The army couldn't feed its soldiers, and many deserted.
Choi saw how the state propaganda ("We are the luckiest people in the world! We have nothing to envy anyone!") clashed with the reality of men, women and children wasting away for lack of food. Three of Choi's four brothers starved to death in the space of a couple of years. One day, having saved up enough black-market money to hire a Chinese "broker", Choi took his wife and son and smuggled them over the border into China. The broker told him he could pick anywhere he wanted to go: America, Europe, South Korea. Choi picked Britain. He remembered being taught as a child that "Britain is the most democratic country in the world, ever since its famous Industrial Revolution". The Revolution was repeatedly used as an example of how the DPRK's People's Revolution could create social and economic change through "hard work and solidarity". The imagery – of happy workers causing their own living standards to rise dramatically, of factories and workshops and, yes, railways – was burnt in Choi's memory. He wanted to see for himself, to see how different the great democracy was from the lie of North Korea.
Choi landed in Newcastle. "At first, I was a bit disappointed," he says. "I had big dreams, but reality was a little different. There were language problems, community problems, shopping problems… many problems."
Things soon looked up. He applied for asylum status, and speaks highly of how quick and compassionate he found the "care" of the Home Office. A turning point for Choi came right after his visa was issued, when he realised that he was free to move wherever he wanted to go within the UK. In North Korea, citizens need a permit to go from one town to the next – and official permission to spend a single night sleeping somewhere other than their own home.
Choi moved to New Malden in 2009, seduced by what he had heard of the supportive Korean community there. It is one of the ironies of this story that, having moved to the UK because of how wonderful a country they are convinced it is, most North Koreans very quickly give up on trying to assimilate. New Malden is popular because here, new arrivals can speak Korean, eat Korean food, frequent Korean businesses, and spend time with fellow Koreans – almost, really, as if they were in some free, democratic, parallel-world North Korea. Neither Choi nor Kim – nor any North Koreans I spoke to in New Malden – speaks a word of English, sometimes after two decades of living in the UK. "It's hard for them to adapt to this new environment," Bona Shin says. "It's very hard for them to learn English, but also just to learn the system, which is so different from the North Korean system."
The community is so closed that North Koreans, "like most minorities, have their own policing system", and the Metropolitan Police Service recently promoted a Korean Community Engagement Officer to help with integration. Another major consequence is that North Koreans are unable to work for British companies, and are mostly employed in menial jobs for South Korean businesses: busboys, waiters, cooks, shelf stackers in New Malden's huge Korea Foods supermarket. Choi works in the Korea Foods warehouse, and has done for years, but small everyday aspects of his work – that he gets paid more when he works overtime, for instance – remain surprising, unsettling novelties.
It's telling that the one North Korean I meet who does speak English doesn't live in New Malden, shunning its comforts to remain in Manchester, where she first landed. Jihyun Park was 30 years old when, in 1998, she left North Korea with her brother, a deserter who was wanted by the military police. Her road to the North-west of England was long and harrowing. The men who took her to China were human traffickers who sold her off in marriage to a local Chinese. She bore the man a son and toiled on his farm every day, "like a slave", to pay back imaginary expenses connected to her living in the household. Every day, she was told that if she tried to escape, she would be turned in to the Chinese police or, worse, killed. "We could kill you. No one would say anything," she was told by neighbours.
After six years, she was caught and repatriated back to North Korea. She was sentenced to a re-education camp, from which she escaped after three months. She paid a different broker to take her back to China, found her son, and – after another five years as an illegal immigrant in China, eking out a terrified living working in restaurants and selling home-made kimchi in street markets – met a South Korean pastor who was involved in the rescue of North Korean refugees.
The pastor asked her to choose where she wanted to live. She was wary of South Korea, which she thought of as "dangerous", and had been "brainwashed to think that America is my hate-country. So I chose the UK – because in North Korea we are taught about the UK, Norway, those countries, as good countries."
Manchester "was a very different world for me". As a woman entering her forties, with a pre-teen son in tow, Jihyun had to re-learn everything she knew, or thought she knew, of the world. She forced herself to attend English classes at what she remembers as a "Muslim refugee support group", where everyone made efforts to learn the language, get their driver's licence and so on; she couldn't find any similar groups for North Koreans. She loved Manchester right away. Now, she works for a human-rights organisation, raising awareness of North Korea's violations. For all they have gone through, the optimism of the North Koreans is constant and unassailable. Everyone I meet is hopeful that North Korea will be free within their lifetime.
Choi has had two more children since moving here. "This is the best world I can be in," he says. His kids speak English and consume Western culture. They love Tom and Jerry and Scooby-Doo. "They don't understand why their parents ever lived in North Korea," Choi says. "I try to teach them about North Korea. I show them some videos and explain, sometimes."
Jihyun also has a daughter born in the UK. She is only six, and cannot understand North Korea, however much it is explained to her. "At dinner time, when she doesn't like the food," Jihyun tells me, "I say: 'You know, children in North Korea are hungry all the time.' She doesn't understand. She asks why."
Jihyun has never regretted her move. "Here, I understand happiness," she says. "In North Korea they only teach us two emotions: happiness and hatred. And you don't feel happy, you're told you are happy. But here, I understand happiness – around the table, eating with the whole family – and my children have smiles on their faces… In my country, no one, including women and children, knows happiness and freedom. I wish I could share mine with them."
There are still difficulties here, as in faraway East Asia. Recently, the UK Government has cracked down on the number of North Koreans being allowed into the country, and new policy allegedly requests that new arrivals be sent back to South Korea. (Since they are considered citizens there, and would not suffer persecution, they would therefore have no legal claim to asylum here.) No matter that many North Koreans grow alienated and suicidal in the South, a place that feels to them like home-on-steroids: too bright, too competitive, too capitalistic, too harsh. For Bona Shin, the impetus is on us to help North Koreans to integrate. "They are the ones who choose here, who risk their lives to come here, to adapt to here. We can't reject them, or look down on them." Not if we want to keep our good name. µ
J-Min Anh and John Hoya acted as interpreters for Paul Fischer
'A Kim Jong-il Production: The Incredible True Story of North Korea and the Most Audacious Kidnapping in History', by Paul Fischer, will be published by Viking on 27 February
Register for free to continue reading
Registration is a free and easy way to support our truly independent journalism
By registering, you will also enjoy limited access to Premium articles, exclusive newsletters, commenting, and virtual events with our leading journalists
Already have an account? sign in
Join our new commenting forum
Join thought-provoking conversations, follow other Independent readers and see their replies