The 'modern art' so bad the council says it's rubbish - and took it to the dump
The debate over whether the unusual assortment of objects is art or rubbish continues
Katie Forster
Friday 15 April 2016 14:51 Comments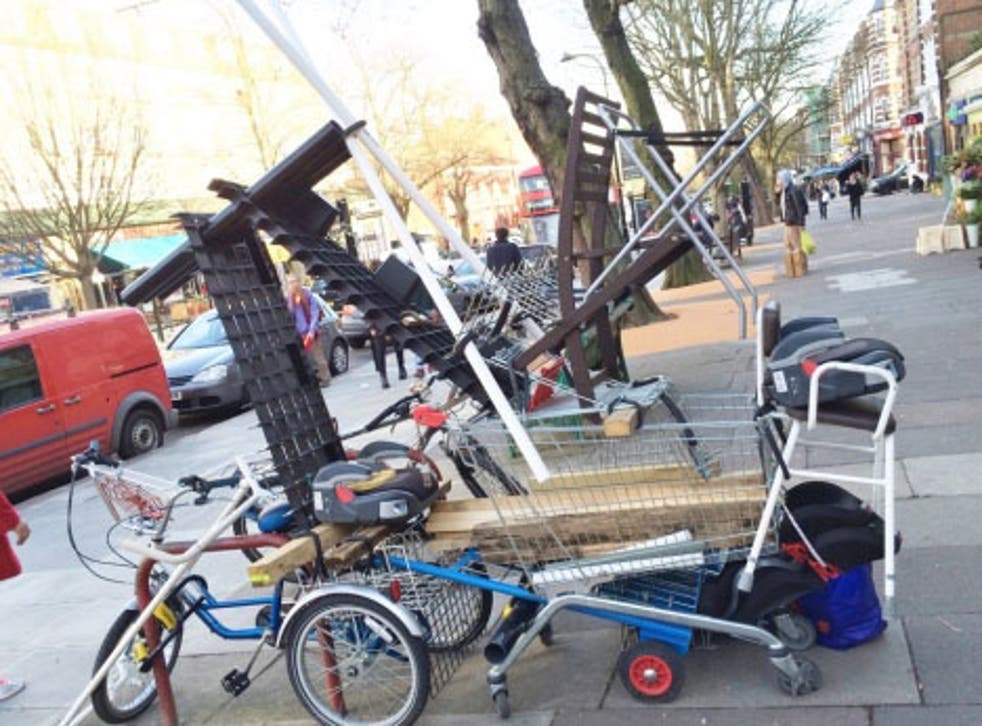 There's no shortage of people who will tell you that modern art is rubbish.
But it's harder to convince a London council that an assorted pile of discarded household objects carries artistic merit.
Camden Council has cleared away an eccentric 'sculpture' on a main road near Belsize Park station, deeming it fly-tipping.
Car seats, shopping trolleys, garden furniture, long wooden blocks and a deck chair were stacked together on top of a child's tricycle.
Some local residents are fond of this growing balancing act, but the council regards it as a nuisance and have taken everything but the tricycle, which is locked to a railing, to the tip.
"It's no different to what Ai Weiwei does," Linda Grove told the Camden New Journal. "He goes and adds a bit and takes a bit off. I expect somebody has complained but me and my friends thought it was nice."
Nevertheless, the unknown creator has refused to stop adding new objects to the 'sculpture', with the most recent additions to the 'artwork' a drying rack and two black gutter pipes placed in an X-shape, according to the Camden New Journal.
"Camden Council is cracking down on fly-tipping in Camden and we removed this swiftly on Friday after a member of the public alerted us to it. We remind residents that those found fly-tipping in Camden can be prosecuted and could face a fine of up to £50,000 on conviction," said Councillor and Cabinet Member for Sustainability and Environment Meric Apak.
Not all locals are as enamoured with the 'sculpture' as Ms Grove, however.
The 'sculpture' is outside Budgen's on Haverstock Hill. A shop manager told The Independent: "There's someone who parks their bike there, and there's a few bits and pieces sitting on the bike. It's some sort of junk."
Picture courrtesy of matsmithphotography.com.
Register for free to continue reading
Registration is a free and easy way to support our truly independent journalism
By registering, you will also enjoy limited access to Premium articles, exclusive newsletters, commenting, and virtual events with our leading journalists
Already have an account? sign in
Join our new commenting forum
Join thought-provoking conversations, follow other Independent readers and see their replies