David H Brooks and the mystery of the £2m found at Park Lane Safe Deposit Centre
When police raided a safe deposit company off Park Lane, they found a treasure trove of valuables each with a story to tell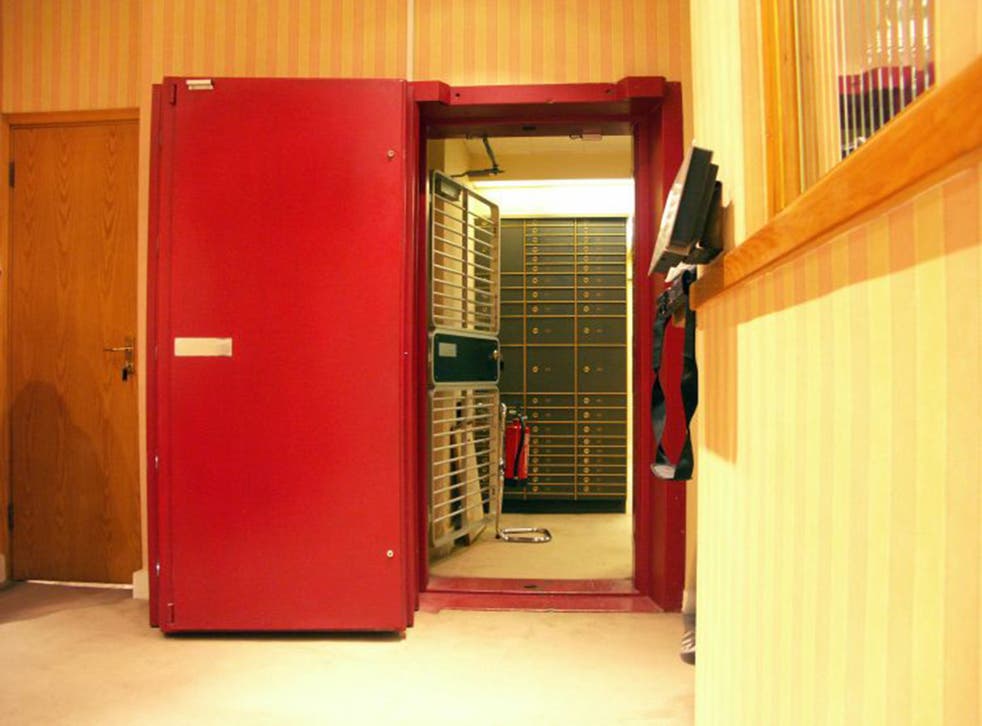 Mayfair's status as the most valuable property on the Monopoly board is well deserved. Its red-brick townhouses, apartment buildings and private casinos are among the world's most exclusive.
But the central London district also has its seedier side. The lanes and alleyways around Shepherd Market host a plethora of private detective agencies and tax firms catering for the billionaire international local traffic. Not to mention a fair sprinkling of brothels.
For many years, also catering for the wealthy set, in a tall office building on nearby Park Street was a business housing safe deposit boxes. Here, in return for a copy of your passport and £1,500 a year, you could hire a lockable 72cm square box, no questions asked, to store whatever took your fancy.
In the boom times before the financial crisis, business for the Park Lane Safe Deposit Centre was brisk. Russians, Europeans and Americans flocked through its doors to store valuables and cash that, for reasons of their own – not always honest – they didn't want to leave in traditional banks.
One of them was a wealthy Luxembourg investment adviser called Pierre Grotz. Tall, persuasive and handsome, with swept-back black hair and the continental smart-casual uniform of dark chinos and lambswool pullovers, Mr Grotz looks after the money of the international super-rich, finding exclusive investments for their cash.
On 15 November 2007, he hired box number 6070, and, as CCTV obtained by the Metropolitan Police would later show, deposited two duffle bags. The bags had been given to him by a wealthy American client who was vacating his rented mansion near Harrods in Knightsbridge to return to the US.
"He said he was going back to the US for a long time and just had some business papers he wanted looking after," Mr Grotz told The Independent at his lawyer's Luxembourg office. "I never even looked to check."
According to Mr Grotz, he returned to Luxembourg and forgot all about it.
Until, that is, the Metropolitan Police raided the Park Lane Safe Deposit Centre and its sister site in north London, using angle grinders on the hinges to open all of its boxes on suspicion that criminals were using them to hide the proceeds of crime.
Operation Rize uncovered an Aladdin's cave of drugs, weapons, diamonds and, in one box in Park Lane, paedophile images.
When the police officers opened box number 6070 – belonging to Mr Grotz – even they were stunned. Inside, they discovered the bags contained bundle after bundle of banknotes, totalling more than £2m. Or, to be precise, £132,000 in sterling, more than €1.6m in euros and more than $1m in dollars.
At this point, it's time to identify Mr Grotz's client.
His name was Jeffrey Brooks, the wealthy brother of David H Brooks, whose company was the biggest provider of body armour for the US military's adventures in Iraq and Afghanistan. On the surface, David Brooks's New York Stock Exchange-listed business was superbly successful. But underneath, DHB Industries was riddled with bulletholes.
For, while he was telling his Wall Street investors that DHB was making money hand over fist from the US defence budget, he and his chief operating officer were actually executing a $185m (£123m) accounting fraud, falsely inflating its revenues by millions of dollars. David was siphoning millions more from the company to cover more than $16m that he splurged on his personal horse-racing business, as well as jewellery and cash investments – forging documents to dupe their auditors and lying to regulators.
David Brooks enjoyed his money: he blew $100,000 on a diamond-encrusted stars-and-stripes belt buckle and hired rapper 50 Cent, Aerosmith, The Eagles, Tom Petty and Stevie Nicks to perform at his daughter's bat mitzvah. The New York court which eventually convicted him two years ago was told he spent company cash on a facelift for his wife, acupuncture for the family and health treatments for his racehorses. He is currently serving a 17-year jail sentence.
A month before his brother Jeffrey gave Mr Grotz the bags to put into the Park Lane depository, David had been arrested and charged for his crimes. A fortnight earlier, as part of his bail, he had pledged to the US courts to move all of his and Jeffrey's families' cash around the world into 25 monitored accounts in the US, so the government could be sure he wasn't hiding his ill-gotten gains. Jeffrey, and other members of the family, were ordered to list to the court all of their assets. These terms were all published a few weeks later in David's $400m bail release order.
Mr Grotz denies all knowledge of what was in the bags. Had he known of the contents, he may have been accused of aiding and abetting the illegal concealment of the Brooks family cash.
Mr Grotz has never been accused of any wrongdoing, or even been interviewed by law enforcement authorities. He says he was completely unaware of the Brooks family's troubles until the police raids seven months later. It was only then, he says, that he realised there was in a spot of bother.
It seems odd that as a financial adviser to the Brooks family, he did not do more background checks on his client. Particularly as Mr Grotz had also allowed his name to be used in forming a series of shell companies set up on the Brooks family's behalf in secretive offshore locations.
An FBI agent's statement from the time of David Brooks's bail hearings, seen by The Independent, cites a witness – a Luxembourg lawyer – who claims this lawyer and Mr Grotz were told this network of companies was set up to mask the source of the cash. Mr Grotz denies this, says no money was ever invested in these firms, and that he had never been aware of what they were intended for.
He says he trusted Jeffrey Brooks because he was introduced to him by another of his rich clients, the Russian oligarch Vitaly Malkin, with whom he now has an ongoing legal battle. Mr Malkin's lawyer counters that it was actually Mr Grotz who introduced Jeffrey Brooks to him.
When The Independent contacted Jeffrey Brooks this week, he said: "I have no idea what you are talking about and please do not call me again." He then hung up.
Whatever the truth of the matter, Mr Grotz should, perhaps, have known about the scandal at Jeffrey's brother's company at the time of, and in the weeks after, accepting the bags of cash in London.
Firstly, fraud allegations at DHB had been widely covered in the US media long before David H Brooks's arrest.
Second, David H Brooks's bail issues were widely reported in the US during the weeks after Mr Grotz hired the deposit box. Media interest was high both because of the huge bail sum set and prosecutors' concerns that he was hiding cash overseas.
Third, a glance at the press cuttings would have highlighted how both David and Jeffrey had been severely reprimanded by regulators over an insider trading scandal a few years earlier at the brokerage firm the brothers controlled, Jeffrey Brooks Securities. Both the Brooks brothers were fined and had their brokerage licence revoked over the affair. The insider trader himself got a three-year jail sentence.
The New York Post columnist Christopher Byron was able to join the dots between the fraud and insider trading scandals clearly in a lengthy article on David H Brooks in June of 2006 – five months before Mr Grotz accepted the duffle bags. "Leopards don't change their spots," Byron wrote. "We call these people recidivists. If the white-collar chisellers and cheats of Wall Street broke the law once, chances are they'll break it again, and David H Brooks is a perfect case in point."
So-called Know Your Customer rules aimed at preventing money laundering were perhaps less stringent then than now, but they still existed. Financial advisers and other professionals have to do a certain amount of due diligence on their clients, and the potential origins of their cash.
Mr Grotz says he only met David once, and that, anyway, the DHB scandal was not widely reported in Europe.
So, why drag all this up now? Firstly, Mr Grotz's actions with the London deposit box and the shell companies formed a key part of a recent hearing where some of David H Brooks's family is seeking a refund of the massive $17.7m they put up as part of his bail.
The bail cash was forfeited by the US government largely because of the way the Brooks family money was squirrelled away overseas in breach of the original terms.
A judge at the US Eastern District of New York recently rejected the family's latest efforts, citing the cash in Mr Grotz's London deposit box, and what it called the "Gordian knot" of shell companies partially set up in Mr Grotz's name. This was, the court ruled, evidence that David and his family had "wilfully" breached his bail agreement by attempting to hide the family's assets from the government.
And there's another reason those events in London deserve an airing. Mr Grotz has been accused in two white-collar crime investigations. In the first, he was investigated for involvement in a scandal at an organisation called Aston Bank in Lugano, Switzerland, but found to have done nothing wrong.
Now, he is being investigated by a French magistrate for fraud, abuse of trust, money laundering and conspiracy in another case, this time involving a property deal in Corsica. It should be emphasised that being under investigation, or "mise en examen", does not imply guilt and he denies any wrongdoing.
The Corsica case involves a property deal he put together for a rich client, the aforementioned Vitaly Malkin, a former political ally of the late President Boris Yeltsin.
Mr Malkin claims Mr Grotz did a deal with a local agent in Corsica to buy a property on the coast there with a view to developing it. Mr Malkin claims Mr Grotz and the agent then asked for a second payment, of €20.9m (£14.7m), to cover the cost of getting the land developed.
However, Mr Malkin claims, the follow-on payment disappeared. Mr Malkin is now pursuing Mr Grotz for the money and made the request for an investigation from a French magistrate.
Mr Grotz strenuously denies the accusations of wrongdoing and, in turn, says he is countersuing Mr Malkin, claiming that the Russian has reneged on an earlier deal to stop pursuing him in court after he agreed to co-operate in trying to get the billionaire's money back. Whatever the truth turns out to be, a legal battle looms.
But what happened to that money, stuffed into envelopes inside the duffle bags in Park Lane? Mr Grotz says that, after the Metropolitan Police raid, Jeffrey Brooks told him he did not want the money back, even urging Mr Grotz to keep it for himself as "commission". Mr Grotz says he refused the offer.
Eventually, in a previously unreported 2011 forfeiture at Westminster magistrates' court, the £2m was quietly pocketed by the Home Office under the Proceeds of Crime Act. Mr Grotz was never even questioned, and Whitehall is likely to have given the cash to the police's crime-fighting budget.
And the Park Lane depository? It has been closed and redeveloped into luxury offices, its former boss Milton Woolf sentenced to four and a half years jail. Another footnote to the story of Mayfair's less salubrious side.
The raid: Drugs, cash, guns and more
Operation Rize saw the Metropolitan Police raid three high-security vaults in London's Hampstead, Edgware and Park Lane in 2008. The raids followed a two-year surveillance mission after a tip off that they were being used by criminals to hide the proceeds of crime.
The Met sent in two undercover "mystery shoppers" calling themselves "Vinnie" and "Billy". They were given explicit advice on how to keep bundles of €500 notes in storage without the authorities noticing.
The €500 note is popular among criminals and corrupt officials for moving large amounts of cash around.
The vault company's boss, Milton Woolf, was jailed after the jury was told of how he "closed his eyes" to criminals hiring his boxes to stash child porn, crack cocaine, guns, illegal cash, gems and fake passports. Another of the company's bosses, Jacqueline Swan, received a 12 months jail sentence.
The Grotz/Brooks seizure was one of the biggest cash hauls of any of the 6,717 boxes that were cut open. In total, £25.5m was confiscated under the Proceeds of Crime Act.
Register for free to continue reading
Registration is a free and easy way to support our truly independent journalism
By registering, you will also enjoy limited access to Premium articles, exclusive newsletters, commenting, and virtual events with our leading journalists
Already have an account? sign in
Register for free to continue reading
Registration is a free and easy way to support our truly independent journalism
By registering, you will also enjoy limited access to Premium articles, exclusive newsletters, commenting, and virtual events with our leading journalists
Already have an account? sign in