The new freedom riders: Yorkshire pensioners continue crusade to win back free local rail travel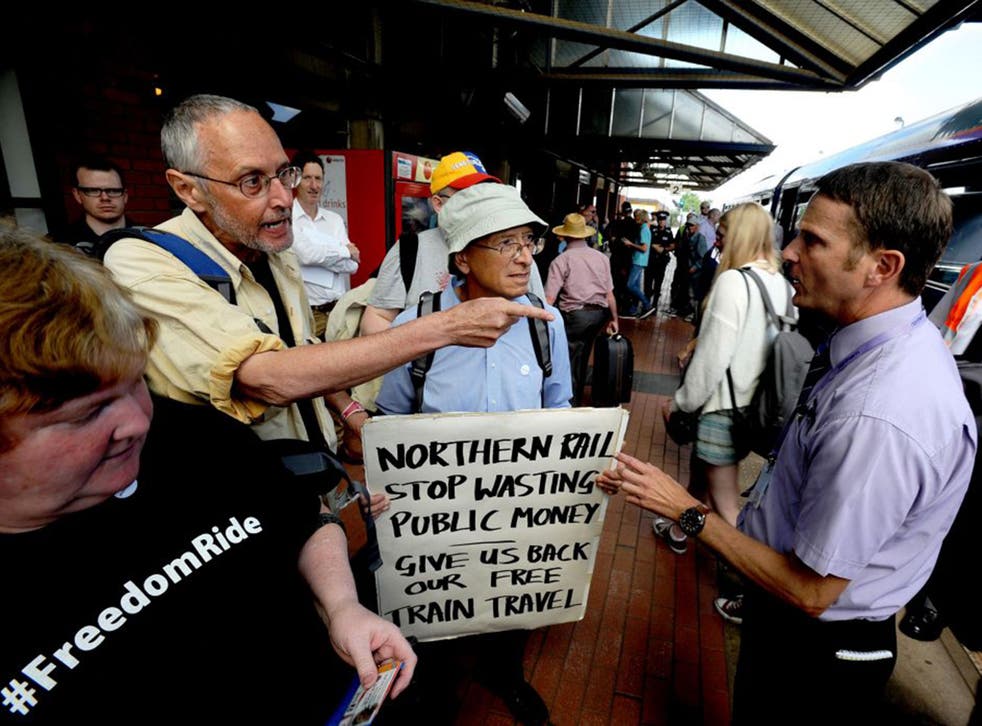 "Who wants to stage a freedom ride?" demands George Arthur, a retired primary school teacher into his loud hailer, causing a forest of hands and walking sticks to be raised skywards. Within moments there's a tense stand-off.
Cries of "we shall not be stopped" and "shame on you" are hurled at the anxious-looking group of around a dozen police, rail officials and private security guards armed with body cameras, nervously blocking the entrance to Barnsley train station.
Five months into an extraordinary protest, which shows little signs of abating, up to 90 angry pensioners and disabled people gathered in the former mining town again today demanding their right to free local rail travel.
In March, South Yorkshire Passenger Transport Executive announced it was to withdraw the benefit for both groups – around 250,000 people - in a bid to make up a £243,000 budget shortfall in central Government funding.
Since then they have been forced into a £150,000 climbdown, reinstating the concession for disabled passengers and introducing half fares for the elderly after local protest groups staged a series of freedom rides - a tactic made famous by America's civil rights campaigners - in which they refused to pay for tickets on disputed routes.
With older travellers in London, the West Midlands, Greater Manchester and Merseyside are still in receipt of both free rail and bus travel, the pensioners of South Yorkshire – the home of Arthur Scargill - are refusing to let the matter lie, and their protest is drawing the attention of pensioner action groups across the country.
Steve Lonsdale, 63, a retired turner who was involved in the miners' strikes of 1969, 1972, 1974 and 1984 is among those who feel they are paying the price for a financial crisis that was not of their making.
"Of course we are angry. We want to keep what we have won and fought for in the past. They are using austerity to justify taking everything away that our grandparents and parents have won: free education, the NHS, benefits for when people are out of work," he said.
Former steelworker Alan Darlow, 60, a former steelworker, recalls how his brother was chased by police for half a mile at the notorious Battle of Orgreave during the miners' strike.
"I am here for old age pensioners who can't get here. There are a lot of people who support us but who can't physically be here. We are fighting for a just cause – we are not here to cause any trouble," he adds.
Relations between the Freedom Riders and the authorities – most notably Serco-owned Northern Rail – were damaged in an incident last month when protesters were injured and two people arrested in scuffles during a demonstration at Sheffield railway station.
Campaigners say they were accused of acting like "rabid dogs" and are demanding video evidence to support claims that a member of railway staff was hurt in the fracas. None has been forthcoming.
A reporter from the Sheffield Star had their camera seized by police using anti-terrorism powers whilst two men, both in their 60s, are currently awaiting a five-day trial accused of failing to buy the £2 ticket.
Security arrangements for the protests meanwhile are claimed to be costing £5,000 a time.
Fran Postlethwaite, 62, a retired teacher, said more than 5,000 supporters have signed petitions and an open letter demanding a change in policy as well as backing on social media.
"They have tried to make out we are selfish but it is not true," she said. "What shocked me in the early days was I met people who used to travel to Meadowhall [shopping centre] on the first train and stay there all day because it is warm. Going there and having a cup of coffee was cheaper than having the heating on," she added. Campaigners say free travel reduces loneliness and depression and ends up saving the NHS money.
Partially sighted Carol Green, 65, who has received an MBE for her services to the blind in Barnsley, is also among the supporters. "I am very proud to be part of this," she said, as she helped a breakaway group of disabled passengers gain access to a locked platform entrance.
South Yorkshire Passenger Transport Executive said there were no plans to change the present policy.
Northern Rail which operates the axed routes, said it understood the frustration of older travellers. "We don't want to see anyone get into trouble so we are urging all passengers to ensure they are carrying a valid ticket for journey they intend to make," a spokeswoman said.
Register for free to continue reading
Registration is a free and easy way to support our truly independent journalism
By registering, you will also enjoy limited access to Premium articles, exclusive newsletters, commenting, and virtual events with our leading journalists
Already have an account? sign in
Register for free to continue reading
Registration is a free and easy way to support our truly independent journalism
By registering, you will also enjoy limited access to Premium articles, exclusive newsletters, commenting, and virtual events with our leading journalists
Already have an account? sign in
Join our new commenting forum
Join thought-provoking conversations, follow other Independent readers and see their replies