The Old Spike Roastery: The London coffee roasting company providing housing and an income to the homeless
Such social enterprise businesses will be celebrated by Social Saturday, an event designed to encourage consumers to spend their cash at the 70,000 British businesses 'trading for people and the planet'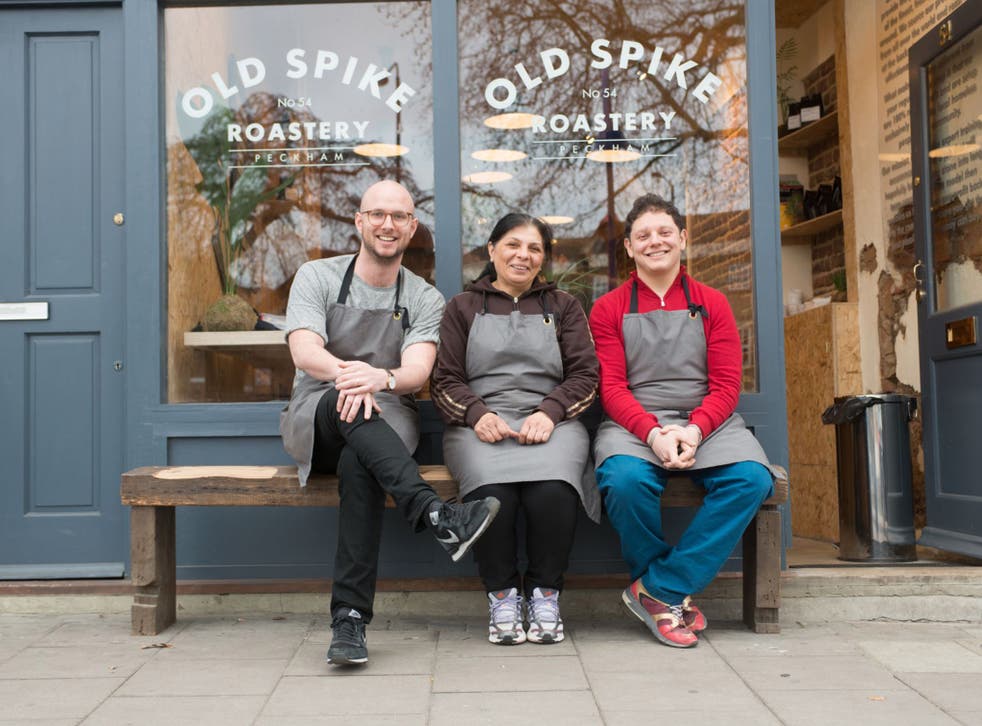 The Old Spike Roastery in south-east London is proof that social entrepreneurship can change lives.
The coffee-roasting company based in Peckham Rye provides both housing and a living wage to homeless people. But according to its co-founder Cemal Ezel, the business's relationship with its staff is truly symbiotic.
"Our first person was Lucy – she's one of the nicest people I've ever met," Mr Ezel said. "She used to sell The Big Issue, and if she hadn't been given this opportunity, no one would have given her a chance. Now the shop can't operate without her."
Social enterprises are businesses set up to promote well-being by reinvesting profits in projects supporting the local community, international development and the environment. They will be celebrated next weekend by Social Saturday, an event designed to encourage consumers to spend their cash at the 70,000 British businesses "trading for people and the planet".
On 10 October, cafés, restaurants and shops, from Plymouth to the Lake District, will be in the spotlight. And it's not just an opportunity to spend: the day also offers free classes, taster sessions and discounts.
Mr Ezel hopes that the campaign will raise awareness of social enterprises such as his. "I've been blown away by the support for the business," he said – well, most of the time. There have been a few unfortunate incidents where restaurants refused to buy his coffee, despite its superiority in blind taste tests, because owners fear that customers will assume quality was sacrificed in the name of charity.
This couldn't be further from the truth, said Mr Ezel. "The social element is important, but you always have to provide a first-class product."
Melanie Flood of Social Enterprise UK contends that social enterprises are often better equipped than government to provide services to local communities. "Consumers feel empowered that they can make a change in their local community," she said. "Unleash your spending power – small changes can make a big difference."
For a full list of Social Saturday events in your area, visit socialsaturday.org.uk.
Register for free to continue reading
Registration is a free and easy way to support our truly independent journalism
By registering, you will also enjoy limited access to Premium articles, exclusive newsletters, commenting, and virtual events with our leading journalists
Already have an account? sign in
Register for free to continue reading
Registration is a free and easy way to support our truly independent journalism
By registering, you will also enjoy limited access to Premium articles, exclusive newsletters, commenting, and virtual events with our leading journalists
Already have an account? sign in
Join our new commenting forum
Join thought-provoking conversations, follow other Independent readers and see their replies