The real cost of fashion: a special report
Fashionable clothes have never been so easily available – or so cheap. But who's really paying for our retail therapy?Susannah Frankel reports
Friday 16 November 2007 01:00 Comments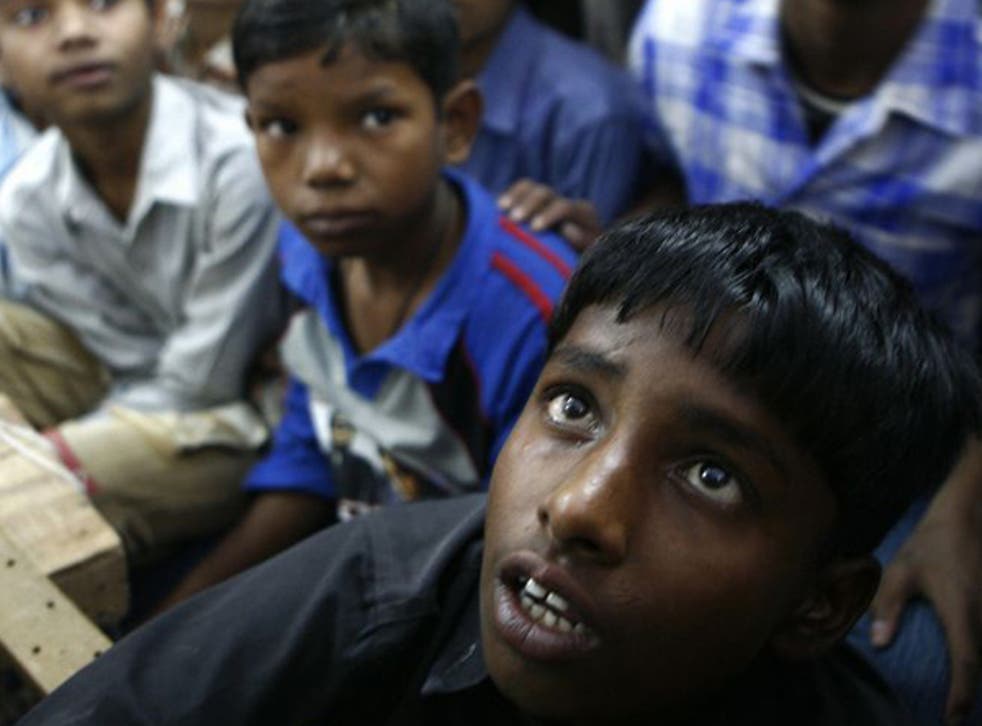 'What is this British obsession with cheap clothes?" a feted international fashion commentator once asked me at Topshop's first London Fashion Week catwalk show. The high-street giant's debut appearance at the event, back in the autumn of 2005, was subject to some controversy. With all that money and power behind it, critics believed the firm was in danger of overshadowing young, cash-strapped designers.
Although it was accepted that Topshop had championed fledgling British talent more than any other mainstream retailer in the country, sceptics wondered if there was really any need for it to muscle in on the catwalk, too.
The opposing view decreed that Topshop's emergence on the catwalk reflected changes in fashion and society; the public simply couldn't get enough of what the high street – and Topshop in particular – had to offer. British Vogue featured Topshop designs in its pages alongside those of fashion's big names.
Bona fide fashion editors were also proud to wear Topshop. The brand wasn't only good value, they argued; it had credibility, too. Topshop represented the democratisation of fashion. More people could now afford to buy into the industry than ever before. And that could only be a good thing.
Whatever your view, the store's supremacy reflected a wider trend. If the high-street giant's prices were considered agreeable – and by designer fashion standards that was putting it mildly – they were nothing compared with those of Primark, which had also emerged on to the fast-fashion scene, as had Tesco and George at Asda. In the hands of these budget retailers, no pretence was made about the fact that unashamed copies of outfits worn by Victoria Beckham and Sienna Miller were available to buy only weeks after the celebs had stepped out in theirs. And as the prices of other goods have continued to rise, fashion on the British high street has got cheaper, with middle-range brands – Marks & Spencer most famously – forced to cut their prices to remain viable.
"How do they make it so cheap?" marvelled GMTV's Lorraine Kelly at the time. It has become her stock response to seeing one fashion expert after another on her programme offering up ever-more sophisticated clothing at prices that make even Topshop, Marks & Spencer and Gap seem exorbitant.
Kelly is not alone in wondering how they do it. But it is an ill-advised question. The answer is, of course, that while British consumers might bask in the glory of mountains of widely available, easily affordable, up-to-the-minute clothing – and while their wardrobes bulge with bargains that are seldom, if ever, worn – workers in the developing world could be paying the price.
"There are almost 2.5 million garment workers in Bangladesh," says Khorshed Alam, executive director of AMRF (Alternative Movement for Resources and Freedom Society), one of many campaigning organisations aiming to ensure that those making the clothing in so-called "export developing zones" are at least granted basic human rights (though preferably rather more than that). "They work from seven in the morning to 10 in the evening, often seven days a week, and earn no more than about £12 a month." That is the minimum wage in Bangladesh. It went up for the first time in a decade last year after pressure from the labour force.
The problem, Alam says, is that those who work on the production line are often too afraid of their employers – and of losing their jobs – to speak out against unfair practices, from insufficient union representation to health and safety issues and sexual harassment (80 to 85 per cent of the workforce is female). Then you have long working hours and a salary that may meet basic legal requirements but is still judged to be only about half of what it would take to ensure adequate nutrition, accommodation and time spent with one's family – that is, a living wage.
"Many factories don't even comply with the minimum wage," Alam continues. "Bangladesh is the cheapest place in the world to make clothes. All the brands, in England and overseas, have codes of conduct, and there's not much wrong with them on paper but, in practice, who cares? These brands must take responsibility for what's going on. They should have a legal obligation to their workers. Profit is the driving force and Western countries have a big role to play."
With this in mind, Alam visits London regularly from his office in his native Bangladesh and meets up with many of the high street's biggest names to lobby for local workforces. They are generally happy to talk to him. "I know that it's hard to imagine what it's like if you haven't been there," he says of working conditions in Dhaka, the Bangladeshi capital. "But the life these people lead really is subhuman." That, then, may be the real cost of fast fashion.
***
It is often said that any publicity is good publicity, but that isn't necessarily the case. When it was revealed last month that children as young as 10 were manufacturing clothing for Gap Kids in a factory in Delhi, the company, which prides itself on being ethically aware, did nothing to conceal its embarrassment.
"We firmly believe that under no circumstances is it acceptable for children to produce or work on garments," a Gap spokesman told The Observer. "These allegations are deeply upsetting and we take this situation very seriously. All of our suppliers and their subcontractors are required to guarantee that they will not use child labour to produce garments... It is clear that one of our vendors violated this agreement and a full investigation is under way."
This week it was announced that, following an internal investigation, the vendor in question had been put on a six-month probation period and its orders had been cut by 50 per cent. Gap has also said that it will stump up a $200,000 (about £98,000) grant to help improve working conditions in India.
It is an all too familiar story. Two months earlier, The Sunday Times ran a front-page story claiming that Topshop employs "slave labour" and pointing out the fact that the Arcadia Group, which owns not only Topshop but also Miss Selfridge, Wallis and more, is one of few British retailers not signed up to the Ethical Trade Initiative (ETI). This is a self-regulatory body set up in 1998 to improve the conditions of workers in the developing world after increased pressure from trade unions, NGOs and, not insignificantly, the consumer.
Approached by the paper for comment at the time, Sir Philip Green, on characteristically ebullient form, told a reporter he had already threatened to punch her colleague "on the nose... and throw him out of the window".
Speaking to me from his London office this week, Green was, perhaps thankfully, more measured in his response. "Everybody has a global supply chain," says the Arcadia chief executive famous for paying Kate Moss £3m to design a collection for him, "and I believe we do our utmost to ensure that we improve the conditions of work wherever possible. We do not look to go round the issues. I am happy to have my compliance tested against any other compliance, because I think it's more advanced. I don't need to be policed to ensure that I comply."
Like all his competitors on the high street, Green claims that any factory he works with is independently audited and that the Arcadia Group also undertakes its own regular inspections. "What I don't do," he continues, "is own any of these countries. In most of the places where we work there are rules, there are employment charters, and we ensure that the people we are working with comply with those charters. We are working at this all the time and if people bring things to us that we think need investigating, we do so as quickly as we can."
It is inevitable, Green and his ilk argue (not entirely unreasonably), that mistakes are made. "Is it perfect? Nothing's ever going to be perfect when it's thousands of miles away, but to the best of my knowledge we are not looking to do anything other than continually work with all our suppliers to make sure they don't bend the rules, and it is our suppliers that bend the rules, not us."
But clothes sold on the British high street weren't always made on the other side of the world. It is an integral part of Marks & Spencer's heritage that, until relatively recently, all its products were manufactured in the UK. Indeed, for years, the "Made in Britain" tag was a much-loved feature of the brand's image and considered to be its USP. That was before cut-price fast fashion came along.
"We have cut our prices drastically over the past two or three years," says M&S's chief executive, Stuart Rose. "We became uncompetitive, and the reason we became uncompetitive is that we supported British manufacturing and stayed on the mainland after everybody else had gone. There is no manufacturing in Britain these days, though, apart perhaps from fine cloth, Pringle sweaters in Scotland and bespoke tailoring on Savile Row.
"I should say that an ethical code of conduct is embedded in Marks & Spencer and has been since Simon Marks was first involved in the business in the 1920s and 1930s," he continues. Back then, Marks & Spencer went to great pains to protect its British-based workforce, ensuring proper ventilation for those working in the Lancashire cotton mills, for example, and making sure that anyone working on its products "had proper wages, proper welfare, proper breaks," Rose says. "All you do now is fast-track 75 years into 2007 and we're doing exactly the same thing as we used to, except that the geography has changed. The people have changed but the principles remain exactly the same."
It is just that this geography makes ensuring that garment workers are treated with decency and dignity more difficult, he adds. "We're not perfect, but our good intentions are sincere. We're learning, all of us, and of course you're not dealing with something that's a two-hour drive up the road. You're dealing with something that is a 12-hour flight and 10,000 miles away, so a lot more management is involved, a lot more compliance-checking needs to go on independently and on the inside."
***
Not everyone buys the claims of Rose, Green and other captains of the British fashion industry, though. Last year, Simon McRae, senior campaigns officer at War On Want, produced a report (in collaboration with Khorshed Alam's AMFR and Labour Behind the Label) entitled Fashion Victims: The True Cost of Cheap Clothes at Primark, Asda and Tesco. It concluded that the retailers' checks may be well intended, but are all too often meaningless.
"The reality is that although health and safety has improved a little, more systemic issues such as paying employees a living wage and recognising trade unions haven't altered much," says McRae. "If you're a garment factory owner and a company says to you, 'I want this piece made in so many weeks and this is how much money you're going to get' and on the other hand they're saying 'we want you to follow an ethical code', the factory owner is going to think 'which one am I going to put more emphasis on? At this point, the ethical code goes out of the window. Of course, audits can be manipulated, workers are too scared to speak up and say what they really feel because they're worried they're going to lose their jobs. At the end of the day, those women need this work."
In this, at least, all parties are in agreement. Boycotting products made in Bangladesh – or China or any other of the countries known for low-cost garment manufacture – would endanger entire communities. Instead, McRae advises, consumers should write to the Government demanding legislation to ensure better working conditions and to the chains themselves. "Tell them what you paid for a garment," he says. "And then ask them how much the woman who made it was paid."
A trip Primark on a Saturday afternoon will doubtless reveal as many middle-class mothers, their arms piled high with clothing and with identikit fashionably dressed teenage children in tow, as it will less obviously affluent consumers queuing for a three-pack of vests, say. The argument that discount shopping allows the disadvantaged in this country to clothe themselves adequately may be persuasive but it is also flawed.
"There are those people who are educated and, dare I say it, can afford to have these ethics," Stuart Rose says, adding grist to the mill nonetheless, "and those people at the other end of the spectrum who frankly don't give a sod. They just want cheap goods."
***
It is not simply budget that makes the British particularly open to the concept of discount clothing, however. For centuries, while our French and Italian counterparts have demonstrated a love affair with luxury and a respect for the craftsmanship that goes into creating special pieces (whether they can afford them or not), we have viewed such rarefied produce as deeply suspect.
Throughout haute couture's glory days in the mid-20th century, while the French cooed over whimsical confections painstakingly finished with ruffles and bows, in England robust and under-stated tailoring was the order of the day ensuring madam was treated to the perfect fit but kept any refinement to herself, thank you.
The British are, in the end, a puritanical breed and fashion in this country is synonymous with vanity. The fact is, however, that a piece of high-end designer clothing, made in France or Italy, will have been worked on by skilled men and women either in family businesses or with active trade unions behind them. Buying considerably less clothing from such reputable sources may not be as profligate as it at first seems.
Of course, the high-end designer clothing industry is not exactly whiter than white, either. Some big-name international diffusion lines are produced in the same factories as those that produce garments for the likes of Primark.
"Pressure groups like Labour Behind the Label and War On Want use the argument that cheap fashion drives unethical labour practices," says a spokesman from Primark. "There is, of course, a political argument that says that if the commercial conditions are competitive enough there will be problems with people further down the chain and we do argue that you have to be as diligent as possible but there is no argument for stopping trading."
Safia Minney, founder director of Britain's pioneering Fair Trade clothing company, People Tree, approaches her business rather differently. "What we've done is create this need for disposable fashion," Minney argues. "This raises issues related to global warming and the pollution involved in its production. I think we will look back at fast fashion not long from now and be quite surprised at what we did."
People Tree forms sustainable partnerships with Fair Trade and organic producers in developing countries. "What we're looking for is to make a higher value product so the maximum number of people benefit," Minney says. "That is what these companies could be doing. They could be adopting a village of 150 to 600 hand-weavers or embroiderers. They could be looking not only at controlling factory production but at rural communities too."
It's an unusually dignified and even noble viewpoint and, when Jane Shepherdson, formerly creative director of Topshop and arguably the woman who put fast fashion on the map in the first place, joined People Tree's Advisory Board earlier this year she added considerable weight to it. People Tree, though already sold at Topshop and Timberland, remains an entirely admirable – and indeed increasingly desirable – niche product.
Yet however well-intentioned brands like People Tree may be, and however much consumer interest in Fair Trade increases, it is unlikely to reach as many people as fast fashion has. In the end, then, this has to be the focus of attention for most pressure groups.
"There is no way you can link the retail price with the working conditions," says Labour Behind the Label campaigns co-ordinator, Martin Hearson, "but what you can say is that working conditions and pay are getting worse and that is caused at least in part by the fall in prices. Most companies now have very good CSR [Corporate Social Responsibility] departments but their buying practices may well undermine these."
Perhaps surprisingly, Hearson says that use of the term "sweat shop" are no longer entirely helpful to his cause. "What we are interested in is the systemic exploitation of workers through poverty wages, excessive working hours and the suppression of the right to be in a trade union. The most terrible example are always going to be about guilt motivating the consumer but if your attitude is more constructive you'll accept what is going to be a gradual change in working conditions."
The last word, however, should go to War On Want's Simon McRae. "There's a wider debate about fast fashion and how we can't keep buying more clothes," he says. "People use the argument that the poor now have access to lots of different clothes but I would suggest that it is mainly the middle classes who are buying fast fashion.
"There's nothing wrong with girls aspiring to be like other women. The irony of it is that, by wearing these clothes, young women are aspiring to be like glamorous women but they're actually only attaining that by exploiting other young women who essentially have the same dreams and aspirations but are never going to realise them."
Case to answer: Fashion's scandals
ARCADIA
Who? 2007
What happened? Arcadia, run by Sir Philip Green, which owns Topshop, Burton, Miss Selfridge and Dorothy Perkins, was found to be employing Sri Lankan, Indian and Bangladeshi workers in Mauritius, where they work for up to 12 hours a day, six days a week. They were paid between 22 and 40p an hour – 40 per cent below the local average wage
What happened next? After telling a reporter that he had once threatened to punch her colleague "on the nose and throw him out of the window", Sir Philip went on to say: "I am interested in getting things right... I sent inspectors to factories to look at the working conditions. I can't stand there and count how many hours people are working." He said he would investigate the incident.
GAP
When? 2007
What happened?
Having survived 1995's accusations of using sweatshop labour, Gap were dragged into another messy row this year for using child labourers in the back streets of New Delhi. The children reported being beaten with rubber pipes and, having been bought from their parents, being told that they had to work for free to repay the fee.
What happened next? Gap stopped the products made in the New Delhi sweatshops from being sold and called a meeting with their suppliers to remind them of its prohibition of child labour. It also said that it will make a $200,000 (£100,000) grant to help improve working conditions in India and will attempt to get retailers from around the world to take part in a forum next year to address child labour.
MOTHERCARE AND MATALAN
When? 2007
What happened? A study by the charity War on Want revealed that Mothercare and Matalan manufacture clothes in Bangalore factories where workers were paid as little as 13p an hour for a 48-hour week. Primark and H&M were also accused of using cheap labour at the factories.
What happened next? Mothercare said it demanded that all its suppliers "comply with our ethical sourcing policy". Matalan said all factories supplying their clothes had to guarantee that wages were above minimum wage. Primark said they were going to initiate audits of their supplier factories. H&M said they insisted that suppliers paid the minimum wage.
ANYA HINDMARCH
When? 2007
What happened? Anya Hindmarch's reusable bag for Sainsbury's was revealed to have been made in China and the cotton it was made from was not organic or fair trade.
What happened next? Anya Hindmarch said it was not a secret that the bag was made in China. "We have tried to use our influence... to make it fashionable not to use plastic bags," added a spokesman.
Register for free to continue reading
Registration is a free and easy way to support our truly independent journalism
By registering, you will also enjoy limited access to Premium articles, exclusive newsletters, commenting, and virtual events with our leading journalists
Already have an account? sign in
Join our new commenting forum
Join thought-provoking conversations, follow other Independent readers and see their replies