The true cost of cheap chicken
In a tiny space a battery chicken has 40 days to live before it is slaughtered and sold for £2.50 in a supermarket
Martin Hickman
,
Consumer Affairs Correspondent
Friday 04 January 2008 01:00 Comments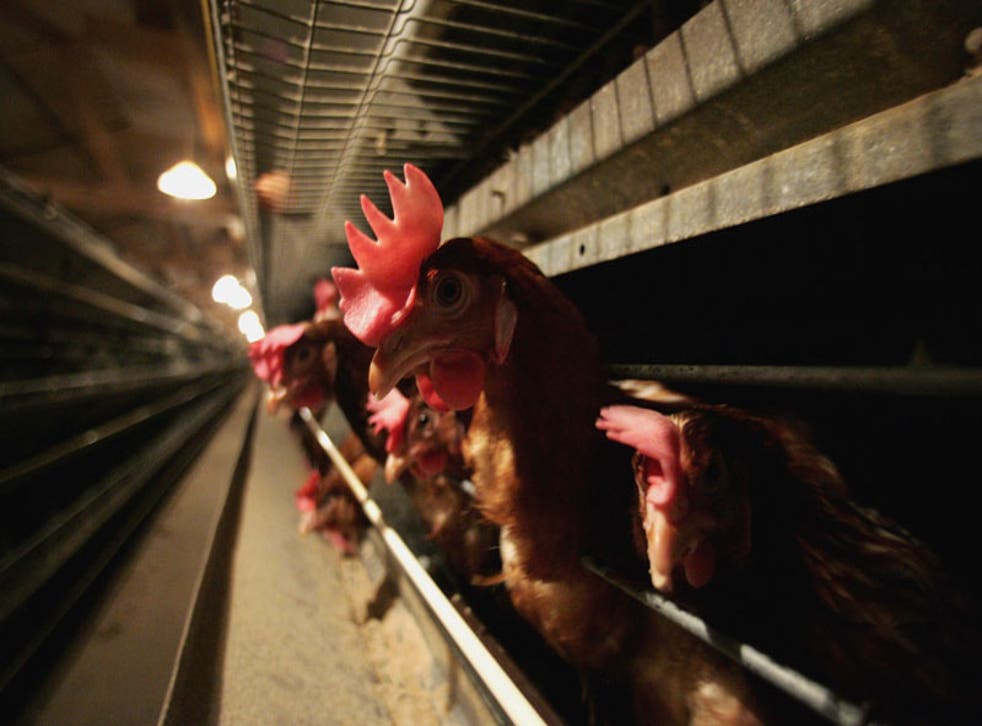 A covertly filmed video of factory-farmed chickens struggling to walk and enduring distressing and unnatural conditions is set to ignite a growing campaign to improve the lives of Britain's 800 million "broiler" chickens.
The animal welfare group Compassion in World Farming (CIWF) shot the film at a farm which supplies meat to the country's leading supermarkets to illustrate the grim life inside chicken "coops" designed for 25,000 to 50,000 birds.
The grainy video footage shows what looks like a white carpet of thousands of birds shuffling round aimlessly in a dimly lit shed. Some are limping or lifeless. Outside are dustbins stuffed full of dead chicks.
Although their final destination is unknown, the birds were bought by a company which supplies more than 80 per cent of McDonald's chicken nuggets, as well as Morrisons, Sainsbury and the Co-op.
Last night the company, Sun Valley Foods, of Hereford, announced an investigation into conditions at Uphampton Farm in nearby Leominster.
The footage was released to The Independent amid a wave of concern at the treatment of factory-farmed animals in Britain.
This week, the RSPCA called on supermarkets to stop selling mass-produced standard chickens, whose lives are short, featureless and often racked with pain.
Next week, on Channel 4, the chefs Hugh Fearnley-Whittingstall and Jamie Oliver will seek to show the ugly reality of cheap chicken and call on supermarkets to improve their conditions, and the public to choose free-range or organic birds.
About 855 million chickens are slaughtered for meat annually in the UK, but as well as being the most popular meat, chicken is the subject of most welfare concern. The majority of birds about 95 per cent are kept indoors, packed densely into vast sheds in what academics and campaigners say are clearly harmful conditions.
Research has found that 27 per cent of these standard chickens have significant or serious walking difficulties because their legs cannot support their abnormally large bodies genetically bred for meat.
Many also suffer burns to the legs because they are standing on sawdust soaked with urine that is only changed every six weeks.
One in 20 birds dies from sudden death syndrome, usually caused by respiratory or heart failure.
CIWF visited Uphampton Farm because its chicks are supplied by Aviagen, one of the three main breeding companies in the world.
During the visits in October and November, activists found many birds in distress. One, seeking to move away from the cameraman, staggered six steps before collapsing. After getting up, it made seven more awkward steps before collapsing again. Several others were reluctant to move when their natural response would have been to do so.
Lesley Lambert, director of research at CIWF, said: "That level of lameness is usually associated with pain. It's quite possible that the birds were in chronic pain.
"There was at least one dead bird on the floor. There was a dusty atmosphere with high levels of excreta."
Ed Roberts, whose son Jonathan runs Uphampton Farm, denied there was a problem with lameness and said mortality rarely exceeded 3 per cent. He said all inquiries should be dealt with by Sun Valley Food, one of the big players in the 2bn-a-year British chicken business.
Sun Valley said it tookits responsibilities for animal welfare very seriously and announced an investigation into conditions shown in the video.
CIWF, however, said conditions at the farm were typical for a large chicken shed and represented a true picture of the state of the industry. These birds are kept indoors for all of their lives, generally little more than a month. They are slaughtered at 39 to 42 days, compared with 56 days for free-range birds and 80 days for organic birds.
Organic birds are allowed to roam free and have perches and other chances to exhibit natural behaviour. However they are three times more expensive than standard chickens.
In three daily one-hour programmes from Monday, Fearnley-Whittingstall will reveal the results of an experiment to show the difference between high and low welfare chicken systems. He divided a shed in two, rearing 1,500 free-range chickens on one side and 2,500 indoor chickens on the other.
Fearnley-Whittingstall said: "We basically want to change the way a chicken is produced in Britain. We think the more people understand, the more they'll be inclined to upgrade the welfare of the birds that they do buy."
The British Poultry Council, which represents the chicken industry, denied that birds were necessarily better off in free-range or organic systems and said it did care about the welfare of birds.
Its chief executive. Peter Bradnock, said, however, that customers were more concerned about price and food safety than welfare. He said: "This whole idea that the industry is dark, brutal and uncaring is rubbish.
"The people who are producing these chickens are producing them to what the market wants. All of these production systems are available to consumers and are clearly labelled. There is no subterfuge."
Register for free to continue reading
Registration is a free and easy way to support our truly independent journalism
By registering, you will also enjoy limited access to Premium articles, exclusive newsletters, commenting, and virtual events with our leading journalists
Already have an account? sign in
Join our new commenting forum
Join thought-provoking conversations, follow other Independent readers and see their replies