The Wonga coup: Chancellor George Osborne's 'gift to the payday lenders' in Government Spending Review
Chancellor unveiled unexpected £365m package of further welfare cuts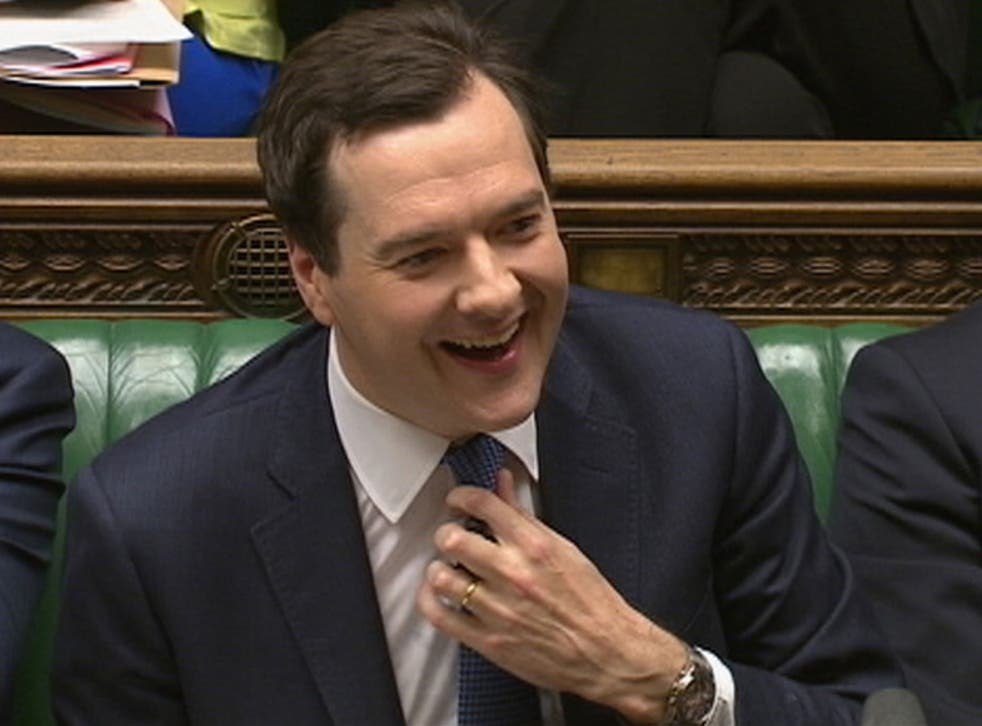 George Osborne was accused of driving the jobless into the arms of foodbanks and payday lenders tonight after announcing that the unemployed would have to wait seven days before claiming benefits.
In his government-wide spending review, the Chancellor unveiled an unexpected £365m package of further cuts in welfare. Under a "work first" policy, the jobless will have to sign on every week instead of fortnightly; look for work from the start of their claim and learn English or face losing benefits if poor language skills are a barrier to work. Single parents will have to prepare for work when their youngest child is three so they can get a job when the child is five.
At present, the unemployed are not eligible for Jobseeker's Allowance for three days. But charities and pressure groups warned that extending that to seven days would cause unnecessary hardship.
Chris Mould, executive chairman of the Trussell Trust, which has launched 325 foodbanks, told The Independent that 30 per cent of the 346,000 people it helped in 2012-13 were referred to them because of benefit delays and a further 15 per cent due to benefit changes. "Any decision that delays further the timely receipt of social security will make things worse for some," he said. "Lots of people are referred to us because they already have problems with debts, many with short term loan organisations."
Alison Gardham, chief executive of Child Poverty Action Group, condemned the seven-day wait as a "foodbanks first policy." She said: "There should be no doubt this will leave more families and children cold and hungry and push more families towards doorstep lenders and foodbanks."
Fiona Weir, chief executive of Gingerbread, which represents lone parents, said: "We know that any delay in benefit payments is crippling for single parent families. With an additional seven-day wait, we fear many more will be forced to rely on food banks and payday loans to make up the new shortfall."
The Catholic Church said: "The proposed seven-day wait before jobseekers can claim benefits could cause severe financial hardship for families who are already trying to balance tight budgets and meet rent payments. Without robust safeguards in place, the requirement that claimants learn English has the potential to penalise some of the most vulnerable members of society."
Labour will back most of the welfare changes but will look closely at the seven-day delay before supporting it. "If it is a blank cheque for Wonga, we will be more suspicious," said Ed Balls, the shadow Chancellor.
Ministers insisted the savings would be used to help people into jobs. Mr Osborne said: "Those first few days should be spent looking for work, not looking to sign on. We're doing these things because we know they help people stay off benefits and help those on benefits get back into work faster."
A government source insisted that some claimants could apply for emergency loans. He said: "This is about changing the culture, so that on day one people look for a job rather than a handout."
Register for free to continue reading
Registration is a free and easy way to support our truly independent journalism
By registering, you will also enjoy limited access to Premium articles, exclusive newsletters, commenting, and virtual events with our leading journalists
Already have an account? sign in
Register for free to continue reading
Registration is a free and easy way to support our truly independent journalism
By registering, you will also enjoy limited access to Premium articles, exclusive newsletters, commenting, and virtual events with our leading journalists
Already have an account? sign in
Join our new commenting forum
Join thought-provoking conversations, follow other Independent readers and see their replies