The worst-kept secret is out: Bishop of Durham the Rt Rev Justin Welby is confirmed as next Archbishop of Canterbury
Cahal Milmo
Friday 09 November 2012 19:58 Comments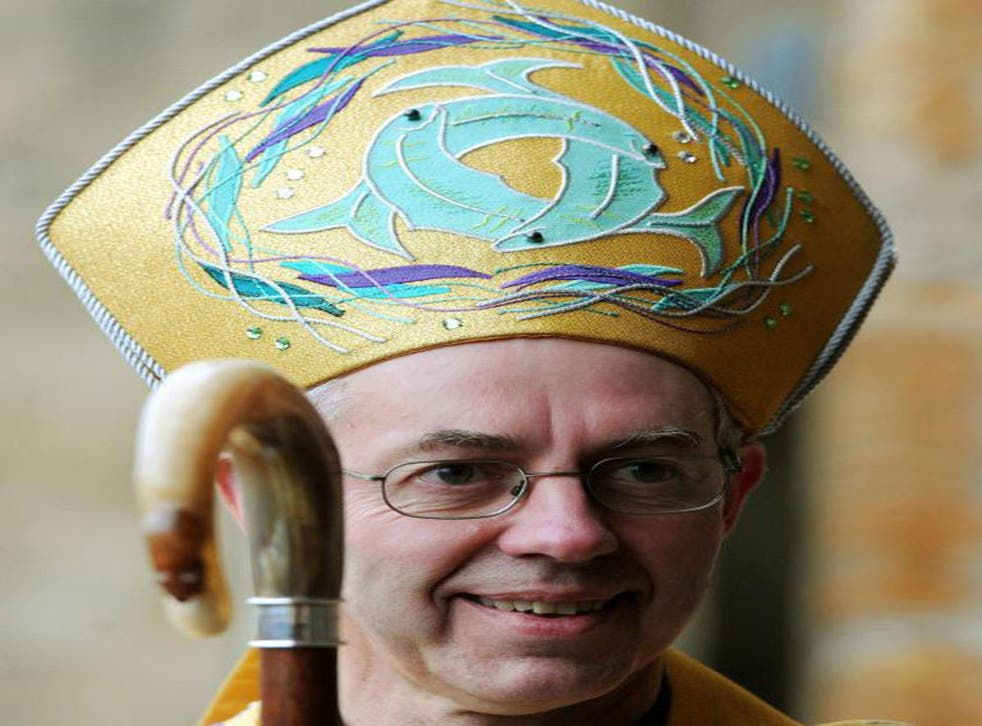 He delivered his homily in ancient surroundings to a respectfully silent congregation but the freshly-minted 105th Archbishop of Canterbury could do nothing to avoid the noisy issues that haunted his predecessor and already risk defining his stint as leader of 77 million Anglicans worldwide.
In an event to confirm what he acknowledged was the worst-kept secret in Whitehall and beyond, Bishop Justin Welby was unveiled at Lambeth Palace as, among other titles, the new Primate of All England and the nation's - if not the planet's - holiest former oil executive.
Moments after his appointment was confirmed by Downing Street, the 56-year-old current Bishop of Durham used his inaugural press conference to insist he was "utterly optimistic" about the future of the Church of England but highlighted the "hard" conflicts it faces over women bishops and gay marriage.
Bishop Welby warned that the established church must have "no truck with any form of homophobia" but reaffirmed his support of a statement by the church this summer that was sharply critical of the legalisation of gay marriage and described the move as "deeply unwise".
The difficulty of the Archbishop Elect's task in seeking to unify the liberal and traditionalist wings of the Anglican Communion was underlined by statements from the leaders of conservative African churches warning that the union faced a "spiritual and institutional crisis" and calling for an elected leader of the global church.
But Bishop Welby, whose seemingly traditional stance on sexuality is balanced by his strong support for the ordination of women's bishops, went out of his way to offer an outstretched hand to the gay community, insisting he was "averse to the language of exclusion".
He said: "I also know that I need to listen attentively to the LGBT communities and examine my own thinking carefully and prayerfully."
In a display of some of the steeliness that is likely to have helped secure the imprimatur of the secretive committee used to select the head of the established church, the bishop signalled his determination to see through a General Synod vote in ten days on the ordination of female bishops. He said: "I will be voting in favour and join my voice to many others in urging the synod to go forward with this change."
With the best of two months still to pass before Rowan Williams formally leaves the post, Bishop Welby's unveiling was as much an opportunity for the new primus inter pares of the world's Anglicans to signal his style as much as his doctrinal substance.
After several days of uncomfortable enforced silence about his career prospects despite his elevation being such common currency that bookies closed betting on the next Archbishop, the former petro-chemicals manager delivered an assured and self-deprecating performance as he entered the Guard Room at Lambeth Palace and addressed an audience including his wife Caroline and their five children.
Stood in front of a white fabric backdrop that, whether by design or accident, bore close resemblance to an unironed cleric's surplice, Bishop Welby revealed that he had only been notified that he was being offered the job in a phone call from Downing Street last Friday and his response had been: "Oh no!"
Peppering his answers with jocular asides (he hinted his preferred newspaper was The Financial Times but added he had enough experience of conflict resolution to know it would not be wise to reveal his allegiance to a room full of journalists), he also batted aside suggestions that he was at risk of being defined by a privileged upbringing, including education at Eton.
He said: "I hope not too much just pigeonholes me and certainly not where I was educated. It is a very long time ago, sadly, that I left school. I have been in many, many different places since. I think, I hope, I am defined because I love and follow Jesus Christ."
Amid congratulations from a cast of Christians that ranged from Sir Cliff Richard to Tony Blair, Bishop Welby said he was convinced that despite a backdrop of falling church attendance figures and looming financial difficulties it was a time for "optimism and for faith" in Anglicanism.
The new Archbishop paid warm to tribute to his predecessor, saying he would be considered among the great holders of the position. The only comparison he made between himself and the reliably wild-haired Dr Williams was to say: "I've got a better barber and I spend more on razors."
Register for free to continue reading
Registration is a free and easy way to support our truly independent journalism
By registering, you will also enjoy limited access to Premium articles, exclusive newsletters, commenting, and virtual events with our leading journalists
Already have an account? sign in
Join our new commenting forum
Join thought-provoking conversations, follow other Independent readers and see their replies