Theresa May didn't want to wear £995 leather trousers but was forced into it by aide, report claims
The Prime Minister was told to wear the chocolate-coloured Amanda Wakeley strides by her 'infuriating' former aide Fiona Hill, it is claimed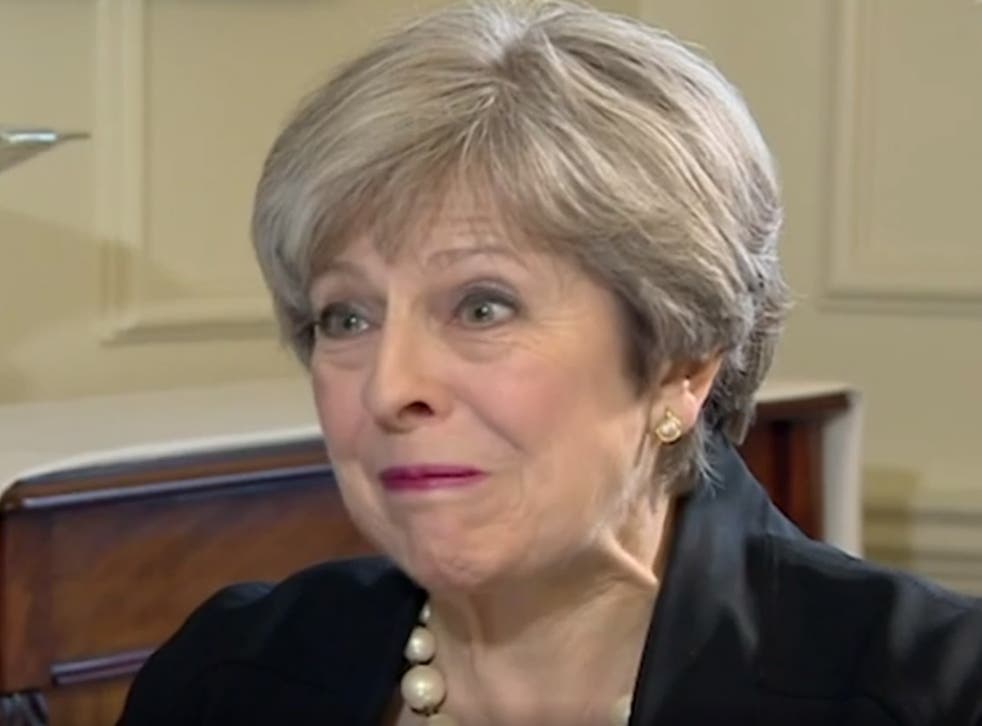 Theresa May didn't want to wear the £995 pair of designer trousers that sparked a PR disaster known as "Trousergate", but was talked into it by one of her senior aides, according to the Prime Minister's former spin doctor.
Ms May planned to wear her own clothes for a Sunday Times photoshoot at her Downing Street flat in November 2016, but was persuaded to get into the leather Amanda Wakeley trousers by her then joint chief of staff Fiona Hill, it is said.
The fashion-conscious Conservative's expensive choice of strides was criticised in Tory circles and attracted media attention.
Former education secretary Nicky Morgan commented: "I don't think I've ever spent that much on anything apart from my wedding dress."
The public fallout escalated as Ms Morgan was pictured carrying a £950 Mulberry Bayswater handbag and found herself barred from a meeting at 10 Downing Street following her critical remarks.
Journalists also raised questions about whether Ms May had used a discount card to buy the luxury chocolate-coloured trousers and whether she had officially declared them on the register of members' interests.
Ms May's former director of communications, Katie Perrior, said the "PR screw-up" could have been avoided if Ms May hadn't been ordered to wear the trousers by Ms Hill.
Theresa May says she cried on election night after losing her majority
She told The Times the Prime Minister wanted to wear her own clothes for the photoshoot, but was told to wear the outfit after Ms Hill begged Amanda Wakeley to send a "vanful of clothes" to Downing Street.
"I didn't even like the bloody trousers – they were the wrong kind of brown, if you know what I mean," said Ms Perrior, who resigned from her post in April.
She claimed the PR disaster was indicative of the "grim" atmosphere within Ms May's inner circle in Downing Street, adding: "Working with Hill was infuriating."
The Prime Minister's two chiefs of staff, Nick Timothy and Ms Hill, lost their jobs in the wake of the botched election that saw the Conservatives squander a working majority in the Commons.
When Ms May first announced the election, Ms Perrior and spokeswoman Lizzie Loudon announced their departures amid claims of a bust-up in Downing Street.
The 6 most important issues Theresa May needs to address

Show all 6
Ms Perrior has since contributed to scathing articles about the handling of the campaign, Ms May's chiefs of staff and in particular the U-turn over social care which has been blamed on Mr Timothy.
After the disastrous election result, ministers whose support Ms May needed demanded the Prime Minister get rid of her aides Mr Hill and Mr Timothy, who they blamed for mistakes and creating a toxic atmosphere.
While Mr Timothy is said to have been shut out since the result, insiders say the Prime Minister still takes advice from Ms Hill.
Join our new commenting forum
Join thought-provoking conversations, follow other Independent readers and see their replies