Tilbury dock deaths: Grim new low for people smugglers, with a year-old child among 35 Afghan Sikhs held in container
Essex police trying to discover how long they had been in almost airless shipping container and its route to Britain
Paul Peachey
Monday 18 August 2014 17:44 Comments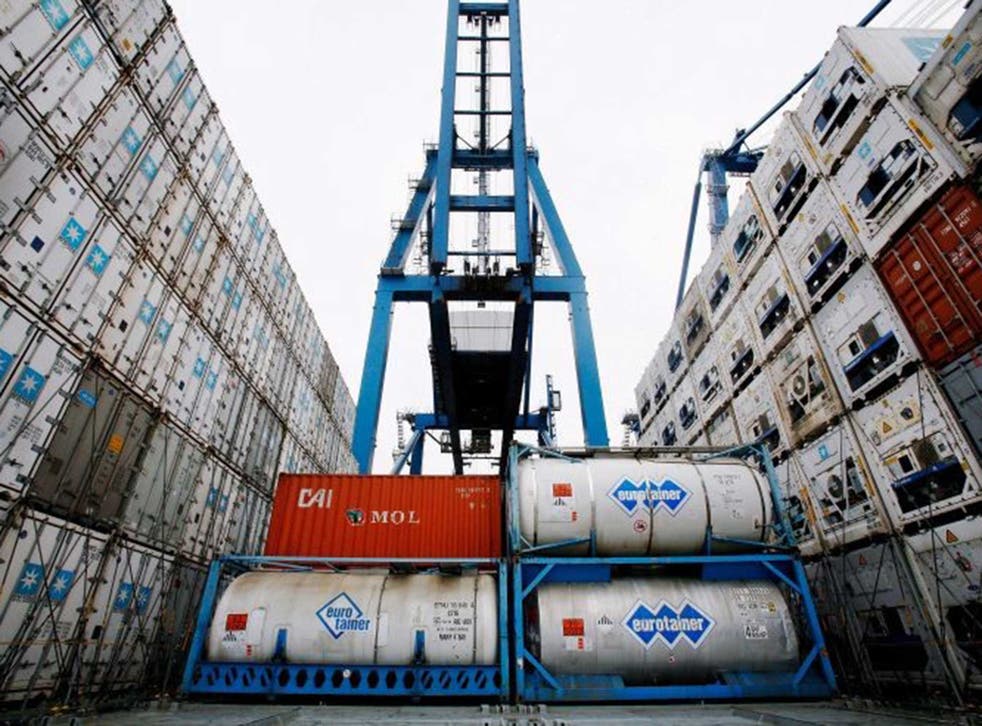 Desperate immigrants found inside a stifling, airless shipping container were a smuggled group of Afghan Sikhs who included a one-year-old child, police revealed on Sunday night, in what experts said was a new low for organised gangs exploiting the world's most vulnerable.
One man, aged in his 40s, was found dead after dock workers heard people screaming and battering on its sides of the container after it was unloaded at the Port of Tilbury. The 34 others included men, women and 13 children aged from one to 12, who were all suffering from dehydration and hypothermia. The oldest of the would-be immigrants was aged 72, police said, as four people remained in hospital last night.
Police were last night seeking to uncover how long they had been inside the metal container after speaking to the trafficked Afghans who appear to have fled their country after being battered by war, marginalised by the Taliban and fearful for their futures as the US prepares its troop withdrawal from the country.
Officials said that they believed that the 35 men, women and children were already inside when it was captured on security cameras being driven by lorry into the secure Belgian port of Zeebrugge where it was loaded on to the P&O Ferries commercial boat, the Norstream.
"It's very unusual for containers to be used for people smuggling," said Tony Smith, the former director-general of the UK Border Force.
"They've been used before, but for drugs and guns. It's a worrying trend if people are being put in them. But this is what the traffickers do – they don't really care as long as they get their money."
Officials were also trying to discover the route they took to Britain. A container ship from the Pakistan port of Karachi would take around 25 days to reach Tilbury but the arrival of the container by lorry at Zeebrugge suggests that they may have been transported overland into Europe via the Balkans before being moved to the ship.
The Belgian police said yesterday that it was virtually impossible that the 35 could have crossed the fences and got into the container while it was at the port, but officials were examining pictures from a large number of cameras that covered the area.
Essex police, which is heading the inquiry, declined to identify the owner of the lorry. But the Belgian police spokesman, Peter de Waele, said: "We're very hopeful that we have that information. It's an area that's full of cameras, and the [shipping] company takes a picture of every container."
The National Crime Agency, in its annual threat assessment earlier this year, had warned of a rise in people-smuggling by organised gangs and cited instability in Afghanistan as one of the drivers for the changes.
The case comes 14 years after 58 Chinese immigrants were found dead in the back of refrigerated lorry carrying tomatoes at Dover after their air supply ran out.
Police were yesterday speaking with the 35 with the help of the local Sikh community in Tilbury, Essex, to try to find out what happened.
Sikhs have had a centuries-long presence in Afghanistan but only an estimated 3,000 are left in the country after fleeing the Soviet-led invasion, civil war and discrimination under the Taliban. They had to wear markings to identify themselves as Sikh.
Some of the largest Afghan Sikh communities are in India, Italy and Britain – where many live in Southall, west London, according to community leaders. .
"The welfare and health of the people is our priority at this stage," said Superintendent Trevor Roe, of Essex Police, who said that they had been through a horrific ordeal.
"Now they are well enough, our officers and colleagues from the Border Force will be speaking to them via interpreters so we can piece together what happened and how they came to be in the container," he said.
Officials said an advanced tracking system is able to follow containers when they arrive in Europe, which includes details of the load and the shipper. A ranking system allows customs officers to investigate the most suspicious containers from the least reputable shipping companies.
But with nearly half a billion containers moving around the world every year, only a tiny fraction are searched, and police were alerted only because of the distress of those inside.
Shipping experts said that the aluminium containers would let in some air but would be extremely stuffy and uncomfortable.
Bhai Amrik Singh, chair of the Sikh Federation (UK), said: "It is a disgrace the persecution of the tiny minority of Sikhs from Afghanistan has largely been ignored and it takes an incident like this to remind us all that they are also being exploited by human traffickers."
Trafficking a growing problem but difficult to detect
By Sophie Robehmed
Using shipping containers to conduct human trafficking is rare – partly because, as the latest case shows, it can be fatal. More generally, however, human trafficking using other methods is the world's fastest-growing crime and one of the biggest sources of income for organised gangs, according to the UN Office of Drugs and Crime.
The border authorities have focused their efforts on combating smuggling into Britain at Calais, as the potential for using containers is huge – whatever the risks. Nearly half a billion shipping containers are transported around the globe each year.
In some of the few previous documented cases of deaths involving containers, 15 men and three bodies were discovered in Seattle in 2000 after spending a fortnight crossing the Pacific inside a 40ft-long container from Hong Kong.
There have also been incidents of container-related trafficking elsewhere along the west coast of the US in Los Angeles and Long Beach, and also in Vancouver, Canada.
Officials and shipping companies said they were unaware of similar cases in Britain, but an attempted smuggling operation in 2000 left 58 Chinese illegal immigrants dead in the back of a refrigerated lorry.
The Dutch driver Perry Wacker was jailed for 14 years in 2001 after the immigrants suffocated during the six-hour crossing from Zeebrugge in Belgium to Dover. Fellow defendant Ying Guo was given six years for conspiring to smuggle illegal immigrants into the country.
The court was told that Wacker sealed the fate of his victims by closing the only air vent on the trailer of his lorry before boarding the ferry to avoid them being seen by immigration officials.
The operation was said to have been organised by Chinese gangs, with the cargo worth about £1.2m to them.
Immigration minister James Brokenshire said yesterday: "The tragic incident at Tilbury is a reminder of the often devastating human consequences of illegal migration.
"We know that criminal gangs are involved in what amounts to a brutal trade in human lives. We also know that illegal migration is a Europe-wide issue.
"That is why we work closely and collaboratively with law enforcement and port authorities in neighbouring countries to target criminal networks and ensure that the organised gangs behind trafficking and people smuggling can't operate with impunity," Mr Brokenshire added.
The National Crime Agency predicted an increased involvement in people smuggling because of the conflict in Syria, instability in Afghanistan, and reduced controls on travel across Europe.
Register for free to continue reading
Registration is a free and easy way to support our truly independent journalism
By registering, you will also enjoy limited access to Premium articles, exclusive newsletters, commenting, and virtual events with our leading journalists
Already have an account? sign in
Join our new commenting forum
Join thought-provoking conversations, follow other Independent readers and see their replies