Tintagel being turned into 'fairytale theme park' by English Heritage, historians warn
Cornwall has been divided over English Heritage's decision to engrave an image of the wizard Merlin's face on a cliff front in the historic Tintagel area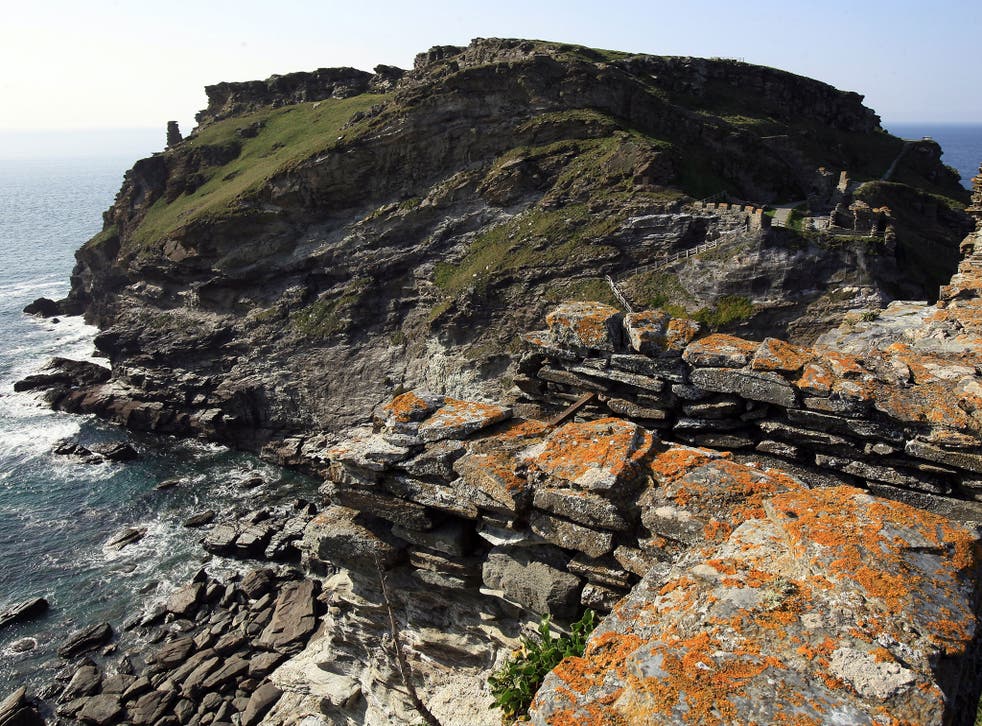 A group of 200 Cornish historians have accused English Heritage of turning Tintagel into a "fairytale theme park". The Cornwall Association of Local Historians issued the warning about the treatment of the historical site in Cornwall, where King Arthur is said to have been conceived.
They argue that rather than preserving and promoting local history, the heritage group are peddling a make believe version of events based on "mythical fantasies" in order to please tourists. The historians have said they are appalled at recent projects which have included carving the head of the wizard Merlin into a rock face and plans to include an 8 foot tall sculpture of King Arthur.
In a statement, the Association said: "We are appalled at what English Heritage is doing to Tintagel, one of Cornwall's most historic sites. As an organisation of over 200 local Cornish historians, we view with alarm the plans to turn Tintagel into a fairytale theme park.
"The idea of carving even a small face of a mythical druid into one of the stones of Stonehenge or adding an 8-foot statue of a legend to the scene would be beyond any historian's imagination."
Tintagel has historically been linked to the legend of King Arthur since the twelfth century scribe Geoffrey of Monmouth wrote that the monarch had been born there.
UK news in pictures

Show all 50
It is now one of English Heritage's top five attractions. Some 200,000 visit every year with as many as 3,000 people visiting per day in the peak summer season.
English Heritage describes the area on their website as a place to: "discover the legend of King Arthur in the dramatic and romantic setting of Tintagel. This iconic hero was first linked to Tintagel in the twelfth century when it was named by Geoffrey of Monmoth as the place where Arthur was conceived. From Geoffrey's medieval history of kings, to the poetry of Alfred, Lord Tennyson, the allure of Arthur has continued to captivate us. Find out why for yourself when you visit this special place."
Of renovations it says: "This autumn, we commenced the next phase of the improvements to Tintagel Castle and from late Spring 2016, visitors will be able to enjoy highly imaginative outdoor interpretation across the site, bringing its history and legends to life. It will feature interactive exhibits and informative panels as well as a range of striking artworks crafted in bronze and stone."
In response to criticisms about changes to the site, a spokesperson for English Heritage told The Guardian that the group is : "committed to presenting the Cornish language, history and culture at those historic sites in Cornwall in our care."
Register for free to continue reading
Registration is a free and easy way to support our truly independent journalism
By registering, you will also enjoy limited access to Premium articles, exclusive newsletters, commenting, and virtual events with our leading journalists
Already have an account? sign in
Register for free to continue reading
Registration is a free and easy way to support our truly independent journalism
By registering, you will also enjoy limited access to Premium articles, exclusive newsletters, commenting, and virtual events with our leading journalists
Already have an account? sign in
Join our new commenting forum
Join thought-provoking conversations, follow other Independent readers and see their replies