Tiny brewery in Norfolk chased by Red Bull over 'similar' trademarks
Powerful soft drinks giant says five-month-old business could 'dilute' its international brand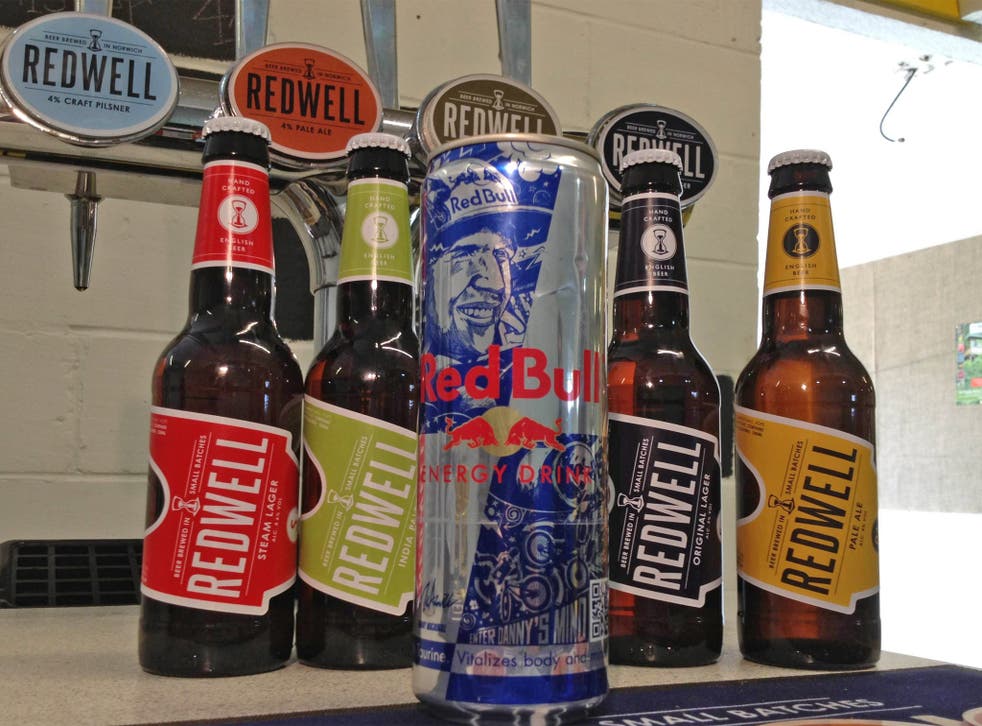 Energy drink giant Red Bull has accused a tiny Norfolk brewery of tarnishing its trademark – claiming that customers could be confused by their "similar" names.
Redwell Brewing, a five-month-old business in Norwich that employs just eight people, has been warned that it faces legal action unless it changes its name.
The powerful soft drinks giant, which sold 5.2 billion cans last year, said the brewery could "dilute" its international brand.
It was told to "immediately withdraw [its] UK trademark application" or face Red Bull's legal might, in a letter drawn up by the firm's brand enforcement manager, Hansjörg Jeserznik.
In his letter, Mr Jeserznik said that both names "consist solely of English words and contain the common element 'red'". He added: "Furthermore the term B-U-L-L and the term W-E-L-L share the same ending and just differ in two letters. The ending (L-L) is identical and therefore the terms RED BULL and 'redwell' are confusingly similar from a visual as well as from a phonetical point of view."
Benjamin Thompson, one of four directors at the brewery said he was "completely surprised" when the letter arrived. He told The Independent that the brewery, which supplies 3,000 litres of beer weekly, was named after Redwell Street in Norwich and that the choice had nothing to do with the Austrian-based firm.
He said: "The first time it occurred our name was even remotely similar was when we received the letter. All we want to do is run our business in peace."
He added that the brewery had offered to change their trademark application so it did not include soft drinks, but that Red Bull's lawyers had taken a "very firm stance".
He said that they were told they could not use the "Redwell" name to make any branded merchandise for the brewery, to make shandy, or to make any beer that differed from their original ale.
Among Redwell's supporters is comedy writer Graham Linehan, who tweeted: "My friends at @Redwellbeer in Norwich are being threatened [with] legal action because @redbull think they own the word 'red' and the letters LL."
As for legal costs, Mr Thompson said the brewery could not afford to go through the courts. "We're a tiny brewery, with eight employees. We generate a certain amount of income which we're trying to use to expand our operation, not waste on solicitors' bills. We really don't want to [change our name]. We don't have the money; we would have to rebrand completely."
The Independent was unable to contact Red Bull, but a spokesperson reportedly said the firm would not comment on pending legal cases.
Register for free to continue reading
Registration is a free and easy way to support our truly independent journalism
By registering, you will also enjoy limited access to Premium articles, exclusive newsletters, commenting, and virtual events with our leading journalists
Already have an account? sign in
Register for free to continue reading
Registration is a free and easy way to support our truly independent journalism
By registering, you will also enjoy limited access to Premium articles, exclusive newsletters, commenting, and virtual events with our leading journalists
Already have an account? sign in
Join our new commenting forum
Join thought-provoking conversations, follow other Independent readers and see their replies