Tommy Robinson's Australia tour postponed after anti-Islam activist plans Brexit protest on same date
As tickets sold for up to A$995 (£563) per head, personal assistant says Robinson 'cocked up his diary'
Lizzie Dearden
Home Affairs Correspondent
Tuesday 27 November 2018 12:43 Comments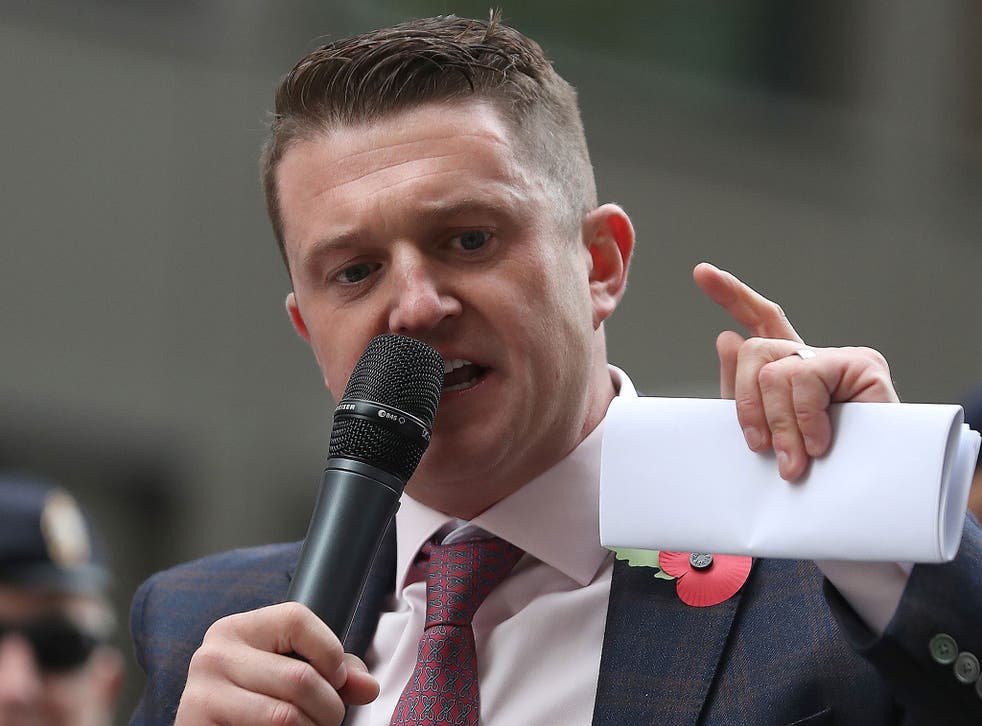 Tommy Robinson's planned speaking tour of Australia has been postponed after he planned a Brexit protest on the same date.
Supporters had paid up to A$995 (£563) for tickets to see the anti-Islam activist alongside Proud Boys founder Gavin McInnes at five events in December.
Robinson, whose real name is Stephen Yaxley-Lennon, said last month that he was excited about the tour, telling supporters in a Facebook video: "It's my opportunity to thank everyone in Australia, I've received so much support."
But last week he announced a "Brexit betrayal march" would take place on 9 December, when he was supposed to be travelling between Perth and Melbourne.
The following day, Ukip's leader Gerard Batten announced that Robinson had been appointed as an official adviser on grooming gangs and prisons.
MEP Patrick O'Flynn quit Ukip over the move on Tuesday, saying he had tried and failed to persuade Mr Batten to focus on Brexit and abandon an "apparent and growing fixation with Tommy Robinson".
Tickets for the "Deplorables" tour continued to sell for the December dates amid confusion over whether Robinson would still be visiting Australia.
Nigel Farage says Ukip's appointment of Tommy Robinson is 'dragging us in a shameful direction'
Supporters who asked Robinson for information on Facebook received no answer, including a man who wrote: "It's coming up to Christmas time. Money's tight and I have children. If he's not going to be appearing I'd like a refund as I could put that money to good use at home."
Hel Gower, Robinson's personal assistant, replied to speculation on Twitter on Thursday to say the tour had been moved to February.
"He does have a visa but due to family commitments the date had to be changed plus he cocked up his diary," she wrote.
But the dates on the official website did not change for several days, selling tickets for A$85 (£48) for general entry, A$295 (£167) for a "VIP meet and greet" including a photograph with Robinson, and A$495 (£280) for a "backstage pass" including an after-show party.
The most expensive option comes in at A$995 (£563) per head, which buys "a pre-show dinner with The Deplorables, champagne reception and VIP seating for the show".
The tour has now been rescheduled for 1 to 10 February 2019, with five dates in Perth, Adelaide, Melbourne, the Gold Coast and Sydney.
Organisers have taken precautions in a bid to avoid a repeat of protests and boycotts that have disrupted engagements by other right-wing figures by withholding the exact location of the events until 24 hours before they take place.
A spokesman for Penthouse Australia, which is running the event, said the dates were changed at Robinson's request.
Tommy Robinson supporters protest outside the Old Bailey

Show all 16
"Tommy's recent appointment to Ukip and the issues surrounding the controversial Brexit vote are the reasons for the delay," he said. "All ticket holders were contacted and advised of the postponement – the new dates are on the website and ticket site. All tickets will be valid."
Penthouse said refunds would be issued to ticket holders who could not attend the new dates.
The tour could generate significant profits for Robinson after his fundraising activities were hit by a ban from PayPal.
Robinson's planned trip to Washington to address Republican members of the US Congress was cancelled because his visa was not granted in time for an event earlier this month.
A spokesperson from the Australian Department of Home Affairs would not confirm whether the English Defence League founder had been granted a visa.
His extensive criminal record includes convictions for violence, drug possession, public order offences and fraud, while the attorney general is deciding whether to continue a case against Robinson for alleged contempt of court.
The 35-year-old was jailed for breaking reporting restrictions on linked grooming trials in May but freed on appeal over procedural failings in August.
Robinson has enjoyed a surge in donations since his imprisonment and said last month there was still "a pot in excess of a few hundred thousand pounds" left after legal costs.
Register for free to continue reading
Registration is a free and easy way to support our truly independent journalism
By registering, you will also enjoy limited access to Premium articles, exclusive newsletters, commenting, and virtual events with our leading journalists
Already have an account? sign in
Join our new commenting forum
Join thought-provoking conversations, follow other Independent readers and see their replies