Tommy Robinson condemned for ranting about Islamic extremism at scene of London terror attack
'Far-right figures like Tommy Robinson are vile opportunists: using victims of today's attack to spread their anti-Muslim message,' says critic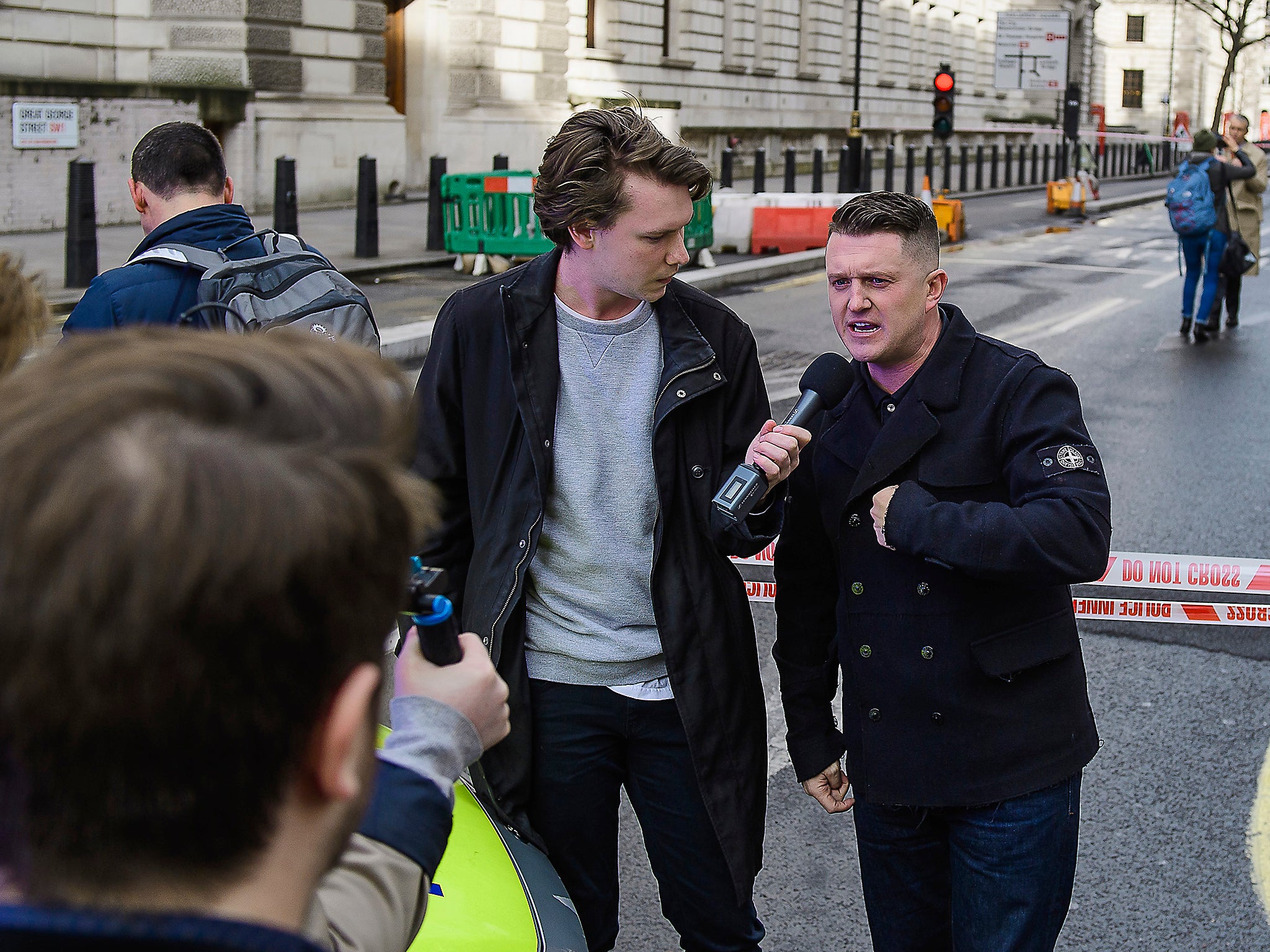 Tommy Robinson has been widely condemned for launching into a tirade about Islamic extremism at the scene of a suspected terrorist attack in Westminster.
The former English Defence League leader rushed to the Houses of Parliament in London after news of the attacks emerged. Although details about the alleged assailant and their motive remains unclear, Mr Robinson claimed Britain was at "war" with Islamic fundamentalists.
While ambulances and other emergency vehicles dominated scenes, Mr Robinson shouted aggressively at those who challenged him and launched into a scathing analysis of the incident for his personal camera crew.
After a reporter suggested Mr Robinson has been quick to label the incident a foreign terrorist attack, the far-right leader said: "This is the reality. The reality is these people are waging war on us.
"This has been going on for 1,400 years and while it's going on the police leaders and the political leaders want to invite more."
But Mr Robinson has been denounced for his intervention, with people accusing him of simply inflaming the situation and exploiting the tragedy for his own gain.
"Far-right figures like Tommy Robinson are vile opportunists: using victims of today's attack to spread their anti-Muslim message," Maya Goodfellow, a journalist, said on Twitter.
"Far-right hate preacher Tommy Robinson is in London exploiting today's terror attack. The man lower than vermin," said Scott Nelson.
"Tommy Robinson thinking about himself and his agenda rather than the victims in the immediate aftermath. Tells you all you need to know," added another.
"Tommy Robinson really jumped on the 16:09 Southeastern service to come and milk this tragedy," quipped another critic.
A video of the far-right leader, who led the EDL from 2009 until October 2013, outside the Houses of Parliament appeared on Rebel Media, a fringe right-wing Canadian media company after he went down to the scene.
Mr Robinson announced he was leaving the EDL in 2013 in a joint conference with think tank Quilliam. His departure was widely covered, with the former leader later telling police he would help with their investigations into alleged racists within the extremist group.
Proceedings at Parliament were suspended on Wednesday afternoon after a police officer was stabbed and an alleged assailant shot by armed police outside the Houses of Parliament, shortly after a vehicle is reported to have mowed into members of the public on Westminster Bridge.
Police are treating the Westminster shooting which took place on Wednesday afternoon as a terrorist incident until further notice.