Tommy Robinson and pro-Trump marches prompt fears of violent clashes in London
Previous far-right demonstration saw metal barriers and bottles thrown at officers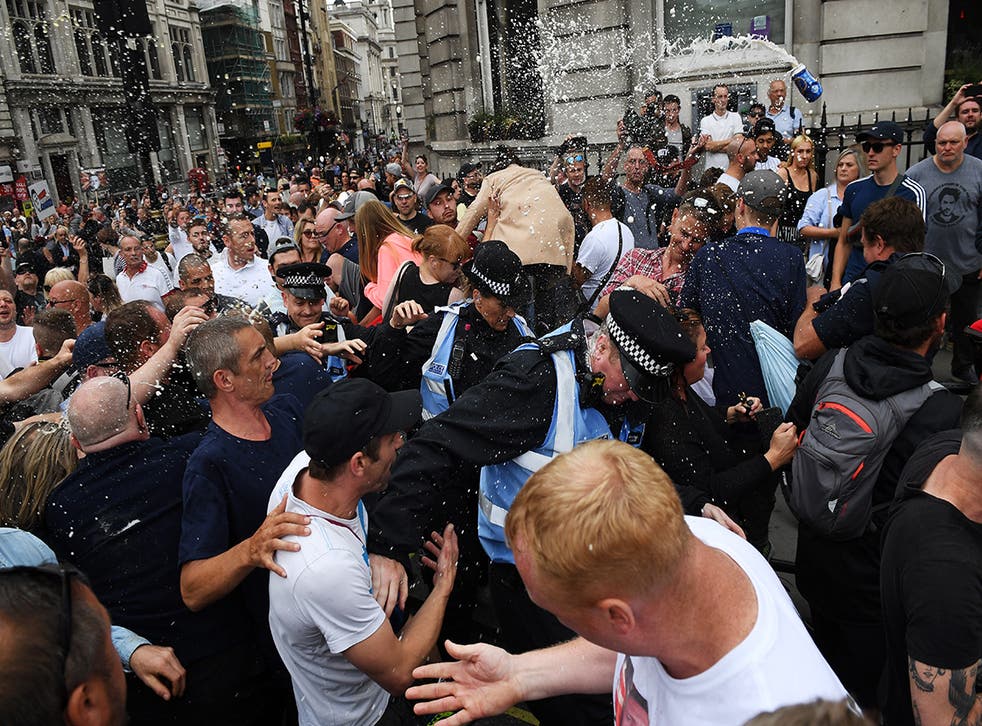 Police will be flooded into central London on Saturday amid fears two protest marches – one in support of jailed far-right leader Tommy Robinson, the other welcoming US president Donald Trump – could combine and turn violent.
Specially trained officers will patrol the processions after a previous demonstration in support of the EDL founder saw metal barriers and bottles being thrown at police.
Scotland Yard has already imposed restrictions on where the protestors can go "in order to prevent serious disorder and disruption to Londoners".
A spokesperson said the two groups would be allowed to come together for a series of speeches in Whitehall – but would be kept apart before then.
He said: "Both events are due to take place on Saturday and the conditions have been imposed due to concerns of serious public disorder and disruption to the community.
"A recent event involving the Free Tommy Robinson group on 9 June resulted in serious violence in central London.
"A significant policing operation will be in place for the duration of both events on 14 July, which is designed to prevent trouble from flaring up and facilitate peaceful protest."
Conditions set under the Public Order Act state that pro-Robinson protesters must march from Temple Place to Whitehall along a pre-set route, while Trump followers will arrive at the same destination from the American Embassy.
Republican Congressman Paul Gosar and controversial Dutch populist Geert Wilders are among those expected to address the crowds once there.
Police are also restricting the movements of a Unite Against Fascism march to Parliament Street and nearby, to ensure the two ideologically-opposed groups do not clash and to "prevent intimidation".
Robinson is currently serving a 13-month prison sentence for contempt of court after breaking reporting restrictions on a trial at Leeds Crown Court.
National Stop Trump protest: march against US President's visit to UK

Show all 105
The 35-year-old, who was jailed under his real name Stephen Yaxley-Lennon, had already been handed a suspended sentence for committing the same crime in Canterbury and was told he could have caused the trial to collapse.
But his supporters have claimed his imprisonment to be part of an "establishment" conspiracy against Robinson.
Register for free to continue reading
Registration is a free and easy way to support our truly independent journalism
By registering, you will also enjoy limited access to Premium articles, exclusive newsletters, commenting, and virtual events with our leading journalists
Already have an account? sign in
Register for free to continue reading
Registration is a free and easy way to support our truly independent journalism
By registering, you will also enjoy limited access to Premium articles, exclusive newsletters, commenting, and virtual events with our leading journalists
Already have an account? sign in
Join our new commenting forum
Join thought-provoking conversations, follow other Independent readers and see their replies