Tony Blair says unemployed people complaining about migrants taking jobs are uneducated
Former prime minister says there is a 'real anxiety for people about the way the world is changing'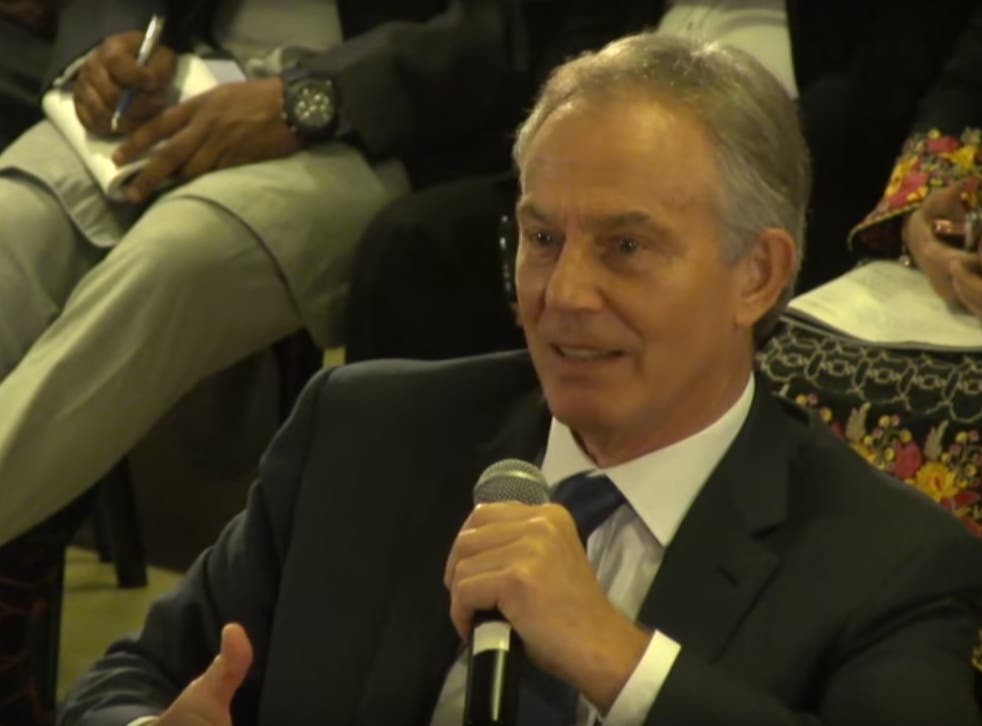 Unemployed people in the UK should not "blame migrants for having taken their jobs", Tony Blair has said.
The former prime minister made the comments during a debate at the Global Education and Skills Forum conference in Dubai, saying those unhappy at the impact of immigration on the labour market should "get education and the skills necessary in order to be able to operate in the modern world".
"This whole debate around migration is really difficult for people because there's no point in just dismissing it as prejudice – although a lot of it is prejudice – it's also a real anxiety for people about the way the world is changing," he said.
The former Labour Party leader said that when people's incomes are stagnating and people are "not really getting anywhere in life", the migration issue "becomes an easy thing to gravitate to".
"Whether it's in America or Europe right now, that is the card that kind of populism – at least from the right wing of politics – will play," he said.
"The answer to someone who is unemployed in a country like mine, or anywhere else in Europe, is not to blame migrants for having taken your job, it's to get the education and the skills necessary in order to be able to operate in the modern world.
"You've got to try and speak with real conviction about the real answers to the problems people face."
He told the conference an education system expressed what a country stood for as a society, and that citizenship values were important both economically and socially.
"If you want to educate young people for the modern world it's essentially that they are also educated to a culturally tolerant view of the world, because the world today works through connectivity, it works across the boundaries of faith and culture," he said.
"So if you get people being educated to what I would call a narrow-minded view of the world towards others, then they're never going to be able to produce the type of society and economy you require."
Mr Blair recently came under fire in Tom Bower's biography 'Broken Vows', which accuses him of being instrumental in a supposed mass conspiracy over migration.
In it, Mr Bowers claims the former prime minister "cynically repackaged" asylum seekers as economic migrants, and banned ministers and civil servants from discussing the issue.
Meanwhile, when asked about the rise of Donald Trump, Bernie Sanders and Jeremy Corbyn, Mr Blair responded: "I have literally no idea what is going to happen. When I look at politics today, I am not terribly sure that I quite understand it.
"It's all very interesting. There is populism of left and right, there's a lot of anger about. Anger is all very well but it is answers that deliver results.
"If I start going off about Donald Trump and Jeremy Corbyn, I have absolutely no doubt that would be a bigger story than my talking about education."
Register for free to continue reading
Registration is a free and easy way to support our truly independent journalism
By registering, you will also enjoy limited access to Premium articles, exclusive newsletters, commenting, and virtual events with our leading journalists
Already have an account? sign in
Register for free to continue reading
Registration is a free and easy way to support our truly independent journalism
By registering, you will also enjoy limited access to Premium articles, exclusive newsletters, commenting, and virtual events with our leading journalists
Already have an account? sign in
Join our new commenting forum
Join thought-provoking conversations, follow other Independent readers and see their replies