Tony Blair warns David Cameron not to pursue on-the-run ex-IRA terrorists over Northern Ireland Troubles
Ex-PM says peace process could unravel
Oliver Wright
Tuesday 13 January 2015 17:39 Comments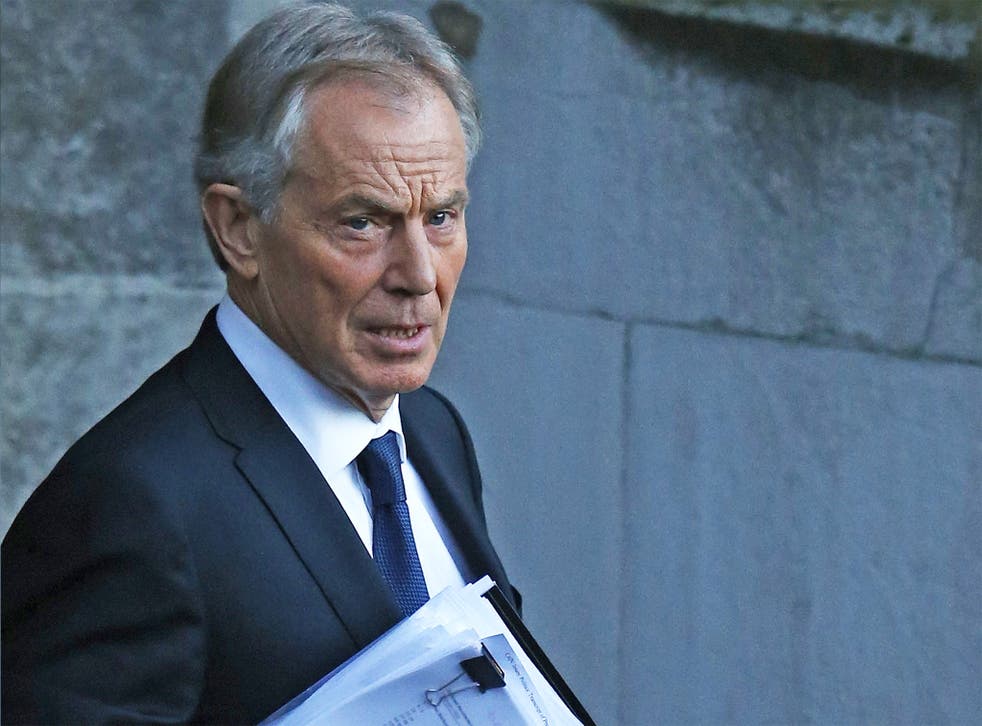 Tony Blair has issued a stark warning to David Cameron that the Northern Ireland peace process could yet unravel if the Government pursues former IRA terrorists for atrocities committed during the Troubles.
The former Prime Minister accused the current Government of making a mistake by ripping up guarantees given to so-called on-the-run fugitives that they would not be prosecuted for crimes committed before the Good Friday Agreement in 1998.
He warned that the peace process was "fragile still" and had been undermined by the Northern Ireland Secretary's announcement last year that around 200 letters to republicans assuring them they were not being pursued by the UK authorities were worthless.
"Would I have done that? No," Mr Blair told the Northern Ireland Select Committee.
"I am not here to criticise but all I'm saying to the people in government now is that you inherited a peace process that worked. So be careful with it because it is fragile still. That's all I'm saying."
Mr Blair had at first declined to appear before the committee, which is investigating the botched decision to assure a suspect in the murder of four soldiers in a bombing in Hyde Park in 1982 that he was not wanted for any terrorism offences.
That assurance, in a letter from the Government, led to the collapse of his prosecution and prompted an independent inquiry that concluded John Downey should never have been given such a guarantee.
However, following the intervention of the Speaker, Mr Blair agreed to attend the hearing where he faced fierce criticism from Unionist MPs for the secretive deals.
In his evidence Mr Blair defended the principle of on-the-run letters, insisting that without them the Northern Ireland peace process could quite conceivably have collapsed altogether.
He said Sinn Fein would have walked away and added dealing with on-the-runs was central to republicans' acceptance of the overhauled police service in 2007.
"We almost lost the thing," he said. "So, look, I understand the anxiety, I really do. But you've got to understand what I was trying to achieve."
He added: "If we had not managed to find a way to get ourselves over what was a horribly difficult period we would not have got the [ministerial] executive up in May 2007. The Northern Ireland peace process was the right thing to do."
Mr Blair said he wanted to establish a proper system which dealt with all on-the-runs, including those fugitives who did face prosecution, but his government was unable to do so after political opposition forced the scrapping of proposed legislation. "Right from the outset our desire for on-the-runs was to bring into place a scheme that would apply to everybody, the equivalent of the Good Friday Agreement for prisoners, but we were not able to find a way of doing that, so we dealt with this by way of an administrative process," he said.
But he insisted that because a comprehensive agreement had not been reached letters should only have gone out to those people who were not wanted in connection with any terrorism offence as had been agreed. He added that he took responsibility for the structural problems with the scheme. However he pointed out that he had been out of office for some time and had never heard of Mr Downey before the case ended. He added there were numerous opportunities to correct the mistake more recently.
"The purpose of everything we have done was to create peace in Northern Ireland so that there were not more victims of terrorism and more families distressed and losing loved ones," he said.
"It was not an amnesty, it was not secret, but it nevertheless dealt with one part of the problem."
Republican retreat: Blair to speak in US?
Tony Blair has been invited by US Republicans to speak at their annual retreat in Hershey, Pennsylvania, which takes place on Thursday and Friday. The party will discuss issues including the economy, healthcare, immigration and border security.
Mr Blair's office did not respond to requests for confirmation of the invitation. The comedian Jay Leno is also on the guest list.
Register for free to continue reading
Registration is a free and easy way to support our truly independent journalism
By registering, you will also enjoy limited access to Premium articles, exclusive newsletters, commenting, and virtual events with our leading journalists
Already have an account? sign in
Join our new commenting forum
Join thought-provoking conversations, follow other Independent readers and see their replies