Tony Blair's contrition over Iraq war doesn't stop him calling for troops to be sent in again
My understanding of the Middle East is a lot deeper today than it was when I was Prime Minister
Ishaan Tharoor
Wednesday 25 May 2016 13:12 Comments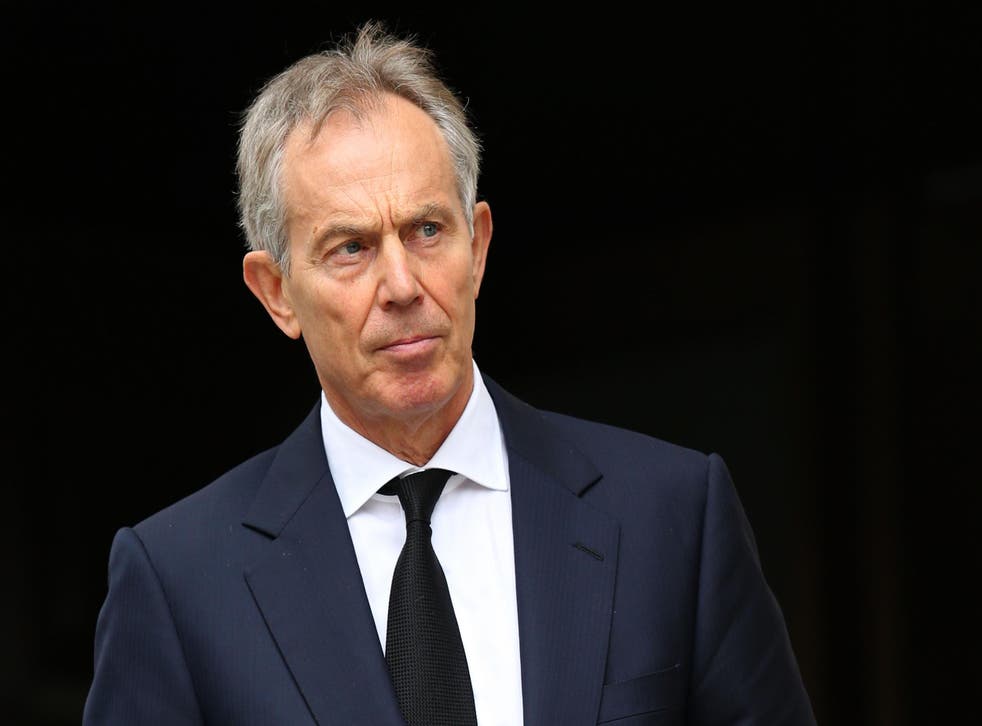 Former Prime Minister Tony Blair may have left office almost a decade ago, but he still casts quite a shadow over current events.
As WorldViews has noted, Blair has played an outsize role in the politics of the Middle East in recent years, first as an envoy to the faltering peace process between Israel and the Palestinians, and then as a paid consigliere to a host of regional governments, some more authoritarian than others.
At home, Blair's tenure at 10 Downing Street is still marked by the tarnished legacy of the 2003 invasion of Iraq, an American enterprise Blair fully backed despite considerable public opposition and has had to live down in the years since.
A direct line can be traced from the chaos spawned by the toppling of Iraqi dictator Saddam Hussein, and the failings of the administration established in his wake, to the upheavals of the present — including the rise of Isis
Jeremy Corbyn accused the former Prime Minister of enabling "war crimes" and insisted that Labour under his watch "will never make the same mistake again".
In pictures: Baghdad hit by 24 hours of Isis bombings

Show all 11
Blair has lamented the consequences of the invasion before, but he reiterated his contrition at an event Tuesday in London, organized by Prospect magazine.
"For sure we underestimated profoundly the forces that were at work in the region and would take advantage of change once you topple the regime," he said, according to the Guardian. "That is the lesson. The lesson is not complicated. The lesson is simple. It is that when you remove a dictatorship out come these forces of destabilization whether it is al-Qaeda on the Sunni side or Iran on the Shia side."
In July, the findings of a British government inquiry into the buildup to and decision-making processes behind the 2003 Iraq War will be released. Blair is likely to be in the spotlight once more, though he shied away from addressing its potential charges against his role in the war's execution.
"To be honest, my understanding of the Middle East is a lot deeper today than it was when I was Prime Minister," he said on Tuesday.
In an interview with CNN's Fareed Zakaria last October, Blair tendered something of an apology for his decision to go to war 13 years ago.
"I can say that I apologise for the fact that the intelligence we received was wrong, because even though he had used chemical weapons extensively against his own people; against others, the program in the form that we thought it was did not exist in the way that we thought," Blair said, referring to Hussein's supposed possession of weapons of mass destruction.
He is not, however, all that shy about sending more Western troops to fight wars in the region. In his remarks this week, Blair insisted that the jihadists of Isis would only be defeated by a "proper ground war".
"Airstrikes are not going to defeat Isis. It does not mean it has to be our forces all the time — it could be that our forces are in support," Blair said. "But be in no doubt, if you want to defeat these people you are going to have to wage a proper ground war against them. The only question for us is whether we are prepared to."
Despite pointing to the importance of marshaling local forces against the extremist group, Blair was adamant about the need for the United States, Britain and their allies to commit to a sustained war effort.
"In my view," he said, according to the BBC, "defeating them is absolutely fundamental, because if we don't defeat them, they are going to come and attack us here. This is not someone else's fight, it is our fight, as well."
Copyright: Washington Post
Register for free to continue reading
Registration is a free and easy way to support our truly independent journalism
By registering, you will also enjoy limited access to Premium articles, exclusive newsletters, commenting, and virtual events with our leading journalists
Already have an account? sign in
Join our new commenting forum
Join thought-provoking conversations, follow other Independent readers and see their replies