Tony Blair told Bill Clinton that Diana's popularity 'gave her problems with royal establishment'
Publishing an archive of private conversations between PM and President has given a rare insight into their relationship
Chris Green
,
Cahal Milmo
,
Andy McSmith
,
Nigel Morris
Thursday 07 January 2016 22:28 Comments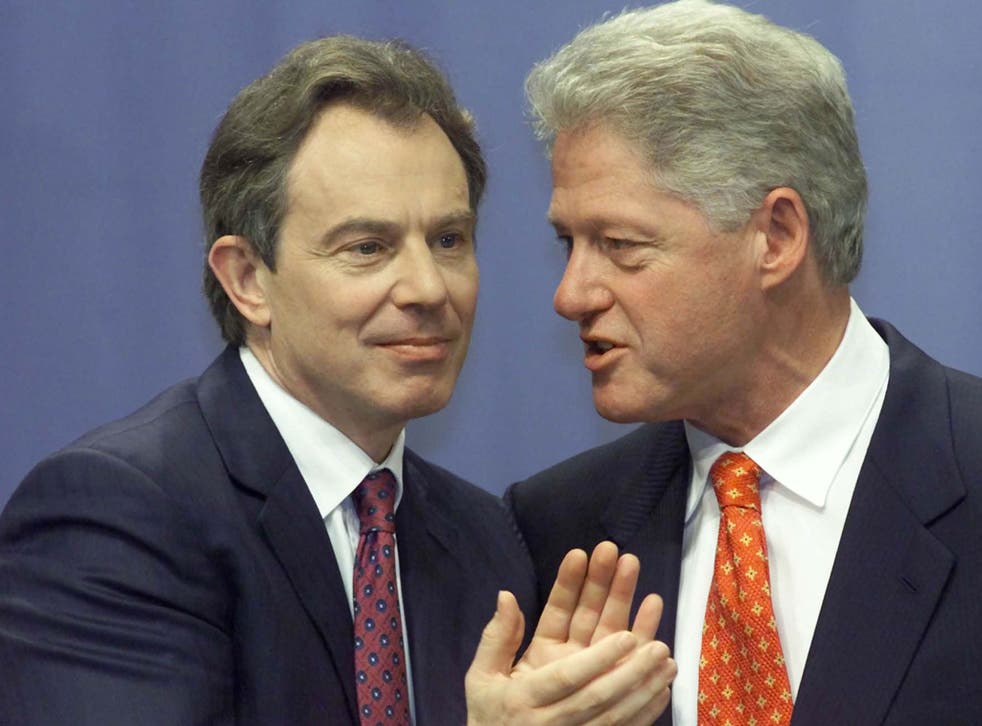 It is the special relationship laid bare for all to see. An archive of private conversations between Tony Blair and Bill Clinton has been published, allowing the public a rare insight into the two former world leaders' intimate relationship.
The records of telephone calls and meetings, which cover the period between 1997 and 2000 when the two men were in power, were obtained by the BBC through a Freedom of Information request to the Clinton Presidential Library.
Many of Mr Blair's contributions to the conversations have been redacted, but the rest of the transcripts – which show the pair sharing jokes as well as voicing their political frustrations at home and abroad – provide a unique view of the lives of America's 42nd President and the Labour Prime Minister.
Diana's death 'like a star falling'
The day after Princess Diana was killed in a car crash in Paris in 1997, President Clinton phoned Mr Blair from his holiday home in Martha's Vineyard to offer his sympathies. The day after Princess Diana was killed in a car crash in Paris in 1997, President Clinton phoned Mr Blair from his holiday home in Martha's Vineyard to offer his sympathies. Mr Blair tells the President: "She was not the royal family but she was liked by ordinary people, it gave her problems with the royal establishment."
Mr Clinton offers his condolences for the "awful" event and says: "I just wanted to let you know I was thinking of you". The Prime Minister describes the death of the Princess as "like a star falling".
Mr Blair continues: "The problem was the way she lived, in a press frenzy. It's impossible to contemplate how intrusive it was, into every single aspect of her life. The last time I spoke with her she said that were it not for the boys [Princes William and Harry], she'd be off the board."
John Prescott's bananas
In February 1999, the President phoned Mr Blair from the Oval Office in the wake of a visit to the UK by Al Gore. Mr Clinton is clearly in a mischievous mood and tells Mr Blair of the Vice President's astonishment at the spartan nature of the office of John Prescott, the then Deputy Prime Minister.
"He also liked it when he went into Prescott's office and the only decoration was a bowl of bananas. I heard all about it. He was very happy," the President jokes. "My staff won't let me talk to you unless I have a banana at hand. I'm sitting here with a banana; it's a big, ugly, brownish one," he says.
'We've taken licks for Gerry'
The two leaders spend much of their time discussing the peace process in Northern Ireland. Gerry Adams, the Sinn Fein leader, is mentioned many times, with President Clinton in particular finding him a tricky character. "We've all taken our licks for Gerry," he says during one exchange in May 1998. Notably, the two leaders often refer to "Gerry" and "Bertie" for the Irish Taoiseach Bertie Ahern, but Northern Ireland's Unionist leaders David Trimble and Ian Paisley are generally referred to by their surnames.
Clinton – presidential babysitter
The news in early 2000 that Cherie Blair was expecting her fourth child, Leo, is greeted enthusiastically by Mr Clinton. The President, due to step down in 2001, tells Mr Blair: "You know, after January I'm available for babysitting duties." The Prime Minister confided that he was daunted by the prospect of once more becoming a father. He replies: "I could do with a bit of help."
Putin is 'generally honourable'
The election of Vladimir Putin as Russian President in 2000 was greeted with guarded optimism in the White House and Downing Street. Mr Clinton tells Mr Blair that he considers the Russian leader to have "enormous potential" as well as being "smart and thoughtful". When asked how a meeting with Mr Putin had gone, the Prime Minister cannot quite muster Mr Clinton's enthusiasm. Mr Blair says: "It was fine… He feels that he is not understood about the problems he faces there. He was very anxious to impress me."
Mr Clinton says: "His intentions are generally honourable and straightforward, but he just hasn't made his mind up yet. He could get squishy on democracy."
'As long as you don't parade around naked'
Talking about a Blair visit to the White House, Mr Clinton says: "Do you want to spend the night at the White House? I won't get in until 1am and you may want to be in bed by then, but it's your option. You can sleep in the same bed Churchill did." Mr Blair replies: "I hope it's appropriate" to which Mr Clinton says "As long as you don't parade around naked before the bath. You're too young and too trim."
In another exchange Mr Blair talks to Mr Clinton while doing a constituency surgery in a local working men's club. "Are you in Durham?" asks the President. Mr Clinton then waxes lyrical about Durham Cathedral, leading Blair to reveal he was once a choirboy. "You still have that choirboy look," the President tells him.
Congratulations on a landslide
The polls had been closed for just 85 minutes when Bill Clinton rang Tony Blair to congratulate him over his landslide victory in the 1997 general election. Mr Blair says Mr Clinton had "showed the way".
Register for free to continue reading
Registration is a free and easy way to support our truly independent journalism
By registering, you will also enjoy limited access to Premium articles, exclusive newsletters, commenting, and virtual events with our leading journalists
Already have an account? sign in
Join our new commenting forum
Join thought-provoking conversations, follow other Independent readers and see their replies