Tornadoes tear across UK as more wet weather and strong winds forecast
Twisters were reportedly spotted in Cumbria, Derbyshire and the Wirral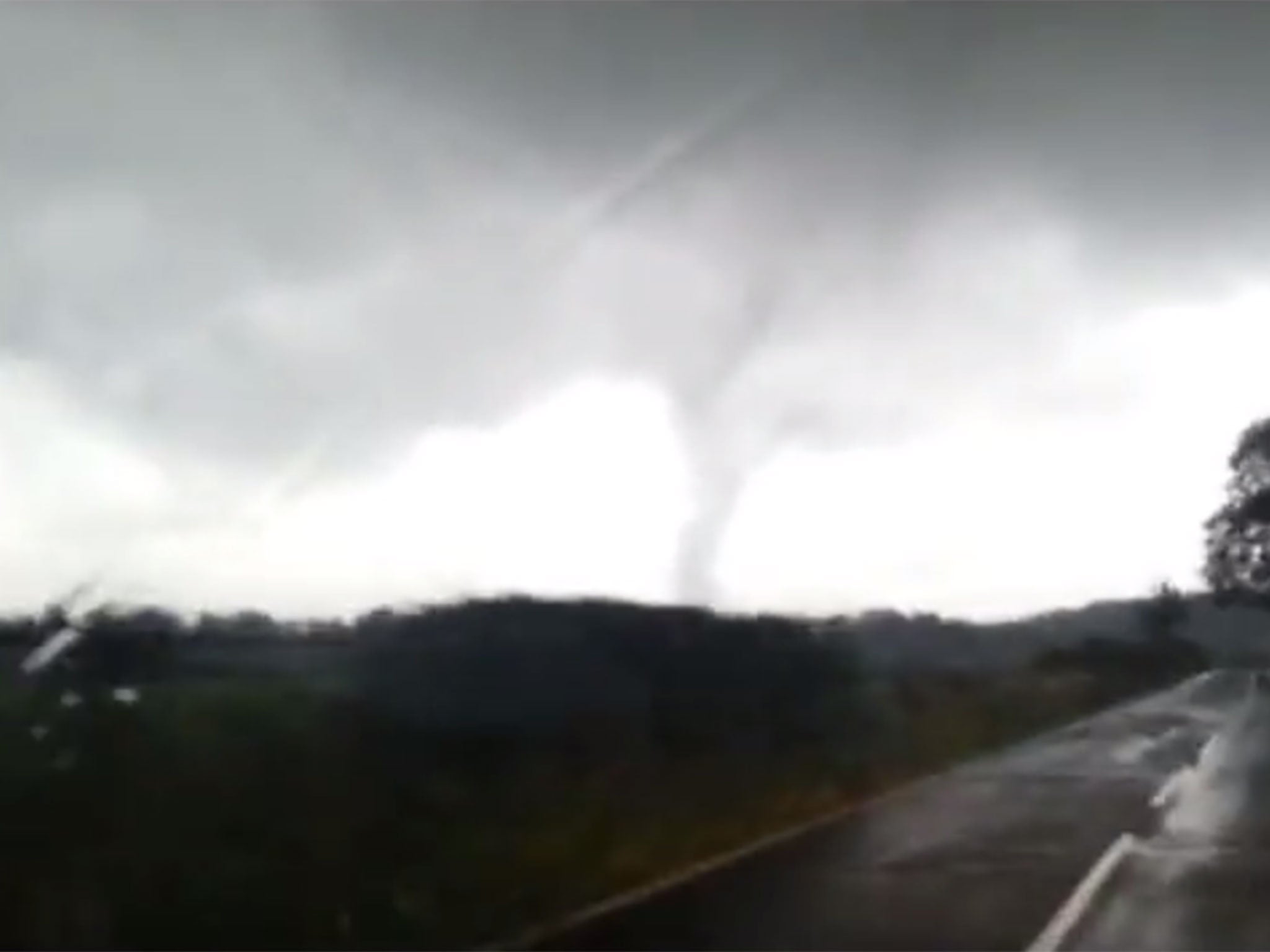 Tornadoes were sighted in several parts of the country yesterday, as heavy winds and rain lashed the UK.
Scroll down for video
Twisters were reportedly spotted in Cumbria, Derbyshire and the Wirral on Wednesday, as summer well and truly came to an end.
An eyewitness video posted on YouTube showed a tornado whipping across fields in the Haverthwaite and Backbarrow area of Cumbria.
And in the Derbyshire town of Alfreton, cars were flipped over and a house's roof ripped off by the powerful winds.
According to the BBC, the man who lives there, William Sitch, is waiting to find out whether his home will have to be demolished.
His partner's son, Oli Constable, told the broadcaster: "He's gutted and in shock. It's not something that you think would happen in Alfreton."
The Met Office confirmed that the town was struck by a tornado, but added that conditions were likely to remain calmer today.
Gales of up to 60mph are forecast, but more tornadoes are said to be unlikely.
Forecaster Tom Tobler, a spokesman for MeteoGroup, said: "Across southern Britain there will be gusts of around 50 to 55mph and this will spread eastwards throughout the day.
"There were some reports of tornadoes, including in the Wirral and Cumbria, and conditions were favourable to the formation of tornadoes.
"There will be some heavy showers and thunder storms around today, particularly in western areas but I would say not quite as much as yesterday - central and eastern areas won't see quite as many showers."
Weather in Britain: Stunning images show off beauty of British landscape
Show all 30
The Met Office's weather warning, covering an area from Cornwall to Bournemouth and Cardiff to Swansea, read: "Southwesterly winds will strengthen through Wednesday evening with gales expected overnight.
"Gusts are likely to reach 50mph quite widely, with 60mph gusts possible across exposed coasts and headlands, and also in association with squally, thundery showers. Winds will then moderate through Thursday morning.
"The public should be aware of the potential for some minor disruption."
There are currently 16 flood warnings in place across the UK, including one in Scotland, seven in England and eight in Wales.
Join our commenting forum
Join thought-provoking conversations, follow other Independent readers and see their replies