'Torture gear' brochures at world's largest weaponry fair backfire
Cahal Milmo
Friday 21 March 2014 21:03 Comments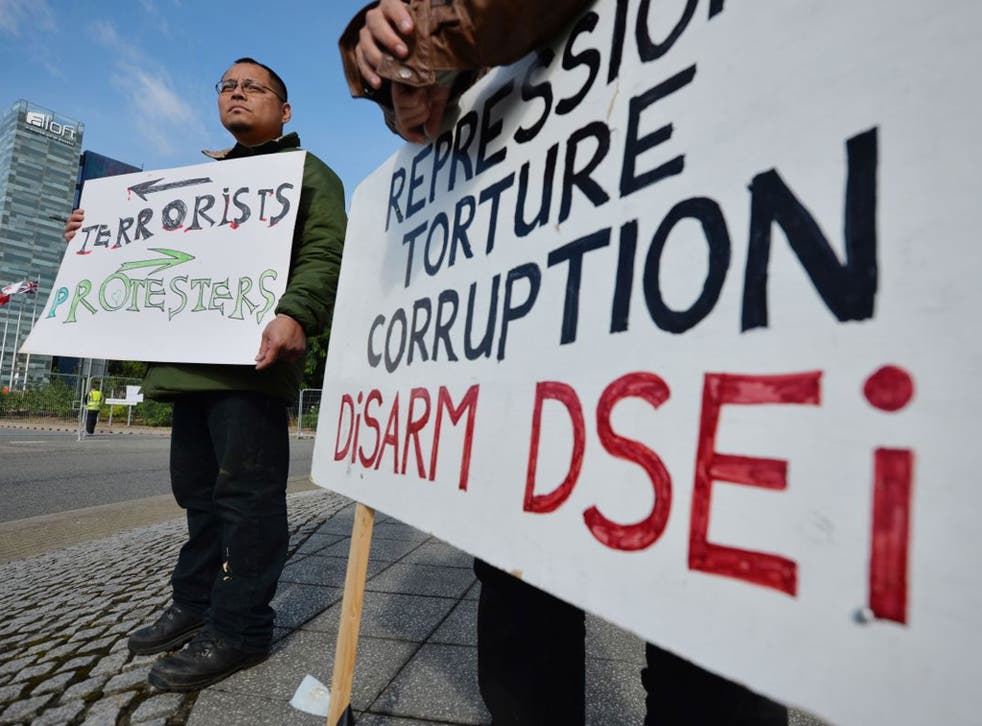 Anti-arms trade campaigners have launched an unprecedented private prosecution against two defence companies for allegedly marketing torture equipment at the world's largest weaponry fair in London.
Lawyers said that the rare private proceedings were being mounted because state bodies had failed to act on allegations that laws banning the export of illegal weaponry were broken at the biennial Defence and Security Equipment International (DSEI) exhibition in London's Docklands last year.
French company Magforce International and a Chinese exhibitor, Tianjin Myway International, were ejected from the event after brochures, seen by The Independent, were found to contain products including leg restraints and electronic stun batons. Despite details on the companies being passed to investigators at HM Revenue & Customs six months ago, no charges were brought prior to the expiry of a prosecution deadline earlier this month.
Raj Chada, of law firm Hodge Jones & Allen, who is leading the prosecution, said: "This is a ground-breaking initiative by our clients who are sick and tired of the world's arms dealers congregating in London every two years and no action being taken. It is disgraceful no one has bothered to respond to our requests and enough is enough. Companies will be forced to appear in court and are at risk of criminal convictions."
It is alleged the items being marketed by the two companies were "Category A" goods under Britain's Export Control Order 2008, which effectively bans the sale and promotion of items such as fetters and stun weapons because of their potential use in torture.
The Independent revealed the eviction of the companies after Green MP Caroline Lucas raised questions in Parliament about their presence at DSEI, which bills itself as "the world-leading defence and security event" and is attended by 30,000 people including arms-buying delegations from across theworld. Private prosecutions are used by companies or organisations to pursue individuals for offences such as animal cruelty or piracy. But prosecutions on behalf of private individuals are rare.
Following the ejection of the companies last September, Clarion Events, the organiser of DSEI, said it had passed information about the incident to HM Revenue & Customs for further investigation. But the campaigners said despite numerous requests to the authorities to investigate the incident, they received no response and the statute of limitations, after which it would have been impossible to bring a prosecution, was due to expire earlier this month.
District judge Gareth Branston, sitting at Thames Magistrates' Court in east London this month, authorised the private prosecution and singled out the fact that the CPS had remained silent on whether it was considering its own charges as a key reason for allowing the unusual case to proceed. Mr Chada said he was also writing to the CPS to ask it to take over the prosecution.
HMRC declined to discuss the DSEI case. A spokesman added: "We consider all credible information we receive regarding potential breaches of UK strategic export controls and take action where we find evidence of abuse."
A CPS spokeswoman said: "This case has never been referred to the CPS by investigators. As with any case, should a file be referred to us we would consider charges in accordance with the Code for Crown Prosecutors."
Magforce International, based in Aubervilliers, Paris, and Tianjin Myway in Beijing were among 1,500 exhibitors at the DSEI event. Organisers have made repeated undertakings to weed out exhibitors breaking the rules after previous incidents in recent years in which companies were ejected for promoting products such as leg irons and cluster bombs.
The terms and conditions for exhibitors prohibit the marketing of "leg irons, gang chains, shackles" and "electric shock batons… stun guns and electric shock dart guns".
When sales personnel from both firms facing charges were approached by The Independent at the fair they insisted the items were not offered for sale in Britain. After its expulsion, Magforce told French media it had not thought any products in its catalogue were illegal in Britain, nor had it ever received orders for illegal items.
Each company faces three charges of breaching the Export Control Order 2008, which prohibits marketing "Category A" goods in Britain. If convicted, they face a fine of up to £5,000 per offence. The firms did not respond to requests to comment on the cases against them.
Register for free to continue reading
Registration is a free and easy way to support our truly independent journalism
By registering, you will also enjoy limited access to Premium articles, exclusive newsletters, commenting, and virtual events with our leading journalists
Already have an account? sign in
Join our new commenting forum
Join thought-provoking conversations, follow other Independent readers and see their replies