Government policy on tortured asylum seekers declared unlawful by High Court
Vulnerable individuals wrongly locked up while asylum claims are processed despite doctors submitting evidence of torture and ill-treatment to the Home Office, court rules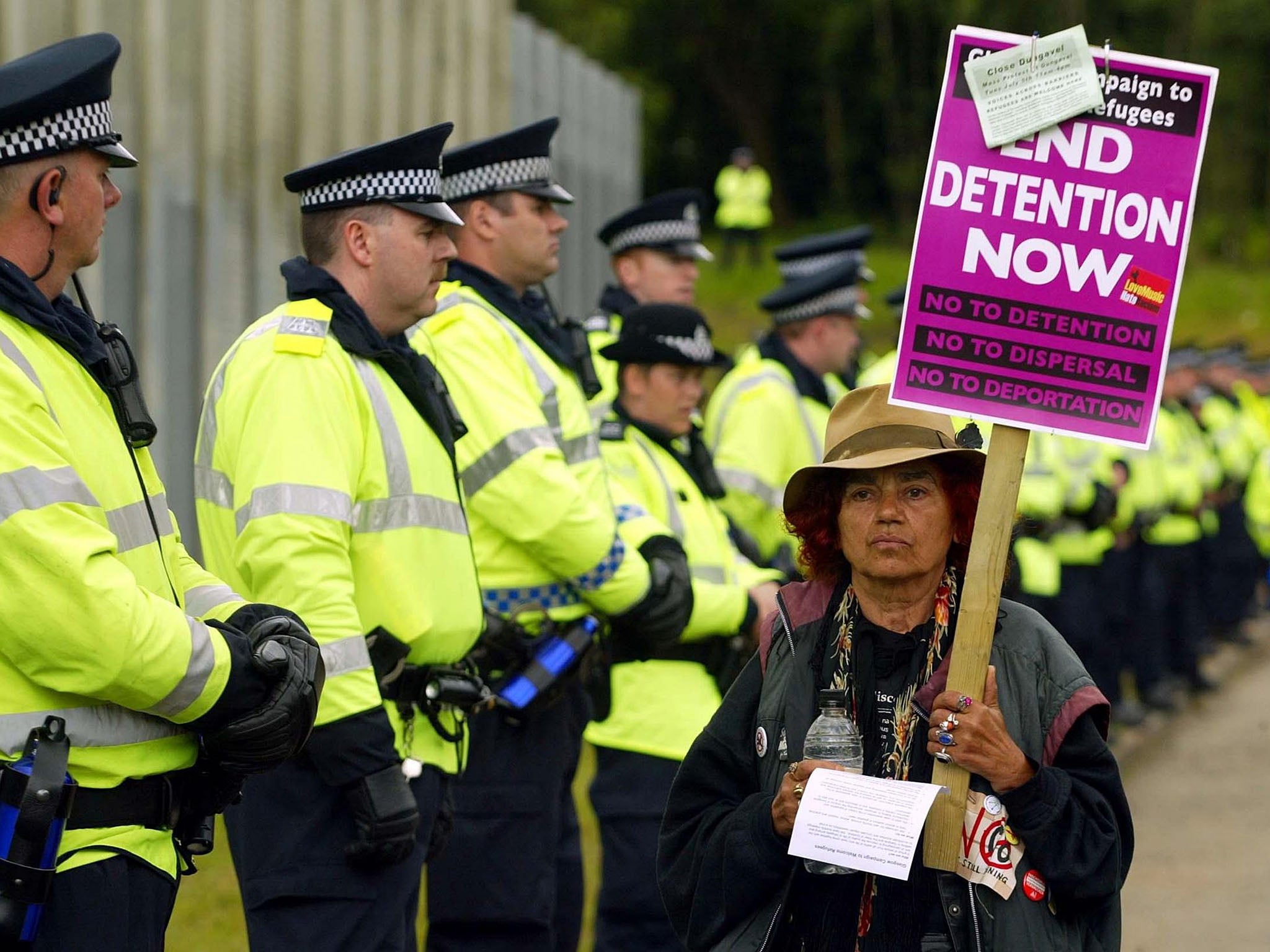 The High Court has declared the Government's policy on torture victims is unlawful, after being told asylum seekers fleeing persecution were being wrongly detained.
In a move that could help prevent thousands of vulnerable people from being incarcerated in the UK's notorious detention centres, the judge ruled individuals had been wrongly locked up during their asylum claims despite doctors submitting evidence of torture and ill-treatment to the Home Office.
The case was brought by seven survivors of torture who had been detained in the UK, including victims of sexual and physical abuse, trafficking, sexual exploitation, homophobic attacks and a child abused by loan sharks.
One of the claimants, a young man kidnapped and beaten with knives, sticks and a gun by the Taliban because he refused to be groomed into joining them, was told by the Home Office that his case did not meet the new definition of torture.
Another claimant, a Nepalese man who was beaten, cut and shot at by a terrorist group in his home country, in an ordeal lasting 15 days, was also told that his experiences do not meet the new definition of torture.
The ruling comes up after campaigners accused the Government of adopting an unreasonably narrow definition of torture in policy changes made last September, in which it sought to apply a United Nations political document drafted to prevent the perpetration of torture worldwide to a purely medical assessment.
The Home Office subsequently advised medical practitioners assessing individuals' vulnerability to harm in detention that torture inflicted by non-state actors must not be considered torture in their examinations.
Judge Ouseley told the Home Office unambiguously that their new policy was "unlawful and their actions upon it too were unlawful", saying the new policy had "no rational or evidence base".
Medical Justice, a charity that sent volunteer doctors to assist two of the claimants in detention, said the Government dismissed warnings from them that the policy was likely to increase the risk of harm and fundamentally weaken protections for vulnerable detainees.
The Home Office admitted it unlawfully detained the seven detainee claimants and applied the policy wrongly in 57 per cent of 340 cases in its initial 10 weeks of implementation, describing it as a "bedding in" issue.
It comes a month after systemic failures were highlighted in BBC Panorama undercover footage of detainees appearing to be abused, including a guard throttling a detainee whilst threatening to kill him and a nurse colluding in falsifying the detainee's medical records. Since the documentary was broadcasted, three detainees have died in immigration detention.
A damning report by senior civil servant Stephen Shaw into the welfare in detention of vulnerable people in 2016 meanwhile found that "many practices and processes associated with detention are in urgent need of reform".
The Government publicly accepted the "broad thrust" of the report, only to quietly remove safeguards for victims of torture a few months later with the new policy.
Judge Ouseley was clear in his finding that the distinction between state and non-state torture when assessing particular vulnerability to harm in detention "has no rational or evidence base," adding: "There is no evidence that such a distinction relates to the relevant vulnerability. The evidence rather is that it does not."
He went further to say that the policy "would require medical practitioners to reach conclusions on political issues which they cannot rationally be asked to reach."
The High Court judge also noted that, by irrationally excluding victims of torture by non-state actors, the policy "falls short of meeting the statutory purpose which it is required to meet," meaning that the Home Office failed to carry out the express will of Parliament.
One of the claimants, who is unnamed but who was unlawfully detained and suffered mental health deterioration while held in detention, said after the hearing: "I welcome the decision and I am happy that the Judge accepted that the Home Office's policy to narrow the definition of torture was unlawful.
"The Home Office said that detention will not affect me because I am not a victim of torture. It is difficult to believe that the Home Office could happily detain me knowing that I was tortured. It affected me greatly to be subjected to this unlawful policy. It has left a scar in my life that will never be healed.
"Although I welcome the decision, it is still upsetting that the Home Office, who should protect people like me, rejected me and put me in detention which reminded me of the ordeal I suffered in my country of origin.
"I hope that the decision will benefit other survivors of torture held in immigration detention and it will prevent the Home Office from implementing a policy that will hurt vulnerable individuals in the future."
Medical Justice doctors accused the Home Office of "sheer contempt" for narrowing the definition of torture, and urged that its "systematic healthcare failings" in detention settings had led to heightened mistreatment of detainees.
"Narrowing the definition of torture by the Home Office demonstrates its sheer contempt for vulnerable detainees whose lives it is responsible for. The Home Office should have welcomed our evidence of the policy's harm suffered by torture victims, not dismissed it," a spokesperson said.
"There is ample justification for immediately releasing all detained adults at risk so they can access the care and support they need in the community. We believe that The Home Office's denials of systemic healthcare failings for over a decade has enabled mistreatment of detainees and that its inability to stop abuse means that the only solution is to close immigration removal centres."
Lewis Kett, one of the solicitors leading the challenge on behalf of the Duncan Lewis claimants, said: "Today's judgment means that those making decisions to detain should now be able to focus on the real question: whether the individual is particularly vulnerable to harm in detention.
"This was supposed to be the intention of the Adults at Risk policy following the Shaw Report's damning critique, but the Home Office got it spectacularly wrong. Our clients have now finally been vindicated on this point."
Steve Valdez-Symonds, Amnesty International UK's refugee and migrant rights programme director, said: "The Home Office's treatment of torture survivors, a group especially vulnerable to harm by being detained, was scandalous.
"If this ruling means fewer people in the UK will now spend time behind bars, then this is a very welcome decision. In general, the Home Office has a shocking record of routinely detaining people, sometimes for years on end.
"We now need to see the Government act on recent independent reports that have recommended radical change to dramatically reduce the use of detention."
Join our commenting forum
Join thought-provoking conversations, follow other Independent readers and see their replies