Tourists flying into Greece inferno reveal why they refuse to cancel holiday
'We understand that it's a risk ... but we want to go on holiday' one easyJet passenger says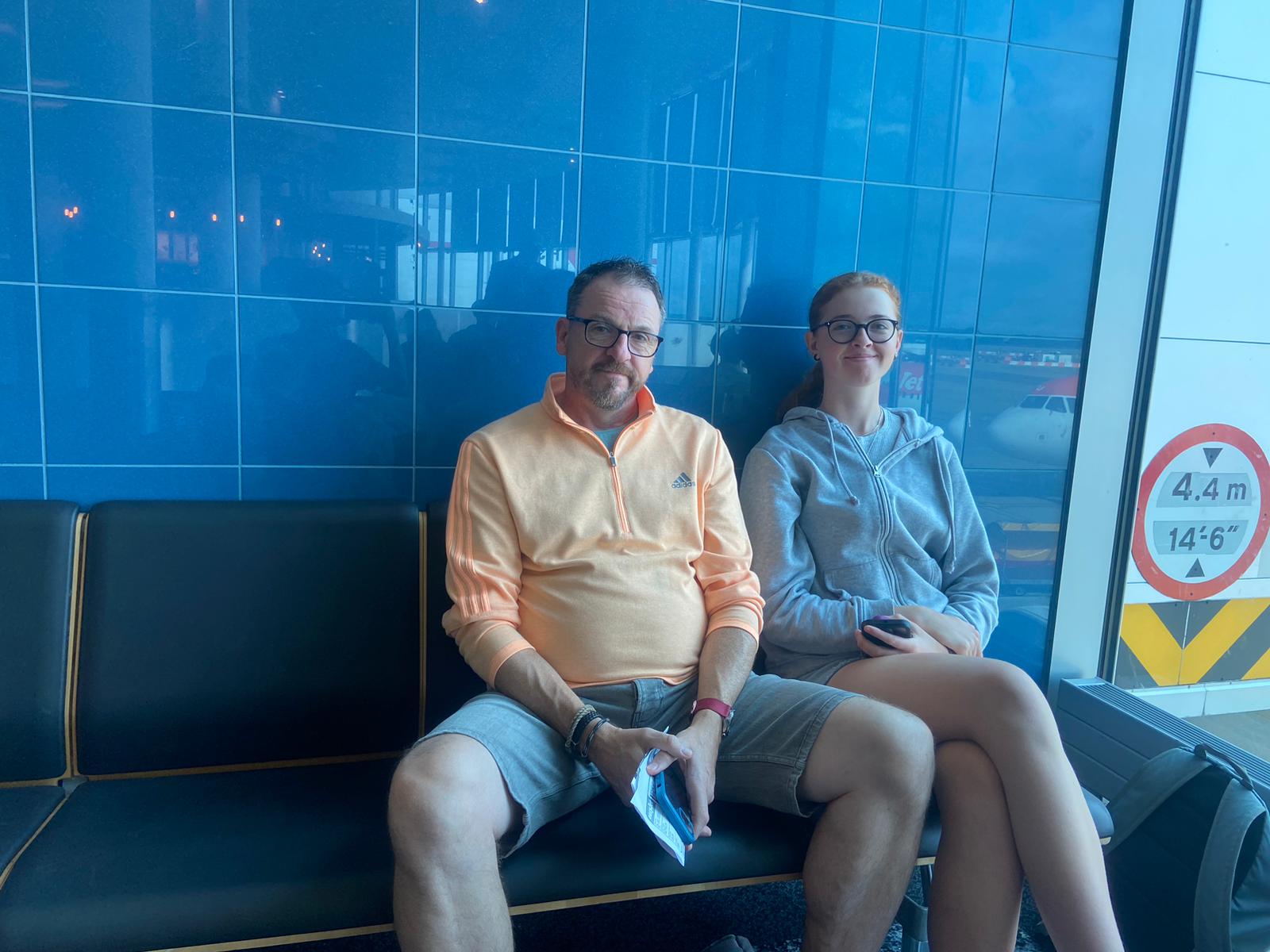 British tourists on an easyJet flight to Rhodes have said they refuse to let wildfires ruin their holiday - despite thousands heading back home from a 'holiday hell'.
Speaking to The Independent at Gatwick Airport departure gate for the 9:35am flight to Rhodes on Tuesday morning, holidaymakers said that while they had "absolutely" been worried by the reports from Greece, "you still want to go on holiday, at the end of the day".
The wildfires ravaging the south of the island have sparked Greece's largest-ever evacuation effort, with many airlines now offering refunds or ticket exchanges to customers due to fly out – as a lack of Foreign Office advice against travel to Rhodes leaves others at the mercy of their insurance companies.
"We were absolutely [worried]," said Richard Hamilton, a 54-year-old company director from Guernsey, who was travelling with his daughter, who had been taking part in a golf competition in Winchester. The pair were meeting the rest of their family at Kallithea, who arrived there the night it "actually kicked off".
"We've been keeping an eye on the news and everything, but it's really difficult because it's quite a big island. For us in the UK, you forget how big it is .... We've been really careful, we've got a close friend who's kept an eye on it for us, so we're not too concerned at all."
Those travelling on easyJet flight 8229 all appeared to be staying in the north of the island, however, and felt conditions were safe enough to travel there and take their chances despite the "nightmarish" reports of people fleeing miles along beaches on the island to escape walls of flame just days earlier.
Noting that their family already in Kallithea "would have come home if they were worried", Mr Hamilton said he hoped they would be able to relax over their eight-day stay, adding: "It's going to be hot there but it seems like everything is okay, so we'll see how we go when we get there.
"The airport might be a bit chaotic but apart from that it should be fine."
Rosie, a 32-year-old office manager, and Alex a gas engineer, were travelling also travelling to Kallithea with their son Finlay, aged 11, for a holiday they had booked in April.
"I think we're one of the lucky ones, aren't we," said Rosie, before Alex interjected: "Well, hopefully yeah, we'll see."
Having both been nervous over the past few days, Rosie said: "Up until last night, it was like 'are we going, are we not?'" But after speaking to their holiday rep and a friend who works for easyJet who "said half of Rhodes is absolutely fine, there's no smoke, nothing", they felt reassured enough to travel.
"There's no point not [going]. If it's s*** when you get out there … it's only the way back that's going to be drama. Getting on a plane that's not going to be our plane about three days later," Alex said, prompting laughter, with Rosie adding: "As long as we get a holiday, that's all that matters."
He said he was mainly nervous for Finlay at first, adding: "But life goes on, doesn't it. And no one's died out there. It's different if people have died, but no one's died out there so why not take the risk? Simple as that."
Alex added: "The media tell you what they want to show you to put people off. Showing people at the airport with ash all over their suitcases, that's from people who were clearly near the fire."
Another passenger, Luca, a 25-year-old business owner in Surrey, also believed the media had blown the fires out of proportion and had booked a new flight to make the trip after a previous flight yesterday was cancelled.
"There's only certain areas affected, so they're making it [out to be] worse than it actually is. But I guess we'll find out," he said, adding: "Even last year there was fires, not as big, but still there was ... in the Balkans, Greece."
"We're going to find out for ourselves, I reckon," he added.
Hugh and Catriona, two 21-year-old university students at Southampton and Bath, and Paul, a 51-year-old teacher were both travelling as part of a family of six – having previously been forced to cancel a trip together to Rhodes during Covid.
"To be fair it has been quite a stressy two or three days, but we are quite north in the island so hopefully aren't affected," said Hugh. "There's moral issues isn't there, but you still want to go on holiday at the end of the day. Maybe [we're] being a little bit selfish, but oh well."
Paul said he had been speaking to one hotelier in the south who told him that "the damage hasn't been very extensive and as soon as the authorities allow them to they're ready to open the business again".
Asked if they felt prepared were things to take a turn for the worse, Hugh added: "Not really, no. You take the risk. We understand that it's a risk going on holiday, but we want to go on holiday, so [we're] maybe putting that to the back of the mind a little bit."
Joking that they "called the board together" for a meeting late at 11pm last night, the family said they decided to see whether their plane was cancelled or not.
"You can't make a concrete decision when you don't know what's going on," said Hugh, with a van booked to take them to the airport at 4am putting further pressure on them to decide whether to take the trip, which marked the first time they had all been away together in at least three years.
Noting that "there's more [people] than I thought on the flight", Paul added: "A lot of people haven't had a choice, have they? Because if you've booked a package and it's been cancelled, it's out of your hands. Whereas we've booked separately, so our flights weren't affected."
Save for a little turbulence over Austria the mood was mostly jovial on easyJet flight 8229, as families played card games amid a hum of excited chatter.
The vast number of empty seats went largely unnoticed, save for one of the aircrafts 44 passengers who could be heard remarking happily about the rarity of having lots of space on a plane – on which 85 had originally been due to travel.
Conversely, the plane was expected to be at its capacity of 186 passengers on its way out of Rhodes.
"I'm sure you know it is hot," said the pilot as he began the descent, adding: "We all wish you luck in Rhodes whatever the reasons are for you taking this flight out there today."
Join our commenting forum
Join thought-provoking conversations, follow other Independent readers and see their replies