Trafalgar Square fountains dyed blood red as Sisters Uncut demonstrators protest against women's refuge cuts
The protest group argues that the closure of women's refuges could result in more deaths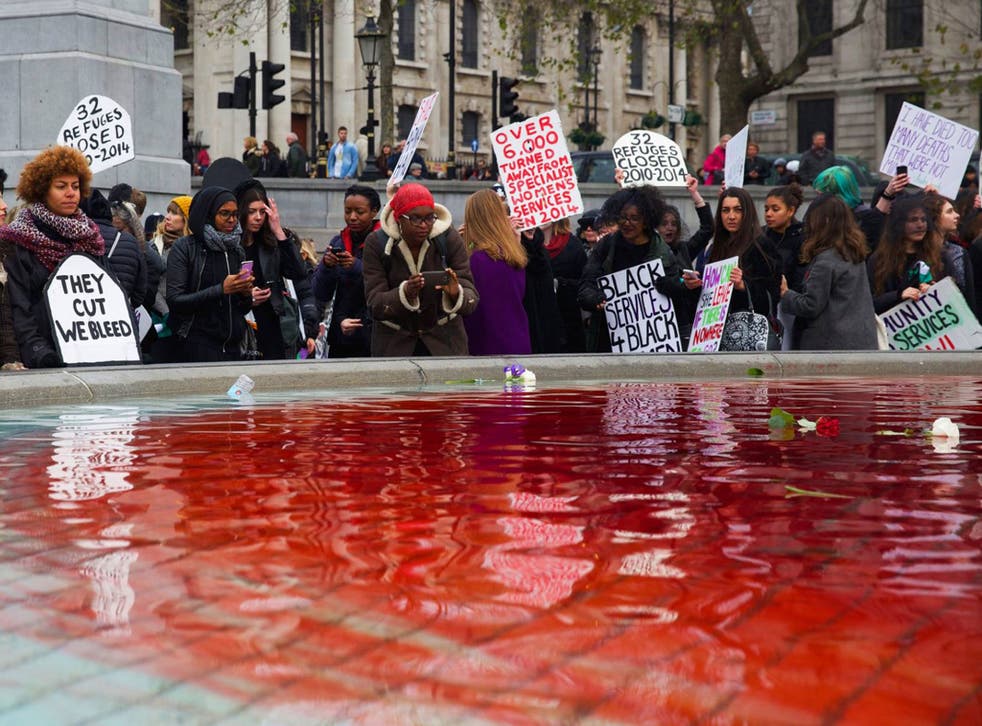 Trafalgar Square's iconic fountains were dyed red today to resemble the blood of women killed by domestic violence as hundreds protested government policies.
Sisters Uncut, the group who called the "funeral march", estimated that 500 women joined their demonstration against service changes it argues are killing women.
Protesters wearing mourning clothes and black veils held up signs with the number of women's refuges that have closed since 2010 – estimated at around 30 – and shouted slogans including "they cut, we bleed" as they marched through central London.
Zara, a member of Sisters Uncut, told The Independent the group's protests had been steadily growing since it was founded a year ago.
"Today there were a lot of people who had never protested before but they feel very strongly about this particular issue," she added.
"It takes a while for people to see the impact of cuts on these kinds of services."
Zara said the dye in the Trafalgar Square fountains served as a "visual depiction" of the women being harmed and killed.
The protest came days after George Osborne's autumn statement, which coincided with the UN's International Day for Ending Violence Against Women, received a mixed reception for using the controversial "tampon tax" on sanitary products to fund women's charities.
"I'm going to use the £15m a year raised from the tampon tax to fund women's health and support charities," the Chancellor said.
"The first £5 million will be distributed between the Eve Appeal, SafeLives and Women's Aid and The Haven - and I invite bids from other such good causes."
Sisters Uncut at the Suffragette premiere
Sisters Uncut, whose members protested on the red carpet at the film premiere of Suffragette last month, described the proposals as a "sticking plaster on a haemorrhage".
Members are demanding no cuts to domestic violence support services and guaranteed funding for specialist support for those helping help black and minority ethnic women.
The group also argues that council budget changes will also impact on local domestic violence services, which it says leaves fewer women at risk of harm and death at the hands of their partners without refuge.
But a spokesperson for the Government said there were no cuts to domestic violence services and that increased funding was being used to combat Violence Against Women and Girls (VAWG) services, as part of a new strategy.
A £3million fund was launched in July to increase provision of safe accommodation, including refuges, and provide services to help victims across the country, she said, adding:
"The Government has just announced increased funding of £40million over the next four years to support victims of domestic violence as part of the Spending Review.
"This Government is fully committed to ensuring that no victim of domestic abuse is turned away from the support they need."
Register for free to continue reading
Registration is a free and easy way to support our truly independent journalism
By registering, you will also enjoy limited access to Premium articles, exclusive newsletters, commenting, and virtual events with our leading journalists
Already have an account? sign in
Register for free to continue reading
Registration is a free and easy way to support our truly independent journalism
By registering, you will also enjoy limited access to Premium articles, exclusive newsletters, commenting, and virtual events with our leading journalists
Already have an account? sign in
Join our new commenting forum
Join thought-provoking conversations, follow other Independent readers and see their replies