Trafalgar Union Jack: Britain's only flag from Admiral Nelson's famous victory acquired by National Maritime museum
The flag was flown on HMS Minotaur – one of the warships in Nelson's squadron at Trafalgar
Wednesday 21 October 2015 00:00 Comments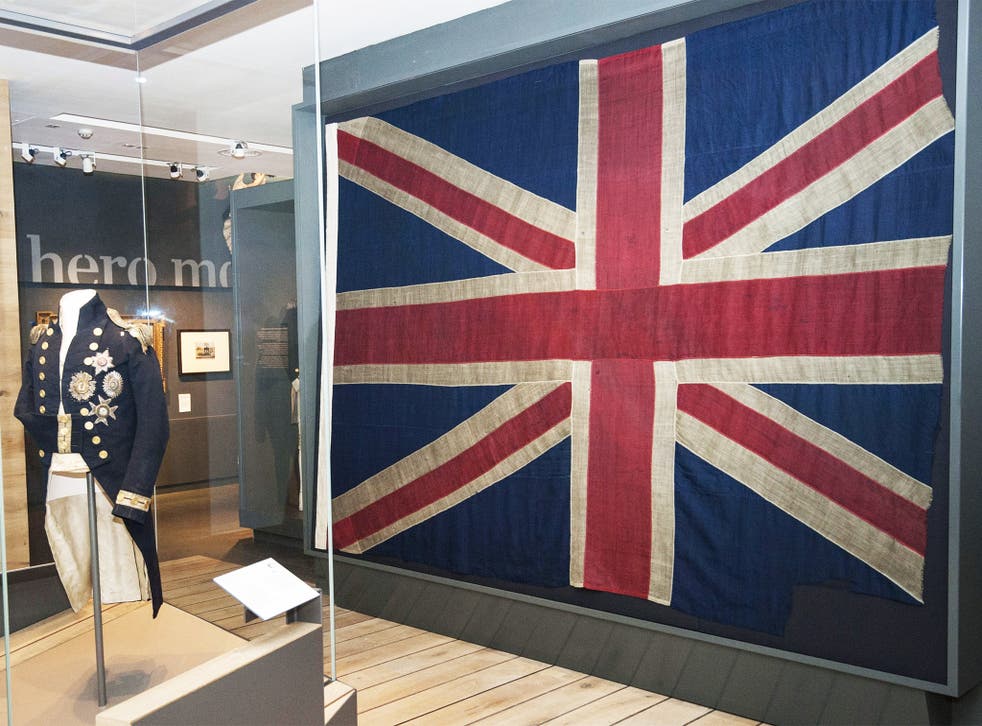 The only British flag from the Battle of Trafalgar still in the UK is to go on public display at the National Maritime Museum in Greenwich on Wednesday – the 210th anniversary of the battle.
The flag was acquired by the museum late last year, and conservation work on it has just been completed.
The only other UK flag which survives from the battle was auctioned in London five years ago and is now in a private collection in America.
The Union Jack on display at the Maritime museum was flown on HMS Minotaur – one of the warships in Admiral Horatio Nelson's squadron at Trafalgar.
It was made in or after 1801 and may well have been flown by the Minotaur at two other engagement before Trafalgar – the Battle of Abukir Bay off the Egyptian coast in 1801 and the capture of the French frigate Franchise in the Atlantic in 1803.
The flag originally measured 2.33 metres by 3.935 metres, but was shortened at some stage in the 19th or early 20th century by some 77 centimetres.
Following Trafalgar, the Minotaur's Master's Mate, a Kent sailor by the name of Stephen Hilton, was given the flag – probably as a reward for valiant service. After the Napoleonic Wars, Hilton returned with the flag to his home village of Selling, near Canterbury, where he eventually died aged 85, in 1872. Some six decades later, in the 1930s, his descendants presented the flag to Selling Church, in whose graveyard Hilton lies buried.
Then, late last year, the National Maritime Museum acquired the flag from the church and started conservation work on it.
The large woollen flag was also carefully cleaned after different detergents had be 'test-run' to ensure that they did not weaken or change the red and blue of the Union Jack. It is now in the museum's Nelson, Navy, Nation gallery.
The British flag flying from Nelson's own ship HMS Victory, did not survive for long after Trafalgar. Immediately following the Admiral's funeral, his honour guard of sailors cut it up for souvenirs. Numerous fragments of it still survive around the world.
10 historic moments to mark in 2015

Show all 10
Register for free to continue reading
Registration is a free and easy way to support our truly independent journalism
By registering, you will also enjoy limited access to Premium articles, exclusive newsletters, commenting, and virtual events with our leading journalists
Already have an account? sign in
Join our new commenting forum
Join thought-provoking conversations, follow other Independent readers and see their replies