Treasure hunters rue their £3.2m find after row over reward ends friendship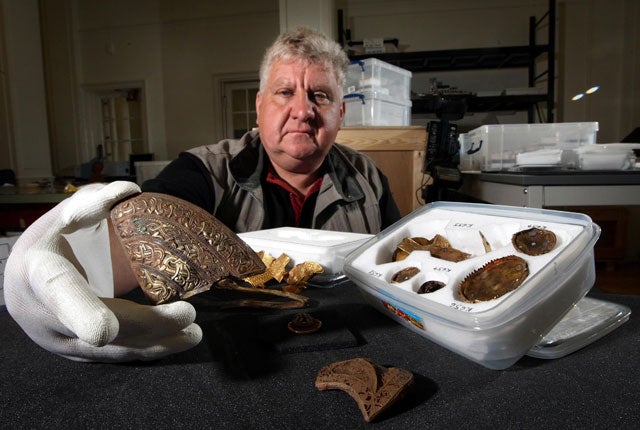 Two men who became millionaires overnight after discovering Britain's largest collection of Anglo-Saxon treasures have become embroiled in a bitter row and regret their find, each accusing the other of greed.
Terry Herbert, 56, unearthed the Staffordshire Hoard in July 2009, using a metal detector bought at a car boot sale for £2.50. He found it on farmer Fred Johnson's land at Brownhills in the West Midlands. The £3.28million find transformed the men's lives after they shared the reward equally. Archaeologists said they were "in awe" of the collection of 1,500 gold objects dating from the 7th or 8th Century.
Mr Johnson, 67, said his former friend was "greedy" and that he had banned him from his land. "I wish I'd never met the man. It has caused me nothing but bother, all this," he said.
Mr Herbert said the farmer simply didn't want to split the find. "I think Fred wanted all of the money and is now resentful he has had to share it," he said. "That's what is at the heart of this. He's acting like a child and cutting his nose off to spite his face. It does hurt my feelings that he has taken this stance but now I'm not sure there is anyway we can patch things up," he told the Sunday Mercury. "Sometimes I wish I'd never found that hoard."
He has found the trappings of wealth disappointing, admitting he is "not that happy with [his] lot really."
The find – hundreds of battlefield items adding up to around 5kg (11lb) of purest gold and 2.5kg of silver – remains the most important Anglo-Saxon collection uncovered in England. A website about the Staffordshire Hoard had more than 10 million hits within days of its being announced, while queues for the Birmingham Museum and Art Gallery were hours long when some of the jewels were put on display.
Mr Johnson, who is building a new house on his farm, said: "From the moment [Mr Herbert] found the hoard all he wanted to talk about was how much money we were going to get for it. Sometimes I just wish one of the poor veterinary students had found it instead, because it would have set them up for life rather than me."
Mr Herbert, who was unemployed and a metal-detector enthusiast, has moved out of his council house in Burntwood in the West Midlands into a luxury bungalow nearby. He said: "Five years before I dug on that field I was warned off it because I was told Fred would want all of anything that was found. I think he should have been given all the money from the Hoard, but I don't make the law do I?"
* Two other finds of treasure trove have now been saved for the nation. The Frome hoard – the largest collection of Roman coins found in one container – goes to the Museum of Somerset, thanks to grants from the National Heritage Memorial Fund, the Art Fund and other donations. The same two funds have also helped to save an Iron Age hoard of four gold necklaces – known as torcs – found near Stirling. They will go on display at the National Museum of Scotland, which also contributed to their acquisition, along with the Scottish government.
Join our commenting forum
Join thought-provoking conversations, follow other Independent readers and see their replies