Trident: Defence expert says it would be 'unwise' for SNP to base second independence referendum on opposition to nuclear weapons
Alex Salmond indicated £100bn renewal of Trident could prompt another vote
Jamie Merrill
Monday 14 September 2015 20:44 Comments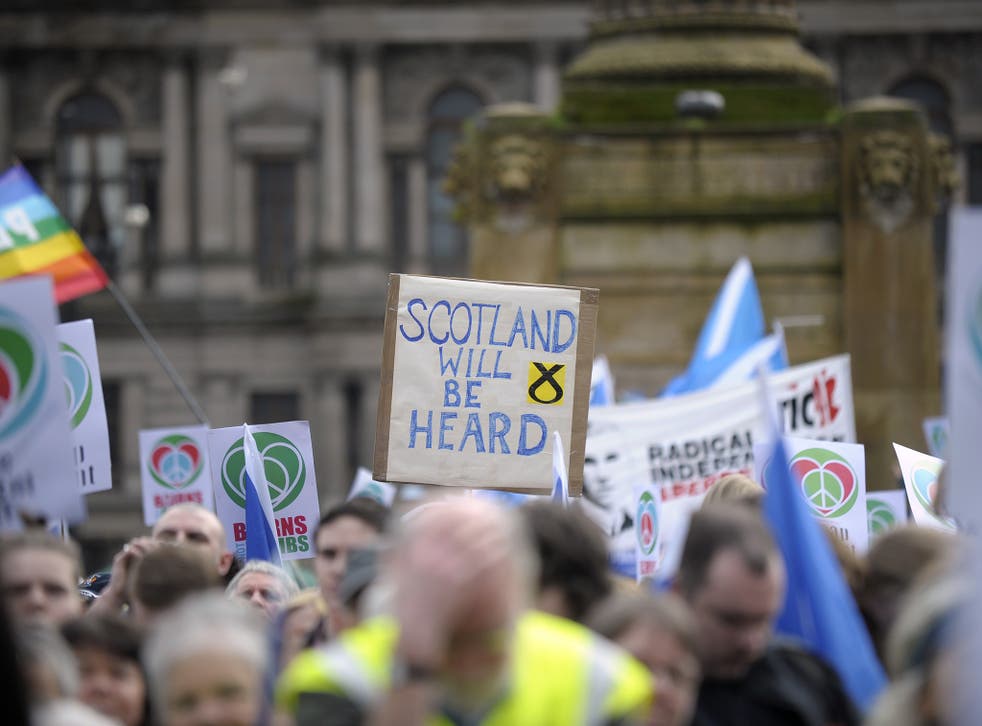 A leading Scottish defence expert has warned that there is no evidence the Scottish public are opposed to Trident and that it would be "very risky and probably unwise" for the SNP to base a second independence referendum on opposition to the renewal of the nuclear weapons system.
Over the weekend former SNP leader Alex Salmond indicated that a £100bn renewal of the UK's nuclear deterrent could prompt a second Scottish independent referendum, telling The Herald that opposition to weapons of mass destruction was "in the SNP's DNA."
This was followed by party leader Nicola Sturgeon saying that Chancellor George Osborne was "arrogantly pressing ahead" with Trident investment "even though the House of Commons hasn't decided to renew Trident".
Which countries have nuclear weapons?

Show all 14
Ms Sturgeon was speaking as a poll showed support for independence was growing. However, Dr Phillips O'Brien, a top expert at Glasgow University, told The Independent that there is "no convincing statistical evidence" that the majority of Scots are actually opposed to Trident.
He said: "Basing an independence referendum on a renewal of trident would be very risky and probably unwise. There is no convincing statistical evidence that a significant majority of Scots are opposed to Trident."
Ms Sturgeon said she will shortly outline the potential circumstances for another independence referendum, but Mr Salmond's intervention is likely to lead many to speculate that the renewal of Trident in Westminster could be a trigger issue. His comments came after the SNP reacted with anger to a visit by Mr Osborne last month to Faslane , where the UK's Vanguard nuclear missile submarines are based, to announce a £500m investment in the site. A vote on the so-called "main gate" decision, to go-ahead with Trident, is due in early 2016 and will coincide with the Scottish parliamentary election campaign.
Dr Brien added that it would be "unlikely that the Westminster government would approve a [second] referendum" if called by the SNP over Trident. He said: "In that case, in which instance a vote held by Scotland on its own could lack any legitimacy for the European Union. Certainly a much stronger case for another referendum would be if the UK as a whole voted to leave the EU, while a majority of Scots voted to stay in."
The clash over Trident comes as a string of polls have shown that the wider Scottish public is not as strongly opposed to the renewal of Trident as the SNP, including a YouGov poll over the weekend which found that 53 per cent of Scots back the retention of nuclear weapons, while 37 per cent think they should be abolished.
Unsurprisingly, SNP voters were most likely to support a ban on nuclear weapons, according to the poll for The Times, however even in this group, the poll did not find a majority.
This follows an Ipsos Mori for STV poll last month which found that 41 per cent of Scots considered the renewal of Trident as sufficient cause to trigger a second referendum.
Meanwhile Professor William Walker, from the department of International Relations at St Andrews University, said the election of Jeremy Corbyn, vice chair of CND and an opponent of nuclear weapons, and the prospect of a Labour/SNP anti-Trident alliance would be unlikely to delay government plans.
He told The Independent: "The Conservative Government is likely to steam ahead with it (what elese could it imagine doing), but at considerable cost and risk".
This comes after SNP defence spokesperson Brendan O'Hara MP, said last night that Mr Corbyn must "restate his commitment to opposing" Trident after appointing "pro-Trident Maria Eagle MP" to the position of Shadow Defence Secretary suggested he was "wavering" on the issue.
Mr O'Hara said: "If Mr Corbyn and Labour have any hope of being treated seriously by the vast majority of voters in Scotland then he must restate his commitment to backing the SNP's plan to scrap the replacement of Trident. Indeed, if he cannot many more people in Scotland are likely to conclude that independence is the only way to ensure getting rid of Trident."
Malcolm Chalmers, a defence expert at RUSI, said: "The Corbyn result means that the leaders of all three main opposition parties in the Commons will be voting against renewal. But Jeremy Corbyn can't set Labour policy on Trident by himself.
"There is a question as to whether the Labour Party will even have an official policy on Trident before a Commons vote. There may be a temptation to paper over divisions on the issue by setting up a prolonged policy review. If this is what happens, then the logic would be to allow Labour MPs a free vote in the Commons.
"Whether the vote is free or whipped, many Labour MPs (including some shadow cabinet members) are likely to vote in support of renewal. Tom Watson has made it clear that he has a mandate to support Trident as the elected deputy leader. His stance is likely to be followed by dozens of other Labour MPs. So renewal is likely to go through with a comfortable majority for the government."
Lord Admiral West, a former Labour security minister and senior Royal Navy officer, told The Independent he was still "concerned" that the a Corbyn-led Labour alliance with the SNP may prevent the renewal of Trident.
Register for free to continue reading
Registration is a free and easy way to support our truly independent journalism
By registering, you will also enjoy limited access to Premium articles, exclusive newsletters, commenting, and virtual events with our leading journalists
Already have an account? sign in
Join our new commenting forum
Join thought-provoking conversations, follow other Independent readers and see their replies